Of All Of Olivia Newton-John's Looks - This Stands Above The Rest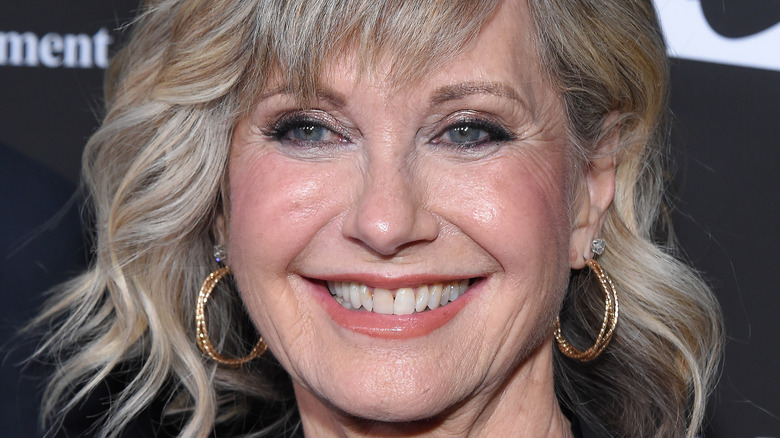 DFree/Shutterstock
Before Dua Lipa's workout jam "Physical" dropped in 2020, the track's title was synonymous with Olivia-Newton John. The British-Australian singer dominated the '80s workout scene with her vibrant leotard, shirt, and ankle warmers combo thanks to the music video (via YouTube), which still remains a popular outfit to this day.
But "Physical" wasn't all Newton-John is known for. She initially came on the scene with her debut album "Let Me Be There" in 1973 (via Only Olivia), making a name for herself in the United States in the process. Five years later, she starred opposite John Travolta in the film adaptation of the musical "Grease" and instantly became a Hollywood star.
Taking on the role of high-schooler Sandy Olsson in the film, the actress would experience one of cinema's most memorable transformations by the end of the film. While Newton-John's Sandy has a wardrobe of iconic outfits throughout "Grease"s runtime, there's one particular look that stands above the rest.
Olivia Newton-John had to be sewn into this particular "Grease" outfit
Yes, I'm talking about that outfit. You know the one I'm talking about. Towards the end of "Grease," Sandy becomes the ultimate T-Bird when she surprises Danny on the last day of school in an all-black outfit consisting of skin-tight spandex pants, an off-the-shoulder top, and a killer leather jacket. Described as the ultimate "femme fatale" by Vogue, this Newton-John look remains one of cinema's most iconic outfits.
Created by costume designer Albert Wolsky, the pants themselves dated back to the 1950s — which gave the actress a major challenge when it came to performing "You're The One That I Want" with Travolta (via YouTube). When she first tried the pants on, the zipper broke. Instead of fixing or replacing the zipper, the actress was sewn into them each time she wore them (via CNN). Talk about uncomfortable.
Nevertheless, this outfit stood the test of time. In 2019, Newton-John put the jacket and the pants up for auction alongside 500 other items from the film to raise money for her Cancer Research Institute in Australia. The jacket and pants went on to sell for $405,700, but the jacket was eventually returned after its buyer determined that "it should not sit in a billionaire's closet for country club bragging rights," (via People). The gesture understandably moved the actress to tears. "That is the sweetest thing anyone's done for me," she said.