Wendy Williams Surprises Fans With Relationship Update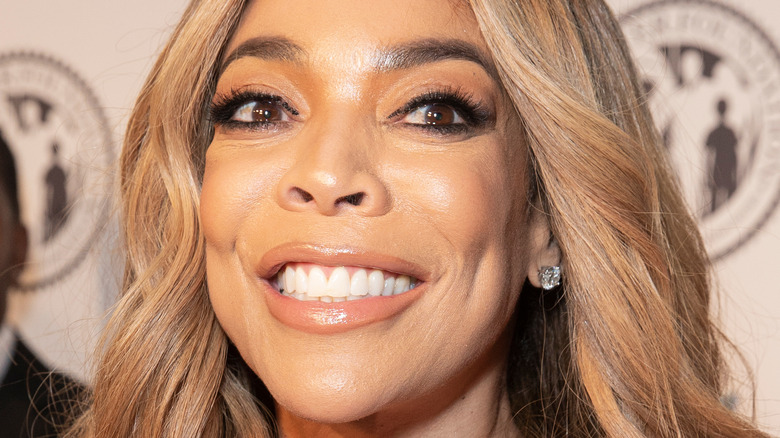 lev radin/Shutterstock
Whether you love her or hate her, Wendy Williams has become a pop culture icon (per Real Screen). Her talk show, "The Wendy Williams Show," features mostly celebrity gossip, but her quips and larger-than-life personality keep fans and haters alike coming back for more.
While Williams has made much of her career out of the ups and downs of celebrity relationships, she suddenly found herself in the same position as the stars she dishes on. According to Insider, the talk show host and her ex-husband, Kevin Hunter, divorced after 21 years of marriage in 2019. Their relationship unraveled in the public eye, with allegations of abuse and cheating on Hunter's end.
Now single, Williams has found her own dating life a topic of discussion in the tabloids. She was reportedly dating social media influencer Mike Esterman, per Page Six, but things got messy quickly, with both parties bashing each other in the press. She allegedly swore off men after this breakup, at least according to Gossip Cop, so the recent relationship update from Williams had her fans shocked.
There's a new man in Wendy Williams' life
Wendy Williams' last relationship with the full-time contractor, part-time social media influencer Esterman ended due to distance. "The headline is that Mike and I have broken up. Well, I didn't know that Mike and I were together," Williams said. "Mike is in Maryland. Mike works a job, he's a contractor/social influencer, or whatever he has going on. Whatever he does. Mike, he's a nice guy, but we are too geographically far from each other" (via People). Whether they were ever an official couple is up for debate, judging by this statement from the talk show host.
Now, however, she has made it clear she has a new man, even referring to him as her boyfriend. Williams took to Instagram to celebrate her son's birthday, writing, "My son's 21st birthday party on the yacht in #Miami was everything he wanted. Even my boyfriend." Not much is known about this mystery man, but fans are happy for Williams, taking to Instagram to share the love. One fan commented, "Truly happy for you. You deserve nothing but happiness because that's what you bring me and so many others." Others were not as impressed, leaving comments like, "She trolling us" and "Probably not your boyfriend! Just a conversation piece."
According to Distractify, "The Wendy Williams Show" returns in September, where she will be sure to spill the tea on her new man!