Dog The Bounty Hunter's Feud With His Daughter Bonnie Explained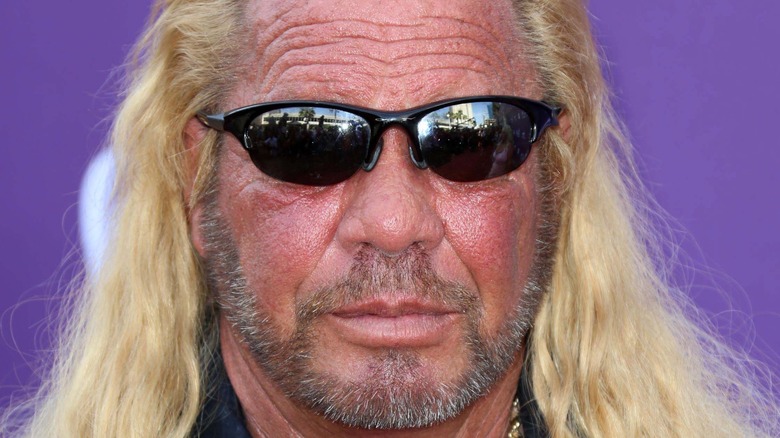 s_bukley/Shutterstock
Duane Chapman, better known as Dog the Bounty Hunter, rose to fame from the hit TV show of the 2000s reality show that aired on A&E from 2003 to 2012 (per IMDb). The bail bondsman turned captor of criminals got his own TV show after tracking down and capturing the Max Factor heir, Andrew Luster, in 2003, according to Monsters & Critics.
The show profiled his career as a bounty hunter and often featured his wife and children. Things between the family members seemed great. He has a total of 12 children and many of them were on the show and involved in the family business, per The Sun. However, things have changed since the show has been off the air.
The bounty hunter's wife, Beth Chapman, sadly died from cancer. Within ten months, he was dating another woman, according to People. Many fans criticized his new relationship, and you may think this is where the strain in his relationship with his daughters began. However, the girls were happy for their father and his newfound love. So, how did they end up uninvited from his wedding?
The rift started after their show was cancelled
Chapman's daughter, Bonnie Chapman, and her half-sister, Cecily Barmore, reportedly were not invited to his wedding to his fiancé, Francie Frane, per E! News. The wedding is set to go down on September 2nd, but it appears Bonnie is uninterested in their relationship improving in time to watch her father walk down the aisle.
Bonnie and Chapman were working together on TV show called "The System" for UnleashedTV when the patriarch was fired for using racial and homophobic slurs (via People). Bonnie released a statement saying, "I'm sorry, but I can't defend my Dad's racism. When it comes to 'The System' on UnleashedTV, my father was fired by the platform for using racial and homophobic epithets toward my fellow cast members on the show, which is about social justice advocacy and protesting violence and racial bias by police. I have expressed time and time again my ever-growing disappointment in my father's progression into his old racist ways."
According to Bonnie, it was her father's alleged racist and homophobic behavior that started the feud, but there is more to the story. "I had forgiven my father after my mother's death for countless actions that I shouldn't have," she wrote. "He would cheat on my mom all the time, and I hated him every time he did it, but I forgave him for that because I wanted a relationship with my dad."
Duane Chapman denies the claims made by his daughter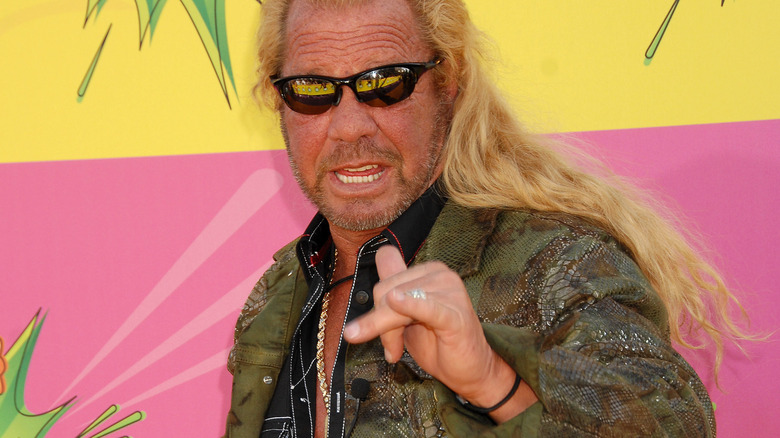 Ga Fullner/Shutterstock
Chapman and his fiancée both claim the allegations are false, releasing this statement to People, "Bonnie's allegations are false and a misguided attempt to derail our wedding." The statement claims Bonnie and Cecily, who is Beth's daughter with her first husband Keith Barmore, have been "groomed by disgruntled former associates" of Dog "who want revenge at any cost and are attempting to tarnish [his] reputation."
There is some proof to back up Bonnie's allegations, however. He is a good friend of Tennessee pastor Greg Locke, who has been known to go on homophobic rants, per Pink News. Locke has called Chapman a good friend and featured him on his podcast, according to Just Jared.
Bonnie claims her step-mother-to-be stated that she was not invited to the wedding because of her support for the Black Lives Matter movement. Bonnie ripped into her father some more, finishing her statement with, " If my dad and his new wife want to travel to right-wing churches attacking gay people and advancing QAnon theories, he can certainly do that, but I'm going to stand by the memory and legacy of my mom, Beth Chapman. Her memory, and the values she stood for, are worth fighting to advance" (via People).