What Nicki Minaj Really Looks Like Underneath All That Makeup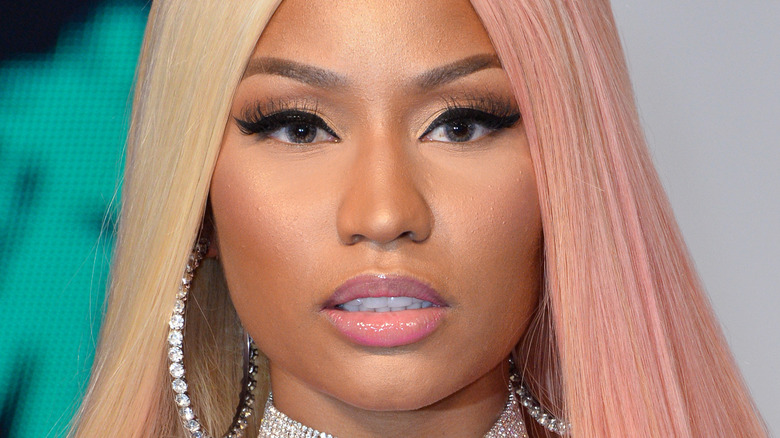 Featureflash Photo Agency/Shutterstock
Nicki Minaj is known for changing her look up so frequently it's often hard to keep track of what hair color or style, she's rocking at any moment in time. Suffice to say, the proud New Yorker always looks fierce and fabulous. Minaj is so confident in her own creative process, she doesn't take inspiration from anyone, with the rapper telling Grazia Daily, "I just wake up and want a change and I go after that. Sometimes I love the change. Sometimes I don't like it. I just play along and I don't really study it that hard."
Minaj added, "I just flow up on it. Just being a regular, everyday girl I just stumble upon changes that I love." The "Super Bass" hit-maker favors wildly colorful beauty looks but, when it comes down to it, she needs just a handful of products to feel like herself, namely lashes, pink lipstick, matching blush, and some thick eyeliner to make her eyes pop. Although it might be tough to believe, Minaj isn't someone who needs her whole face done at all times. In fact, she looks just as fierce without a lot of makeup on. 
Nicki Minaj is all about safeguarding her skin
Nicki Minaj went stunningly makeup free in a screengrab shared to Twitter by a super-fan, revealing that underneath it all she's even more gorgeous. Still, the superstar rapper loves to experiment, from hair to nails and everything in between, telling Elle, "Even with my wigs, I get bored. I can't believe I used to wear the same hairstyle every day of the year." Minaj naturally has a good handle on doing her own makeup, admitting that if the world ran out of pink lipstick tomorrow, she'd be "useless." However, when it comes to getting her eyes right, "Bang Bang" singer's makeup artist has to handle it, since "[Minaj doesn't] have the patience, [her] hands shake, and [she messes] everything up." 
Minaj also makes sure to always take her makeup off no matter what, acknowledging she suffers intense breakouts otherwise. When she's not working, the rapper just needs some pink lipstick, of course, and lip conditioner to keep her going. In fact, Minaj told Grazia Daily she doesn't even keep much makeup at home because she doesn't see the need for it. As much as she loves looking glamorous, the Queens native understands the importance of giving her skin a break. "I wear lots of makeup so I love having a down look and then transforming into the show look," she explained, noting even heading to the recording studio doesn't require glam since "nobody is going to see me anyway."