The Truth About The Feud Between Joe Biden And Ron DeSantis Over Covid-19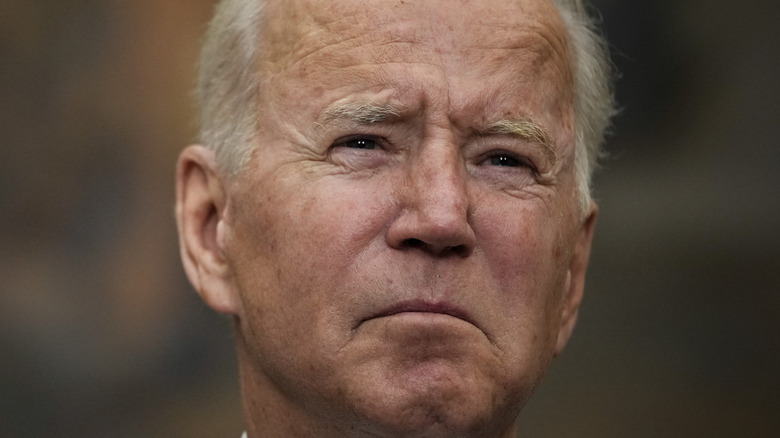 Drew Angerer/Getty Images
President Joe Biden and Florida Governor Ron DeSantis are on opposite sides of the political spectrum, with the president being a Democrat and the governor being a Republican. But they also seem to be on opposite sides of the spectrum in the battle to control and combat COVID-19, with the president urging people to get vaccinated and for schools to require masks, as both the CDC and the American Academy of Pediatrics recommend. DeSantis, like other Republican governors, is not banning masks from schools — but he has been banning school boards from requiring masks, getting pushback from the boards, parents, and the president of the United States.
On Aug. 23, 2021, COVID-19 hospitalization in Florida had risen 18% from the week before, with more than 17,000 residents in hospitals, according to ABC 7 News Miami. As of Aug. 20, the Florida Phoenix reported that 28,000 students and staff members from Florida schools were quarantined after exposure to the virus. At the time, only six of Florida's 67 districts were open, with schools and whole grades in some of those districts already closed.
Several school boards have been fighting back against DeSantis' ban on mask mandates, with President Biden vowing to help those boards, according to The Washington Post. DeSantis has threatened to withhold pay from school board members and superintendents if they defy the ban (via the Miami Herald). 
Keep reading for more details regarding the ongoing feud between President Biden and DeSantis.
President Biden fights back against Ron DeSantis' threats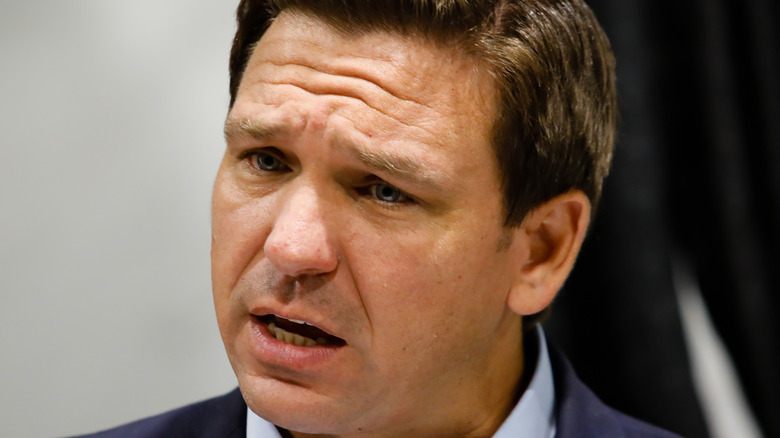 Bloomberg/Getty Images
While many Florida parents fear their children being in school due to Ron DeSantis' ban on mask mandates, school boards that have defied him, like those in Broward and Hillsborough counties, have come under threat from the governor. He had previously threatened to withhold funding from any boards that didn't comply with his orders. 
On Aug. 18, President Joe Biden ordered the U.S. Department of Education to take action against DeSantis and other governors imposing these mask mandate bans. "I'm directing the secretary of education to take additional steps to protect our children," Biden said (via The Washington Post). "This includes using all of his oversight authorities and legal action if appropriate against governors who are trying to block and intimidate local schools officials and educators."
Biden and DeSantis have also been going toe-to-toe publicly in this battle. According to CNN, the president called DeSantis' actions related to the virus "ungood," while the governor said she didn't want to "hear a blip" from Biden about the pandemic that's killed more than 600,000 Americans in 17 months. When a reporter asked Biden for a comment on DeSantis' actions in August, the president quipped, "Governor who?" 
Biden called him out directly when discussing DeSantis' response to the latest COVID wave driven by unvaccinated people and the more contagious Delta variant. "[DeSantis is] trying to turn a public safety measure, that is children wearing masks in school so they can be safe, into a political dispute," Biden said (via CNN).
President Biden's and Ron DeSantis' teams explain their feud
Drew Angerer/Getty Images
Florida Republicans have begun speaking out against President Joe Biden's comments, claiming that it's all political and not about public health. "The White House highlighting Florida, and specifically Gov. DeSantis, shows their deep concern for the governor's growing popularity," said Helen Aguirre Ferré, the executive director of the Republican Party of Florida (via CNN). "They are concerned that they are not going to do well in 2022, and they should be concerned."
However, recent polling from Quinnipiac shows that the majority of Floridians are not happy at all with DeSantis' actions to combat COVID. The poll found that 54% support keeping children masked in the classroom, and 69% believe the governor should not withhold the salaries from school board members and superintendents who impose mask mandates.
The White House also insists that the president's actions and words are meant to keep American children safe. "The strategy is to combat mis- and disinformation from any source," said Cameron Webb, the White House senior policy adviser for COVID equity (via CNN). "Ultimately, history's going to look back at what's happening in different states. We are going to see and say who used the moment for the short term and who used the moment with the big, much greater goal of keeping people safe."