What Madonna Really Looks Like Underneath All That Makeup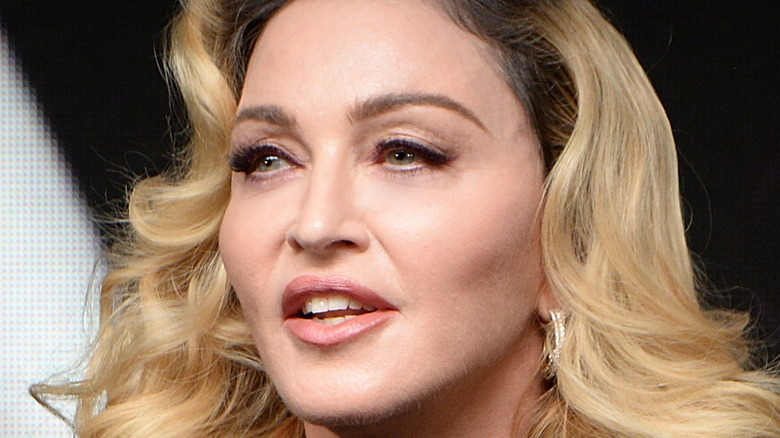 Kevin Mazur/Getty Images
Madonna has been one of the biggest names on the music scene since the early 1980s, when her first solo song, "Everybody," became a hit. That 1982 song was followed by a string of other hits in quick succession. "Borderline," "Lucky Star," and "Holiday" came next, followed by the signature hit, "Like a Virgin" (via Biography). During this time, music videos were also becoming all the rage and Madonna was able to use her dance skills as people could finally see a performer, as well as hear them, without ever attending a concert.
What audiences saw was a young woman who knew how to spotlight herself creating her own makeup and fashion styles that the world soon followed. With thick lashes, deep and colorful eye shades, streaks of blush on both cheeks, and dark lipstick that popped, Madonna created looks that teens everywhere tried to emulate. As Madonna grew older, her music became more serious while she also raised children, with her look becoming more serious too. No longer needing a gimmick to make herself wildly successful, the material girl refined her makeup look to reflect her more mature self. You still get full lips with long lashes, but her cheeks are more contoured, with her eye shadow giving a more blended look. As of this writing, Madonna is a 63-year-old star, but you'd never know it as her skin remains flawless.
Madonna takes skincare very seriously
Like many celebrities, Madonna created her own beauty line called MDNA that debuted in Asian countries in 2014 and made its American debut in 2019. With products to care for your entire body, including your derriere, Madonna kept the process of aging in mind when creating her products.
"Yes, I do believe we live in a very ageist society, particularly unkind towards women. I think it's ridiculous that we have to hide our age or not be able to embrace it. We have to go the other way and stop cheating and pretending," she told Byrdie.
To that end, Madonna chose to create her own products that she can trust. While items might be on the pricier side, Madonna swears by her own skin serum. "The serum I can use when I don't have to wear makeup, and then the moisturizer that we created, that isn't in this line currently but will be eventually, is perfect," she said. "A lot of the things that I developed were things that I personally thought were missing from my skin." In that vein, Madonna has taken to social media in the past to share makeup-free selfies (although in one post, she still opted for a touch of lipstick). 
Ultimately, Madonna advises women to make sure they take care of their whole selves. "Just take care of yourself a little bit every day. And, and, love who you are," the icon said. "We're not talking about perfection and conventional standards of beauty. Take care of your skin. Take care of your insides. Take care of your outsides. It's all a part of the big package."