How To Do A Malibu Treatment At Home
New Africa/Shutterstock
For those of you who live in an area with hard water or well water as your primary supply, you may notice the quality of your hair decreasing over time. This is because these types of water contain extra minerals, like iron, calcium, and copper, that can build up in your hair and cause breakage, per StyleCraze. Additional problems, like a dry scalp and brassiness, are caused by the buildup of minerals, too. Luckily, there's an easy at-home treatment you can use to remove this buildup and get your hair back to a healthier, glossier state.
The Malibu treatment, from the haircare brand Malibu C, is increasing in popularity at salons, as it typically helps remove these harmful minerals and discoloration while restoring the beneficial nutrients in your hair, per StyleCraze. As an added bonus, Malibu treatments are 100% vegan and free of gluten, parabens, propylene glycol, DEA, and fragrance (via West Coast Beauty). It's recommended for all hair types, though, if you have gray hair or non-pigmented hair, you should only try this treatment if you intend to follow it with a color service or perm.
Try a Malibu treatment at home with a few simple steps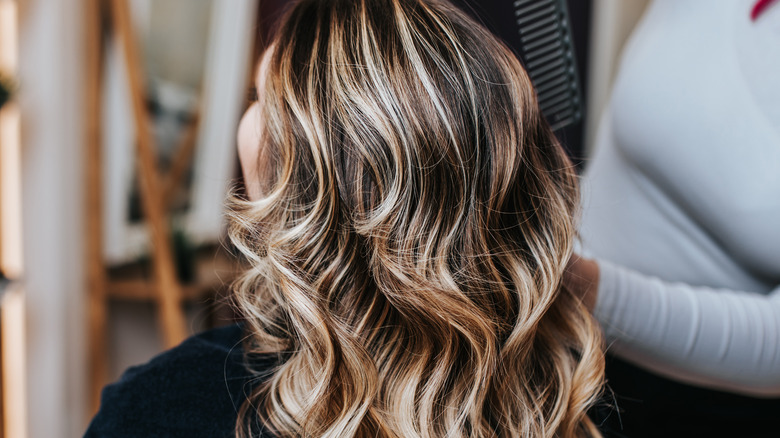 hedgehog94/Shutterstock
Whether you have curly hair, straight hair, or some texture in between, Malibu treatments are beneficial if you've been washing your hair in hard water or if you're frequently in a chlorinated pool. The treatment is available at numerous salons, but it's easy to order and apply in the comfort of your home if you don't like making additional trips to see your stylist. 
Once you've purchased a packet of the Malibu treatment from a store like West Coast Beauty, you're ready to start the mixing and application processes. The Malibu treatment consists of small crystals of vitamin C, which you'll need to pour into a jar and mix with approximately two ounces of warm water to activate. Once you've added the water, gently shake the mixture until it forms a gel. Next, shampoo and rinse your hair with your normal products, and section your hair before working the gel carefully through each section. As you're applying the Malibu treatment, remember to use pressure from your fingertips and palms to ensure you're saturating the hair properly. This step is important because, without proper saturation, the product won't work as effectively.
After you've applied the gel completely, put on a processing cap, and allow the Malibu mixture to sit for approximately 10 to 45 minutes while exposing it to heat. For this step, use your hairdryer on a low setting, and blow the warm air over your capped hair. After the allotted time has passed, shampoo and rinse your hair again — and then bask in the glorious results.