Lea Michele's Tattoos: A Complete Guide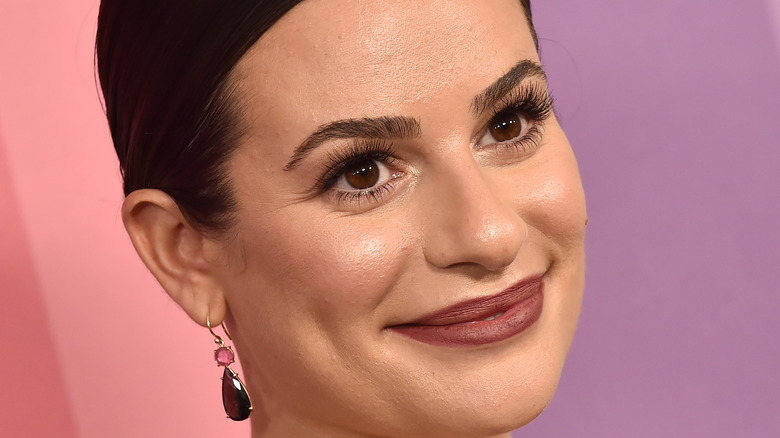 DFree/Shutterstock
Actor and singer Lea Michele has used her body as a canvas to celebrate important relationships and moments in her life. Many of her tattoos have to do with her time playing Rachel Berry on "Glee," which was the turning point of her career. During her time on the show, Michele met Cory Monteith — who played Finn Hudson — and the pair were a couple both on the show and off. After Monteith died in 2013, Michele got more than one tattoo in his honor (via Women's Health). 
In a post on Instagram, you can see the word "Finn" in script on her outer left hip, which of course, was Monteith's character's name. She also posted a picture of the number five, and the caption read: "And one more.. for my Quarterback.. #5." This was Monteith's character's position and number. Additionally, along her rib cage are lyrics from one of her songs: "I love you more" and "If you say so" (from Steal Her Style). The lyrics are based on the last conversation that she had with Monteith, and the song "If You Say So" was a single from her 2014 album "Louder," per Seventeen. There has been some speculation that Michele has had the song lyric tattoo covered up, but nothing that can be confirmed (from Body Art Guru).
Lea Michele has tattoos honoring her grandparents
Another tattoo of Lea Michele's with a touching meaning is the simple coffee cup outline on her ring finger, which she got in honor of her grandmother. In 2016, she shared a photo of that tattoo with the caption: "I lost my beautiful grandma this week.. She wasn't your typical grandma. She gave me my first cup of coffee when I was 8 years old. She said something inappropriate to every boyfriend I've ever had. She never made pie or knit me a sweater. But she was my grandma and I loved her." According to Body Art Guru, the actress also honored her grandfather with a tattoo on her left rib cage of a cross and the phrase "My Angel Now."
Along with family and loved ones, Michelle honors her music with her tattoos as well. On her right wrist in teal ink is the phrase "I believe," which is, according to PopSugar, a reference to a song from the Broadway musical "Spring Awakening." Another musical tattoo is the music notes on her left shoulder. And in honor of her character Rachel Berry on "Glee," she got a gold star tattooed on her wrist (via Body Art Guru).
Lea Michele got tattoos alongside her Glee co-stars in Chicago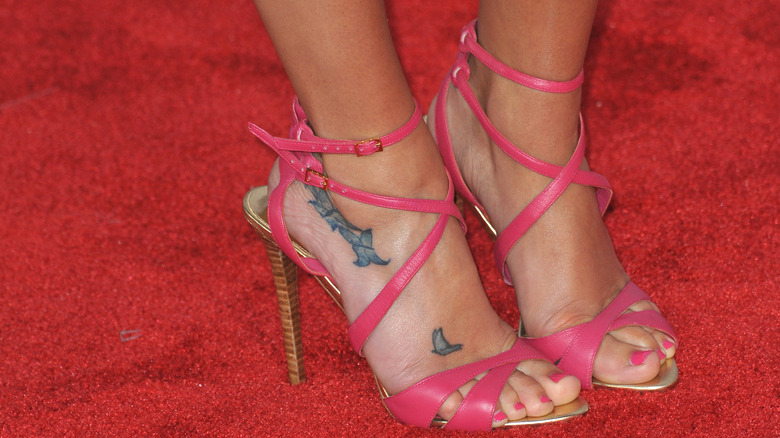 Featureflash Photo Agency/Shutterstock
The star tattoo was one that Lea Michele got in Chicago alongside "Glee" co-stars Amber Riley and Jenna Uskhowitz during the "Glee" tour (from Windy City Times). On the same Chicago trip, she got the word "Imagine" tattooed on the outside of her left foot to match her "Glee" co-stars Ushkowitz and Kevin McHale. On the outside of Michele's right foot are blue butterflies, which are in honor of her cousins (from PopSugar). According to Steal Her Style, the butterflies cover up a previous tattoo that said "Our City, Our Love."
Some other tattoos that likely hold meaning include a bird on her left hip bone, an arrow on her right middle finger, and a red heart on her left middle finger (via Body Art Guru). She's also got a butterfly on her right hip that's visible in an Instagram post from an Italian vacation. We wonder what sweet and meaningful tattoos Lea Michelle will get next!