How Alana Thompson Really Feels About Being Called Honey Boo Boo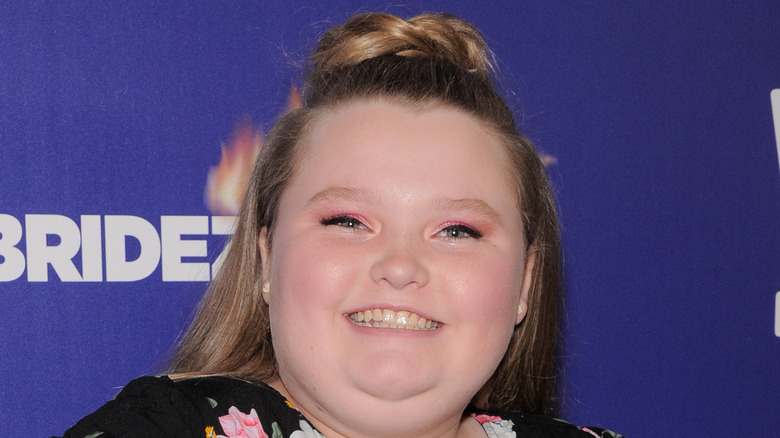 Ron Adar/Shutterstock
She made her fame as a cute child beauty queen. But now that she's about to turn 16, Alana Thompson wants the world to know that those days are behind her — as is her famous nickname. "My mama did not name me Honey Boo Boo," she says in the new issue of Teen Vogue. "My name is Alana." 
That name, along with the cute catchphrases, are long gone from her vocabulary, "but they do stick around" because of the notoriety of her reality shows. Viewers have been following Thompson from her pageant days on "Toddlers & Tiaras" to the current drama surrounding her family on "Mama June: Road to Redemption." What was once guilty-pleasure entertainment — look at those rednecks eating cheeseballs and having mud fights! — turned deadly serious as Thompson's mother, "Mama" June Shannon, spent the family's money on drugs and was arrested for possession (via People). Thompson has been living with one of her older sisters, Lauryn Efird, for the past two years, and is slowly rebuilding her relationship with her mother.
"A lot of folks in this world do not realize how many people are actually really affected by drug and alcohol [use]," Thompson tells the magazine. "It's very, very hard. It's something I'd wish on nobody, for real." And while she appreciates being able to spend quality time with her sister, she wishes the circumstances were different. "I should be in my own bed in my mom's house just chilling, you know?"
If you or anyone you know is struggling with addiction issues, help is available. Visit the Substance Abuse and Mental Health Services Administration website or contact SAMHSA's National Helpline at 1-800-662-HELP (4357).
Alana Thompson is more than her TV personality
Thompson is aware of the way her own life could turn out, and has worked hard to avoid her mother's mistakes. "When my mama got really bad with her [drug use], I wasn't sure where I would end up," she says. "Now I'm proud of how far I've come."
And so she should be. The high schooler makes excellent grades, works part-time in addition to her TV appearances, and plans to be a neonatal nurse eventually. She's also comfortable enough with herself to shake off nasty comments about her weight. "Just because I got a little extra meat on my bones, you want to hate me? I'll never get body shaming," she says. Thompson also gets some trolling about her makeup and long nails, and would like to remind people that she's no longer a kiddie-pageant child, nor a stereotyped hick who rides ATVs in the mud all day. 
Another downside to fame is always having to worry whether people like her for herself or just for the bragging rights of knowing the former Honey Boo Boo. "I don't trust nobody really, so I don't have friends," Thompson tells the magazine. For now, she's content to hang with her family and her boyfriend, keep working (she wants to be able to pay for college) and planning for her post-TV life. "I don't know what future Alana's like," she tells the interviewer. "I haven't met her yet."