The Origins Of Woman Yelling At Cat Meme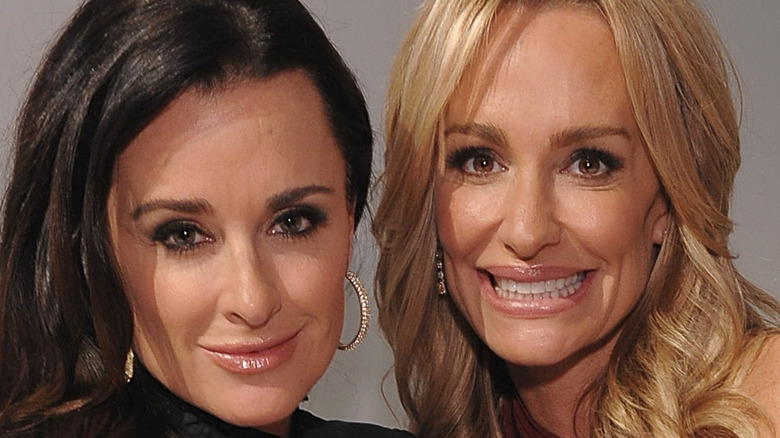 Dimitrios Kambouris/Getty Images
The following article contains allegations of abuse.
Reality TV is a treasure trove of memes that will continue to inspire internet discourse forever. Some are iconic, and almost all have the potential to go viral. Tiffany "New York" Pollard sulking on a bed with sunglasses from the first season of "Flavor of Love" gave the world an emoji nobody knew they needed, "used to illustrate feelings of impatience or latent rage," according to Know Your Meme. The hilariously misbehaved Pooja Missra from the Indian reality show "Bigg Boss" led to an international phenomenon of parodic recreations. There's a reason why streaming sites steadily pump out the reality genre — it's a never-ending cycle of publicity and messed-up content.
To illustrate, a reality TV episode from 2011 resurrected to relevance with the well-known "woman yelling at cat meme" in 2019. The meme was originally created by Twitter user MissingeGirl, per The Tab, that shows two women yelling at a white cat for its disdain of salad. The hilarious meme has many variations — but has its roots in a darker side of reality TV. Read more about the its origin story below.
The meme comes from a 'Real Housewives of Beverly Hills' episode
The meme has many different captions and variations, including artistic recreations. If you're dedicated to the art form that is this meme, you can even find a print or poster online ($21.99). It all began with an episode in the second season of "Real Housewives of Beverly Hills" (via Know Your Meme), a show where obscenely rich women come to fight, be fabulous, and start clothing lines.
According to E!'s recap of the episode "Malibu Beach Party From Hell," the two women in the frame are "Real Housewives" Taylor Armstrong and Kyle Richards, who are in a heated argument with Grammer's friend D.D. in the middle of a dinner party. Grammer had previously questioned Armstrong's claim that her husband abused her and Armstrong is understandably upset. And although Armstrong admitted to Insider that she can now "laugh at things and be lighthearted about it, the fact that it originally started with a fight about alleged domestic abuse gives this meme dark origins.
Of course, the cat never made an appearance in the episode. Smudge the Cat, as he is known, liked to have a seat at the dinner table and that's how he first appeared on Tumblr in 2018, per Insider. His distaste for salad however, is what made the meme ridiculous and relatable at the same time.
If you or someone you know is dealing with domestic abuse, you can call the National Domestic Violence Hotline at 1−800−799−7233. You can also find more information, resources, and support at their website.