The Sad Reason Meghan & Harry Were Reportedly Furious With The Press Last Summer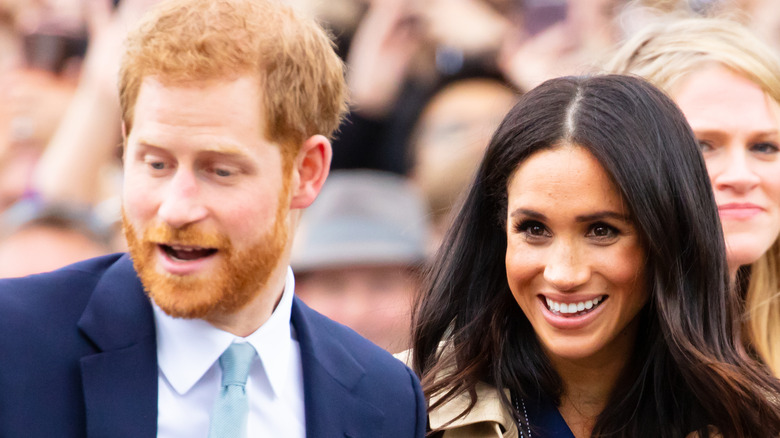 FiledIMAGE/Shutterstock
Prince Harry and Meghan Markle look like the picture of happiness in 2021. After all, they walked away from their royal family duties for a brand-new life in Southern California with their little boy, Archie, and then welcomed a baby girl into their family, Lilibet Diana.
The Duke and Duchess of Sussex now live in Meghan's home state, have entered new business ventures, and bought a beautiful home in the upscale town of Montecito (via Harper's Bazaar). They have also been quite vocal about why they chose to leave Great Britain and the royal family behind, opening up about living life as a royal in a revealing CBS interview with Oprah Winfrey in March (via CNN).
When the couple first started settling into their American way of life, it wasn't all fun and games. Like all British royals, they were constantly under the watchful eye of photographers in England and couldn't escape them when they moved to the United States. A new edition of the Harry and Meghan biography "Finding Freedom," written by journalists Omid Scobie and Carolyn Durand, details a tragic time shortly after the couple moved that changed their lives and broke their hearts — and was captured by the paparazzi, much to the pair's chagrin.
Meghan and Harry suffered a heartbreaking loss
Chris Jackson/Getty Images
In November 2020, Meghan Markle wrote a piece for The New York Times discussing how women feel when they experience a miscarriage, describing when she suffered her own the previous July and how she learned to heal. "After changing [Archie's] diaper, I felt a sharp cramp. I dropped to the floor with him in my arms, humming a lullaby to keep us both calm, the cheerful tune a stark contrast to my sense that something was not right," Meghan wrote. "I knew, as I clutched my firstborn child, that I was losing my second.
She recalled being in a hospital bed hours later, after the miscarriage, holding Prince Harry's hand. "I felt the clamminess of his palm and kissed his knuckles, wet from both our tears," she wrote. "Staring at the cold white walls, my eyes glazed over. I tried to imagine how we'd heal."
Meghan isn't the only celebrity who has come out in recent times to discuss the emotional pain a miscarriage can cause. In 2020, Chrissy Teigen and her husband, musician John Legend, also suffered a heartbreaking loss. "We are shocked and in the kind of deep pain you only hear about, the kind of pain we've never felt before," the model said shortly after losing a son whom she and Legend had named Jack, according to Everyday Health.
Even former First Lady Michelle Obama suffered a loss before conceiving Malia and Sasha via IVF fertility treatments. "I felt lost and alone, and I felt like I failed," Obama wrote in her memoir, "Becoming" (via Everyday Health). "Because I didn't know how common miscarriages are. Because we don't talk about it. We sit in our own pain, thinking that somehow we're broken."
Meghan and Harry's personal tragedy became too public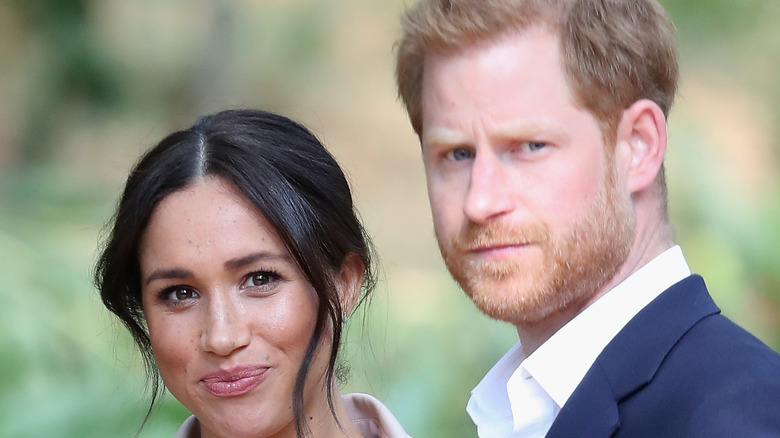 Chris Jackson/Getty Images
It's what happened publicly after Meghan's hospital stay that was not okay in the eyes of the couple — and perhaps others who have gone through the same thing. Photographers caught them leaving after the miscarriage or after a follow-up appointment, according to The Independent, and the snaps ended up in The Daily Mail. "Finding Freedom" describes the Sussexes as feeling blindsided and angry. 
The Daily Mail also maligned the couple for driving a "gas-guzzling" Cadillac SUV, pointing out that it was "as far from environmentally friendly as you can get." In the past, Harry and Meghan have both spoken out about climate change and have called for eco-friendly changes in the travel industry. "What should have been a deeply personal moment quickly became the top story on the Daily Mail Online, with a dozen photos of the masked couple getting into a Cadillac SUV," the authors wrote.
Happily, Harry and Meghan finally got their long-awaited second child when Lilibet Diana Mountbatten-Windsor was born on June 4, 2021, at Santa Barbara Cottage Hospital in California, near where the couple is now settled. Her first name is a nod to Harry's grandmother, Queen Elizabeth, whose nickname when she was a child — and to her husband, the late Prince Philip — was Lilibet. The baby's middle name honors Princess Diana, Harry's late mother, who died on Aug. 31, 1997. 
When Lilibet was born, Harry and Meghan's statement expressed their joy (via The Washington Post): "She is more than we could have ever imagined and we remain grateful for the love and prayers we've felt from across the globe."