Of All Of Meghan Markle's Looks, This Stands Above The Rest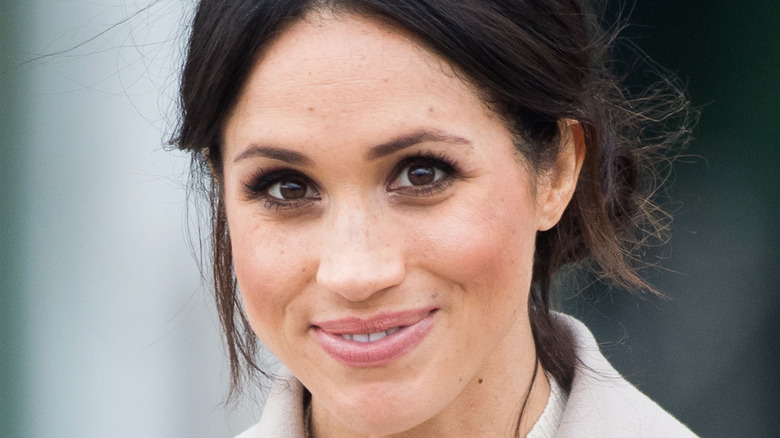 Shutterstock
Meghan Markle certainly knows how to get the public talking. From the moment she was introduced as a major player in Prince Harry's life, people haven't been able to stop talking about the California-born overnight princess. Britain's royal family has always been a huge topic of discussion and, frankly, a major obsession for the public (via Time) — but as soon as Meghan joined, the conversation skyrocketed. But can you blame anyone? Meghan's story is truly like a fairytale, having literally turned into a duchess just by virtue of meeting, dating, and marrying Harry. But while conversations regarding her position as a royal have certainly been tumultuous, there's one topic that we don't plan on dropping anytime soon — and that's Meghan's beautiful fashion.
Being a member of the royal family lends itself quite nicely to developing iconic styles. Kate Middleton, for example, has made a name for herself as perhaps one of the most impeccably dressed royals. Vogue suggested that Kate has developed a clear sense of what she likes, which includes "feminine pieces, worn with increasing regal flair, and often possessing a discreet, diplomatic touch."
Meghan's style, on the other hand, is equally as beautiful and elegant, but it stands uniquely on its own — just as the duchess, herself, does.
Meghan Markle's fashion represents a deeper meaning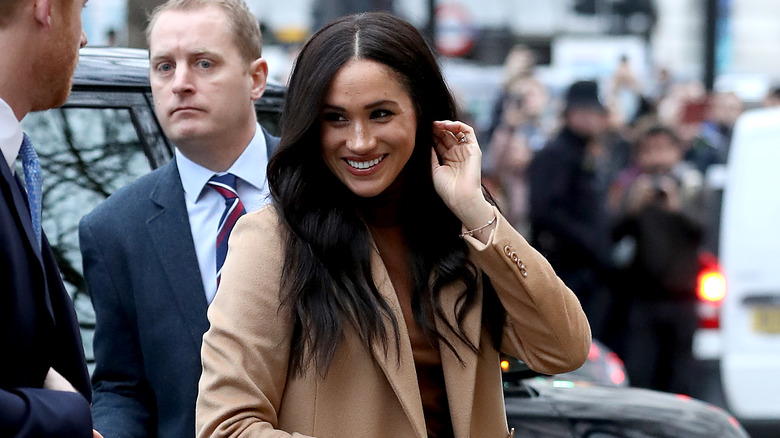 Chris Jackson/Getty Images
According to W Magazine, Meghan Markle's style has developed and grown in the public eye just as she has. "As a royal, she wore more modest silhouettes from beloved British designers, with crisp tailoring and exquisite fabrics befitting a duchess," wrote Lauren McCarthy and Meagan Fredette of the outlet. They added that Meghan loves her bold colored items. In a sort of homage to Queen Elizabeth's penchant for bright colors, Meghan has donned a gamut of monochromatic outfits of primary colors that "photographed beautifully and allowed her to be visible among a crowd." And yes — Meghan has done her duty as a royal by sporting her fair share of intricate hats, a fashion staple within British royalty, per Forbes.
Meghan's fashion is a representation of her innermost self — her simple existence within the royal family exists as a controversial buck to the system due to her American nationality and mixed-race identity. And this deviation from the status quo is exactly what her style represents, her most iconic looks being the ones that are the most understated, effortless, and streamlined.
As a result, this is the look that we'd deem the one that stands above the rest.
Meghan Markle's most iconic look is a relatively understated one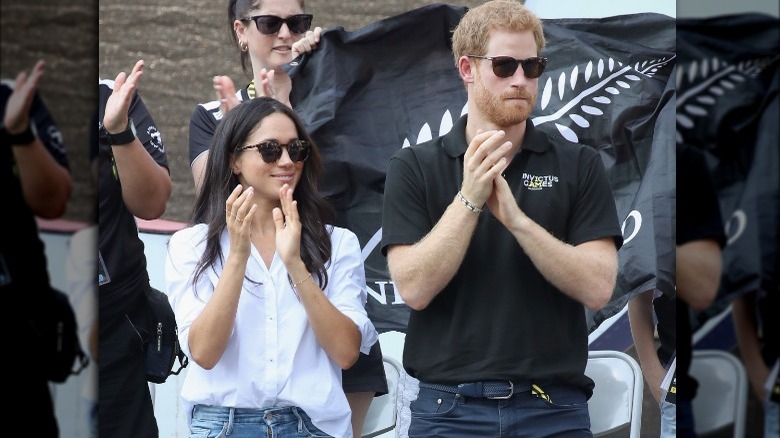 Chris Jackson/Getty Images
The Duchess of Sussex could wear a paper bag and we'd still be begging to know where she got it. She has been seen in nearly every style, due to her status as one of the most photographed people of all time (via Vogue). From ballgowns and pantsuits, to yoga outfits and of course, a stunning wedding dress, there's nothing she can't look fabulous in. But perhaps the outfit that feels the most quintessentially Meghan Markle is one that doesn't scream royal family lavishness. 
We can't help but think that her classic white button down shirt is the look that stands above the rest. Indeed, according to Grazia, this item is one of Meghan's absolute fashion staples, and she is seen rocking this androgynous yet beautifully feminine look all the time. "Meghan practically made Misha Nonoo a household name when she chose the white 'Husband' shirt for her first public appearance with Prince Harry at the Invictus Games in September 2017," wrote Natalie Hammond at Grazia. "She proved a crisp button-down is even a winner at Wimbledon, too, tucking a white number by Givenchy into her BOSS pleated skirt."
This look is easily one of the most effortless yet stylish pieces we've seen Meghan wear, representing her own understated yet powerful presence.