The TikTok Creator Who Opens Conversations On Bumble With Personalized Songs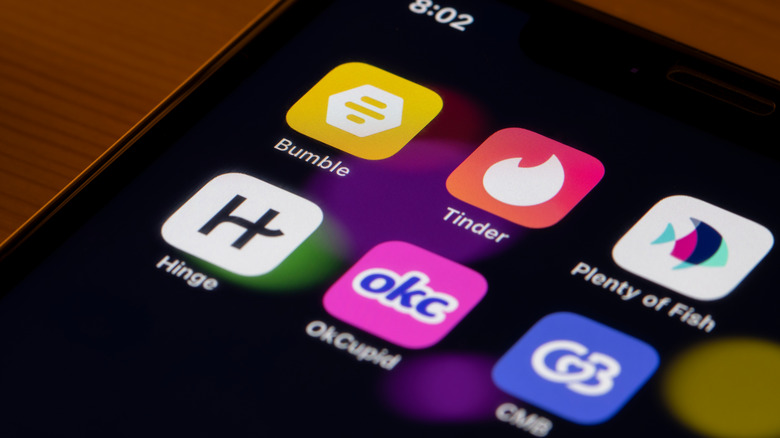 Tada Images/Shutterstock
Dating in the year 2021 is a labyrinth of options that require low-commitment, little effort and possibly one thing in common, like "The Office." We find each other through left and right swipes on the unholy piece of technology everyone seems to have: dating apps. But before we find the perfect person (or people), we're faced with choosing the perfect app. According to Statista, Tinder is still the most downloaded app in the U.S., but Bumble and Hinge are gaining traction. Each app has features to help navigate the dating labyrinth, but Bumble has really stepped it up recently, adding question games, audio notes, and options for virtual dates.
This sounds fun initially until you realize you're playing games and answering prompts for at least a dozen people every week. Whatever happened to making desperate eye-contact with someone in the Trader Joe's frozen aisle? If you're feeling uncreative, take inspiration from this TikTok creator who puts in the effort, the time, and the tunes to make sure every match feels special.
These Bumble openers are creative and punny
One of the first posts on TikToker @msbeccaramos' page is a duet with a man who embodies the aesthetic of a shirtless "Jersey Shore" boy (complete with a cap on backwards). "Ladies, I have a question for you ... what would you do?" he asks, menacingly or seductively, depending on who you ask, to which Ramos answers, "Clean your f***ing mirror." Setting the tone for her page, @msbeccaramos began posting the men she encounters on dating apps. Bumble seems to be her favorite, with most posts titled, "Bumble Openers."
All of her openers feature punny references and hilarious renditions of songs through Bumble's voice note options. She sings to James, "Say my James, say my James, when no-one is around you ..." surely summoning blessings from Destiny's Child. Soon after, she sings a version of Robin S' song, "Ooh baby if you want me, you got to Joe me love." Joe replies with what we're all thinking, "That is by far the best message I have ever received on here. I'm very impressed." It may help that she sings well, but the puns really bring the performance together: "I Chris-sed a boy and I liked it," was another favorite. All we can say is the bar has been raised and I expect nothing less of a song and pun in my inbox.