Make Cleaning Your House More Fun With These Tips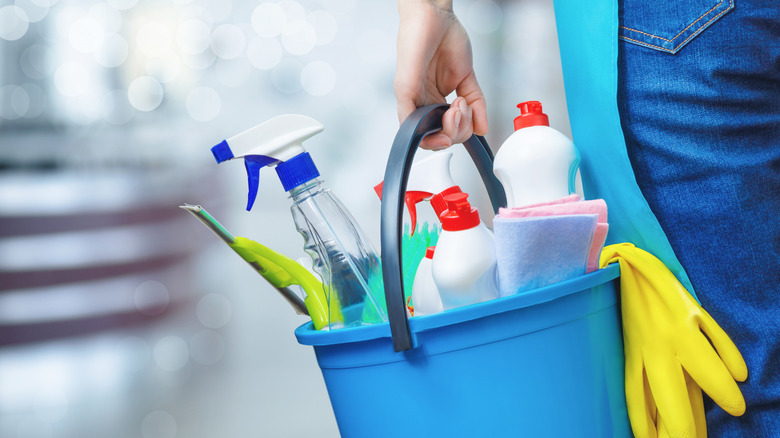 Natali _ Mis/Shutterstock
Before you roll your eyes, take a second to picture yourself breezing from room to room, feeling in the moment as you take care of your home — not so bad, right? On the other hand, you can begrudgingly pick up your partner's dishes and build resentment as you clean. Before you grab your vacuum and mop, take a few moments to peruse and remember these tips — your mental health will thank you.
First things first: make sure that you love your cleaning supplies. While you may think that's virtually impossible, picture the difference between a brand new Dyson and an old vacuum from the 1990s. Obviously, doing a clean sweep with the Dyson will be much easier and less time-consuming. My Domaine also notes that cheaper options, like a nicer all-purpose spray or a new broom can have a similar effect.
The outlet also recommends adding some distractions like your favorite TV show in the background. Ideally, this show should be something you don't have to pay a ton of attention to, like a reality series you can pop in and out of. So, if you're cleaning around your living room or in your bedroom, just have some "Housewives" playing in the background to keep you on track. In a similar vein, having a killer playlist for cleaning can make a big difference as well. Dance around as you mop, sweep, dust and organize. The louder the singing, the better.
Cleaning can serve as a mindfulness tool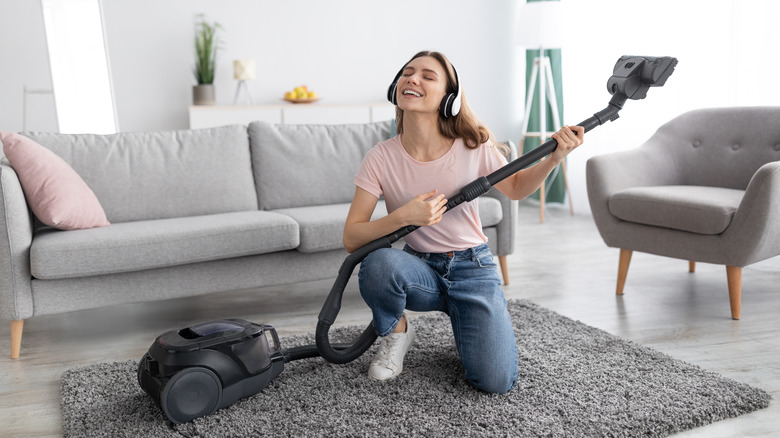 Prostock-studio/Shutterstock
Anyone who's ever stress cleaned knows how therapeutic a good scrub of your home can be. Indeed, mindfulness teachers often suggest trying cleaning as an option for soothing your nerves. Real Simple recommends taking it one step further by practicing various forms of breathwork or just deepening your inhales and exhales. You can also try listening to a mindfulness app recording to unwind your mind even more. If turning on a meditation recording isn't your thing, a podcast can do the trick. Similar to the way that your guilty-pleasure reality show distracts you as you scrub, a podcast will do the same thing, but you won't have to stay in one room if you use earbuds.
You can also try making cleaning a new hobby. Just like the organizing craze that ensued following Marie Kondo's rise to fame, studying up on new types of cleaning can light a fire underneath you. The outlet recommends watching Kondo's show or another tidying series that highlights the cleanliness that comes with whatever method they're using. With the professionals on your side, you'll have fun switching things up while watching as your home looks cleaner and cleaner.
But, even with all of the support in the world, it's best not to burn out. My Domaine notes that setting a time limit can keep you moving quickly and staying sane. If it's been a long day and you want to clean up a little, give yourself an hour to do the basics so that you don't overdo it. This way, instead of having a long slog ahead of you, you know how much time you'll spend tidying up.