What Sharon Osbourne Really Looks Like Underneath All That Makeup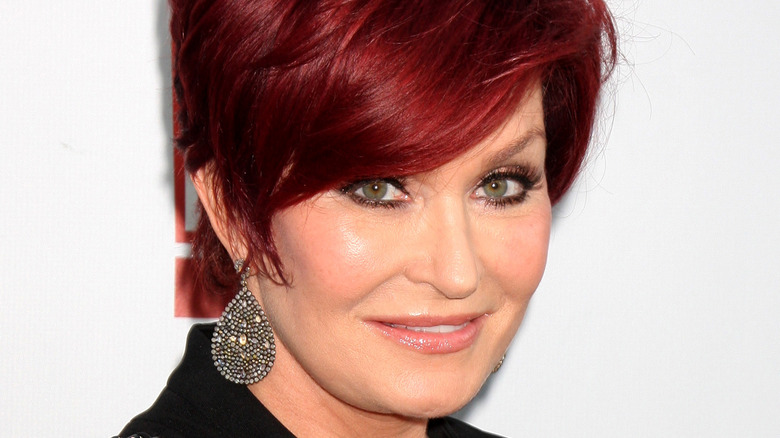 Kathy Hutchins/Shutterstock
Sharon Osbourne was once only known as the wife of rocker Ozzy Osbourne, but she became a star in her own right when she, her husband, and their two kids launched a reality series aptly titled "The Osbournes." While Ozzy was the superstar, Osbourne and her daughter Kelly became the breakout stars. Osbourne went on to become a force to reckon with in her own right — first as a judge on "The X Factor" and "America's Got Talent" and then as a host on CBS's "The Talk" (via Biography).
Through it all, Osbourne stuck with her distinctive glam look and was always perfectly made up, donning long lashes, contoured cheeks, eyes shaded with earth tones, lips slicked with nude or pink shades, and her signature short red waves. Osbourne may have run into some controversy toward the end of her run on "The Talk" (via Rolling Stone), but she looked absolutely fab through it all, with flawless skin and her own inimitable style. Whether with or without makeup, Osbourne knows how to look her best.
How Sharon Osbourne keeps looking so fantastic
Sharon Osbourne has made no secret about having plastic surgery to keep her 68-year-old face looking young. In 2019, she debuted a new look on "The Talk" after a procedure and spoke openly about it. "It was five weeks today that I had my operation," she said (via Extra). "I had my neck done, my jowls... He kind of pulled it from the top of my head and put an elastic band in it. But everything was just lifted up. So it looks more refreshed."
Of course, she still has to keep up with a beauty routine despite surgery, and there are a few staples that Osbourne always keeps in her purse for on-the-go touch-ups, including blotting papers to remove excess oil, an eyelash curler, pink blush, a brush set for her cheeks, and concealer to hide any unwanted blemishes, according to US Weekly.
Osbourne also keeps her body healthy and fit by following a low-carb diet. She sticks with the Atkins 40 program, which allows fruits, veggies, and even some whole wheat products. "For somebody like me, it's perfect to maintain," she shared with E! Online. "[For] somebody that wants to lose weight gradually, it's perfect for them, too."