What Jessica Alba Really Looks Like Under All That Makeup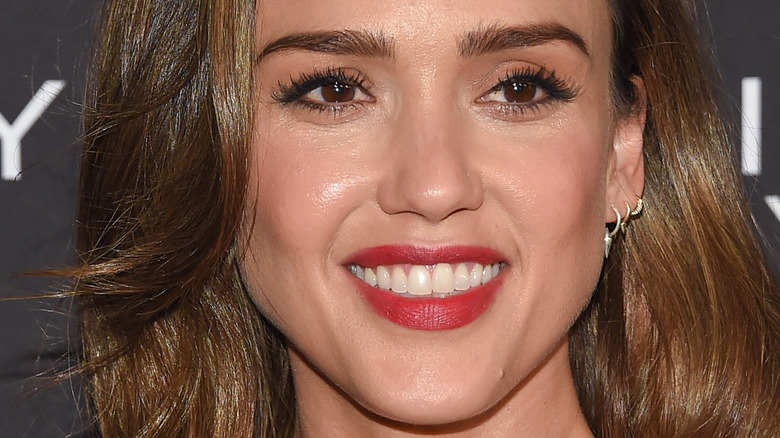 DFree/Shutterstock
Sometimes when celebrities share makeup-free selfies, they look completely different. Like, did you know Kesha has freckles (via Allure)? We love it! 
When it comes to Jessica Alba, well, she basically looks the same under all the makeup we are used to seeing her wear for movie roles. In other words, the actress has the same glowing skin and impossibly-full features that we admire about her without any enhancements. And those eyebrows! How? Oh, what we wouldn't do to get those brows sans, like, ten products.
It's no wonder Alba isn't afraid to show off her makeup-free face on Instagram, like in a gym selfie she posted that basically slays the notion of bothering with so much as lip gloss to exercise — if you're her, at least.
Meanwhile, even when Alba wears makeup, she prefers a minimalist look. Sort of. 
Jessica Alba's effortless daily look actually takes a lot of effort
When asked by W Magazine in 2017 what her approach to beauty is, Alba answered, "Fresh, Effortless, Clean." As far as her tips for maintaining her enviable complexion, The Honest Company founder simply noted she wears sunscreen.
Of course, Alba is behind Honest Beauty, which professes on its website, "One of our golden rules is that everyone should have a regular beauty routine. It's good for you, it's good for us, it's good for everyone when you feel beautiful and cared for." So, the star is going to stand by her naturally-derived makeup products, which help the mom of three achieve her desired "effortless" and "fresh" appearance.
Effortless is a relative term, however, with Alba going through her entire daily beauty routine for Vogue in 2020. The impressive regimen, which incorporated tricks she learned from makeup artists, took 15 minutes (with the time of certain steps sped up) and involved quite few of her favorite products, from moisturizers, to multiple eye shadows, to contouring foundation. 
Needless to say, looking natural takes time if you are a Hollywood star. We say she doesn't need all that makeup to look, um, basically perfect. There, we said it!