Why Lil Nas X Is Weighing In On Tony Hawk's New Skateboard Design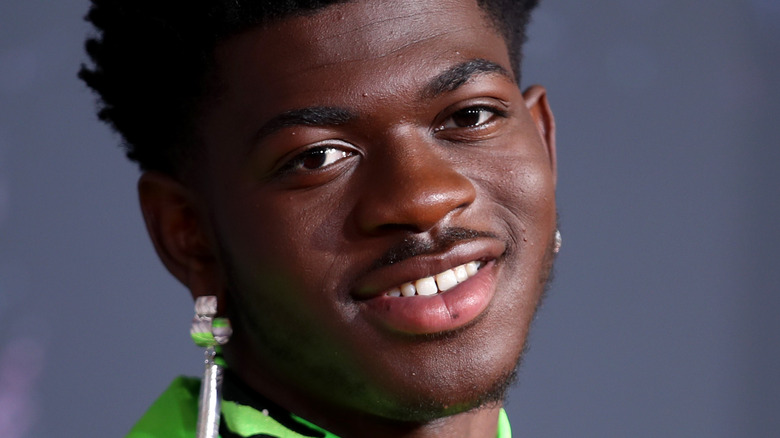 Rich Fury/Getty Images
Lil Nas X knows a thing or two about courting controversy. The rapper lights up social media every time he so much as tweets, let alone drops a new music video. That's not even considering what happened when he performed at the 2021 BET Awards or suffered a wardrobe malfunction during an appearance on "Saturday Night Live." He apparently also knows when to call out what he sees as a double standard. That's exactly what he did earlier this week after Tony Hawk revealed some new merchandise.
The legendary skateboarder teamed up with a company called Liquid Death Mountain Water for an exclusive run of 100 skateboards that were painted with his blood (via E). The line has since sold out on the company's website, and it did so without courting severe controversy. That's a different story than what happened when the "Montero (Call Me By Your Name)" hitmaker launched his "Satan Shoes" earlier this year.
The two releases have a lot in common. Both were limited edition; they also featured the artist's blood. However, Lil Nas X's shoes, customized Nikes that contained a drop of blood and featured references to Satanism, led to a since-settled lawsuit (via Forbes) and significant public outcry (via EW). The social media-savvy star hopped online to comment on the public reaction to both drops.
Lil Nas X pointed out what he sees as a double standard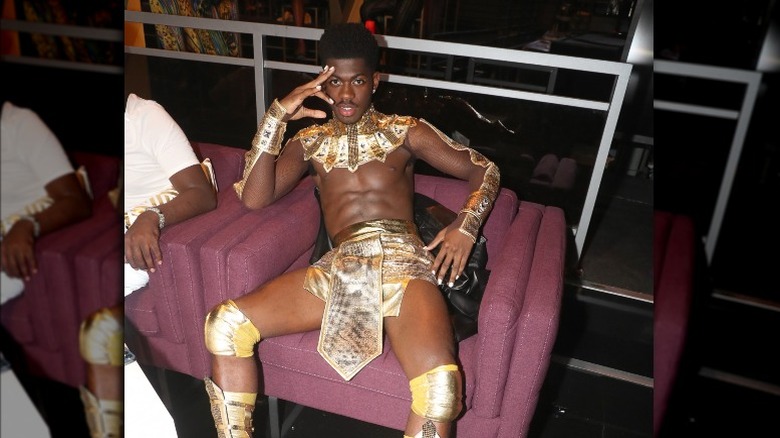 Johnny Nunez/Getty Images
Lil Nas X raised several questions about their bloody collaborations. "Now that Tony Hawk has released skateboards with blood painted on them, and there was no public outrage, are y'all ready to admit y'all were never actually about over the blood in the shoes," he wrote on Twitter. "And maybe u were mad for some other reason?" In true fashion, he followed up the salient post by poking fun at his standing in the industry (via Twitter). Paraphrasing Wendy Williams (via YouTube), he's got a point, and he is the moment.
Fans and critics raced to comment on the rapper's post. One Twitter user implied that the double standard was a result of homophobia. Another person tweeted that the blowback from the "Satan Shoes" stemmed from Nike not wanting to be involved with Satanic imagery and "religious folks." However, several users called those complaints ironic. One Twitter user in particular seemingly implied that the painting on Hawk's skateboards is also somewhat devilish.
Although he is notoriously light-hearted, the rapper has been candid about feeling unsafe since dropping "Montero (Call Me By Your Name)" and the "Satan Shoes." He told Variety that he's had to contract security. That hasn't stopped him from being himself, though. Forbes noted that he used the controversy to promote new music, and he poked fun at the lawsuit on TikTok.
So while his complaints may carry water, it's clear the superstar won't let it keep him down for long.