Jesse Jackson's Son Posts An Update About His Parents' COVID Struggle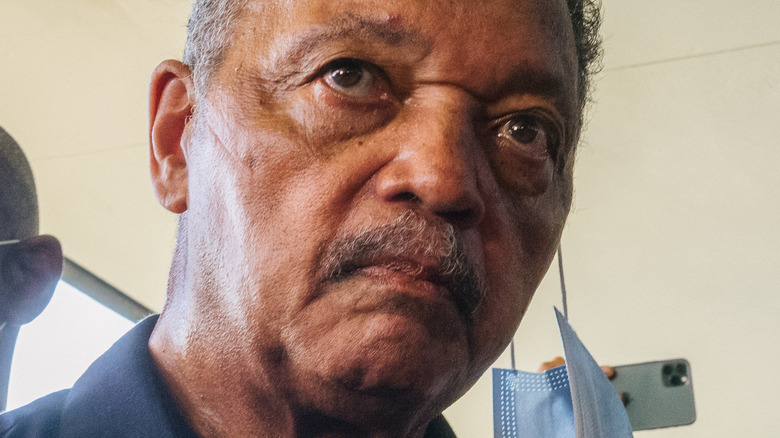 Brandon Bell/Getty Images
The Rev. Jesse Jackson is no stranger to adversity and struggle. The veteran civil rights activist has marched with Dr. Martin Luther King Jr., fought against apartheid in South Africa, and twice made a run for the presidency, among other accomplishments (via Biography). But his latest challenge might be one of his toughest yet. He and his wife of 59 years, Jacqueline, were suddenly hospitalized with COVID-19 on August 22. Both had been vaccinated, but their age and medical history made them vulnerable to breakthrough infection.
The Jacksons' son Jonathan has been posting regular updates about his parents' condition to his father's Instagram account. On August 27, he posted the latest news. Explaining that he was not delivering a "medical report," he proceeded to report that Jackson is out of the hospital. "As you may know, my father has Parkinson's disease," Jonathan wrote. "As his COVID-19 symptoms abate, his Parkinson's symptoms have become more in focus. Therefore, he has been transferred to The Shirley Ryan Ability Lab where he will immediately begin intensive physical and occupational therapy."
Formerly known as the Rehabilitation Institute of Chicago, the AbilityLab (as it is spelled on its website) is a state-of-the-art research hospital that "[applies] research in real time to physical medicine and rehabilitation." Among the conditions they treat are brain and limb impairments related to the COVID virus.
Rev. Jesse Jackson was unable to attend an important civil rights event due to his illness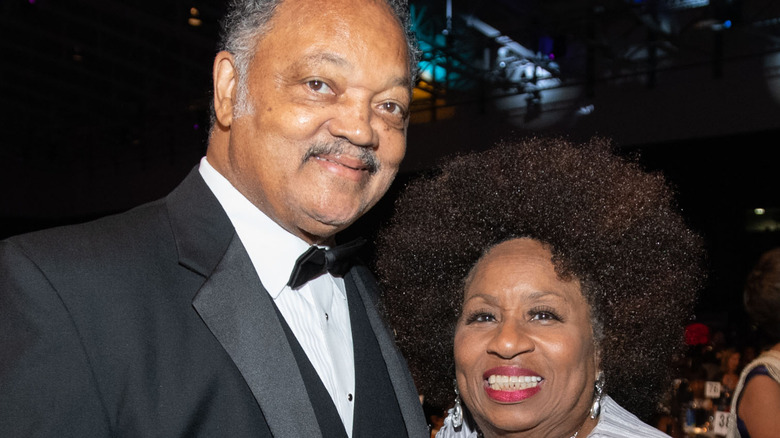 Earl Gibson Iii/Getty Images
Jonathan Jackson, the third of the Jacksons' five children, went on to explain that Jacqueline Jackson remains at Northwestern Memorial Hospital, where she was recently transferred to the intensive care unit. She is receiving oxygen treatment to ease her breathing, but has not been intubated.
"Both of our parents are continuing to receive excellent medical care," Jonathan added. "We urge that you continue to keep them in your prayers because we know this is a serious disease. We continue to receive the love that has poured out to our family from around the world, and it is greatly appreciated, as we express our love and concern for the millions of people who have been victimized by the COVID-19 virus and its variants."  The update was met with a slew of responses, most featuring prayer emojis. Among the well-wishers was Grammy award-winning singer Melba Moore. 
Jackson's Twitter account — still written in first person — most recently expressed support for the August 28 voting rights march in Washington, DC. The event coincides with the 58th anniversary of the 1963 March on Washington, where Dr. Martin Luther King Jr. gave his famous "I Have a Dream" speech. "I just got out of jail to come," the tweet recalled. "In 1963 AAs [African Americans] didn't have the right to vote."