Will The Delta Variant Cause Another Face Mask Shortage In 2021?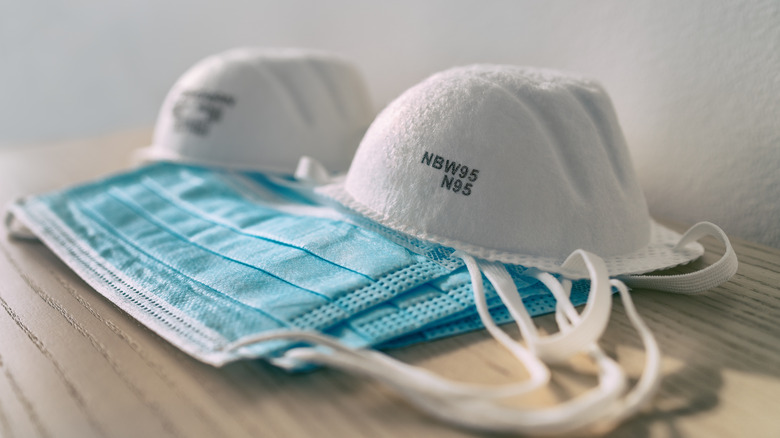 Maridav/Shutterstock
May 13, 2021 might now feel like a lifetime ago, but that was the day the CDC announced that the fully vaccinated would no longer need to wear a mask or maintain any type of social distancing either indoors or outdoors (via The Wall Street Journal). Everyone let their guard down, and COVID restrictions were relaxed across different states even as anxious medical practitioners thought that government at both the state and federal level might have moved a bit too quickly. As UC Berkley School of Public Health's clinical professor emeritus John Swartzberg pointed out to the Los Angeles Times: "There is good science to support changing our policy. On the other hand, I'm surprised they came out with it this soon. I would've liked to have had another month under my belt of seeing the numbers continue to come down."
He added: "Instead of taking giant steps, like I think the CDC took today, I think we should be taking small steps toward the same goal. We ultimately will get there. But I think we'll get there more safely if we're more cautious." At that time, the CDC would have felt it had good reason to relax its mask mandates. As Monica Gandhi, an infectious disease expert from UC San Francisco, said, "People need incentives now. I think this is going to help people who are on the fence to go and get vaccinated."
But the relaxation of mask mandates had other unintended consequences.
Small- and medium-sized mask manufacturers were impacted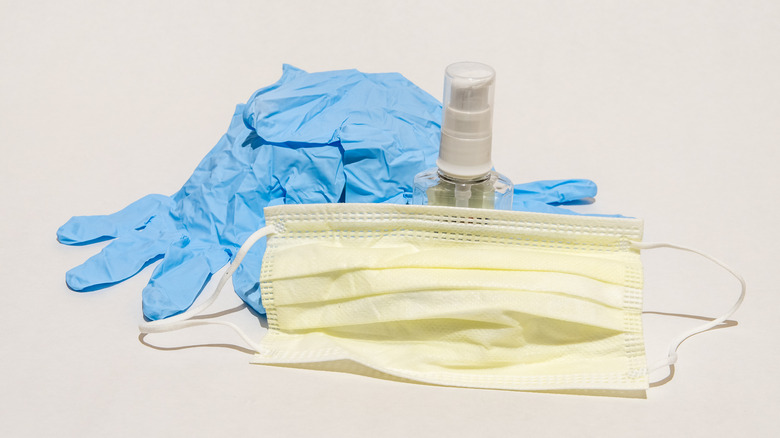 Debbie Ann Powell/Shutterstock
A drop in demand meant that for companies that had sprung up to meet the national mask demand, the boom had gone bust, and it was time to call it a day. Many small- to mid-sized companies which had specialized in making masks as well as other protective medical equipment — like face shields, gloves, and gowns — ended up having to downsize or close shop. By late June, just six weeks after the CDC made its announcement, the American Mask Manufacturers Association said some of its members had to let nearly 5,000 employees go (via Cheddar). 
But that lull didn't last. Two weeks later, CDC Director Rochelle P. Walensky went public with the warning that COVID-19's Delta variant was causing a "pandemic of the unvaccinated" (via The New York Times). By the end of July, the mask recommendation was back (via USA Today). 
Mask purchases have largely tracked the news cycle since that time. USA Today reports that sales rose by 24% after the CDC released its latest mask recommendation. Online mask sales percentages rose even higher, skyrocketing 51% during the first week of August, and 40% the week after that. So with fewer domestic companies making masks, and more people buying them up, are we seeing the same problem involving mask shortages that we saw during the early stages of the coronavirus pandemic?
There should be enough masks for everyone ... if no hoarding occurs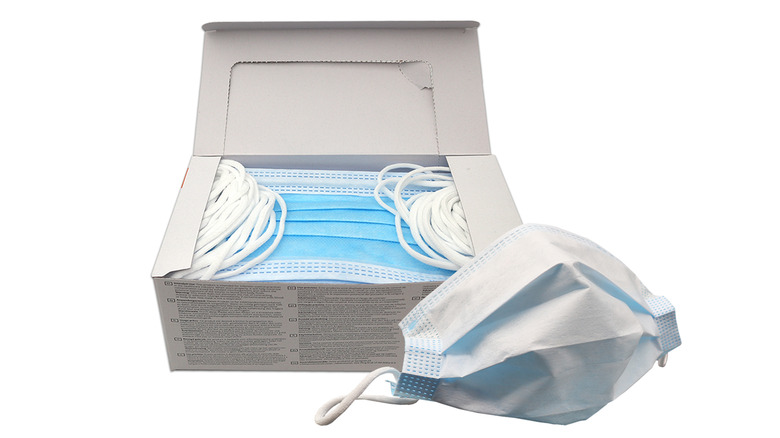 Threestars Johnny/Shutterstock
While mask-wearing has returned to being a thing, increased demand may not trigger a shortage like it did last year during the early stages of the pandemic. As  Adobe Digital Insights' Vivek Pandya tells USA Today, "The growth in mask sales is not as high as last year, in part because people likely have leftover inventory." However, he admits "the double-digit growth in the last three weeks has been striking." That "leftover inventory" means most people who are willing to, or want to, use masks already have stock on hand, and this could be a sign that there are enough masks to go around, particularly in places that need them.
But whether supplies remain stable depends largely on the consumers themselves. Mask wearing has become especially essential since health officials like Dr. Anthony Fauci have said that the country isn't likely to go into lockdown again even with the Delta surge (via Reuters), and there is always a fear that there will be a crunch if mask users start to hoard mask supplies.
The director of St. Joseph's Health's Institute for Autoimmune and Rheumatic Disease in New Jersey, Dr. Robert Lahita, points out that: "The average person needs a box of disposable ones if they can get them, but if not, then cloth can be used." But he also adds, "It's important that we have supplies available for everyone as we enter the fall and winter months."