Inside Anne Hathaway's Friendship With Hugh Jackman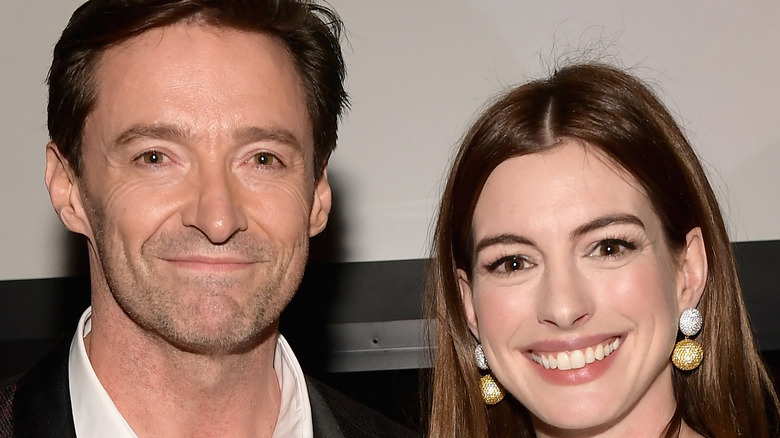 Matt Winkelmeyer/Getty Images
Hollywood breeds numerous friendships as people often bond through their shared time on a project, at a public event, or during someone's lavish party. For Anne Hathaway and Hugh Jackman, their friendship began in 2009 when Jackman hosted the Academy Awards where Hathaway was in attendance (per Variety). Their kinship deepened when Jackman suggested Hathaway for the role of Fantine in the 2012 film adaptation of "Les Misérables" which earned Hathaway a Best Supporting Actress win at the 2013 Academy Awards ceremony (via LA Times).
When Hathaway received her Oscar for her emotionally devastating performance of Fantine, she thanked Jackman in her speech. Though the actress drew criticism for her alleged "phoniness" during this speech, her admiration of Jackman was authentic (via USA Today). During an interview with Parade in 2013, Hathaway praised her Australian co-star, saying "Hugh is this magical alien combination of strength and soul and heart and artistry and fun. And ... to have someone in a film like this where it's inherent to the film's success that you believe in the goodness of the central character, and that someone like Hugh exists who has that goodness within him, it made the film soar."
Anne Hathaway and Hugh Jackman remain friends to this day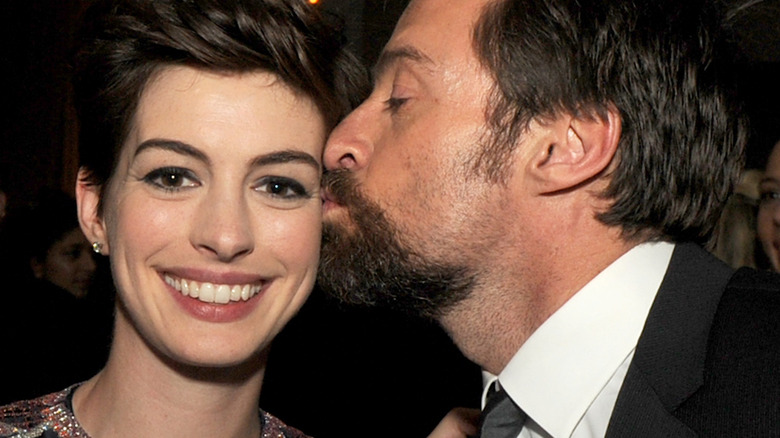 Kevin Winter/Getty Images
In June 2020, Anne Hathaway and Hugh Jackman participated in Variety's Actors on Actors at Home series. The two discussed their acting careers and their shared time on the set of "Les Misérables" and showcased the natural ease they have in their friendship. At one point during the conversation, Hathaway echoed her previous sentiments about Jackman, saying "What I learned about you when we were on 'Les Mis' is that you're so charming and so unflappable, but you're actually really serious."
It's clear that these friends hold one another in high esteem and that their bond remains strong. At the end of their Variety discussion, Hathaway suggested having a Zoom double date with her husband, Adam Shulman, and Jackman's wife Deborra-Lee Furness. Jackman excitedly agreed, saying, "Done! I'll text you after this." It's always nice to see these types of friendships persevere over time!