The Magical Eyeshadow Trend You Need To Try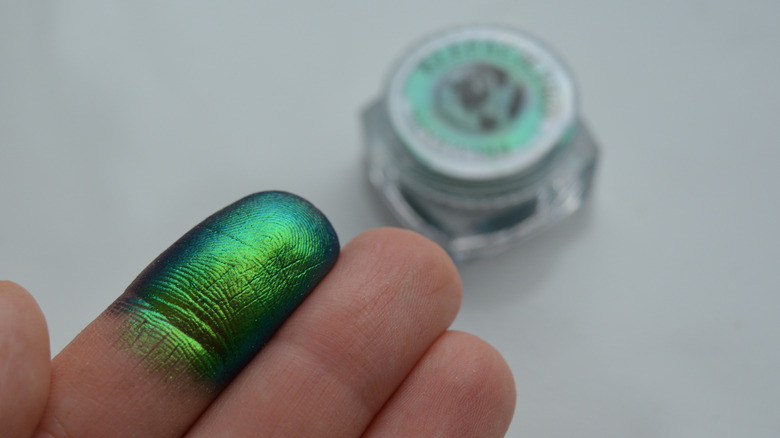 valentyno4ka/Shutterstock
We may receive a commission on purchases made from links.
Now that we're back to wearing masks, the focus is going back to the eyes. So it should be no surprise that bold eye makeup consisting of multiple colors of eyeshadows is one of the leading trends for 2021, per Cosmopolitan. But if you're someone who struggles with eyeshadow, or you feel like blending multiple eyeshadows can take time, then there is a solution for you: multichrome eyeshadow.
Multichrome eyeshadow is a satin or metallic eyeshadow that shifts multiple colors, per Ipsy. Applying one multichrome eyeshadow can therefore give you the look of three or four different shades on your lid in a fraction of the time it would take for you to blend different colors from your eyeshadow palette (via Bustle). Common multichrome shades include purple-to-cobalt-to-gold and pink-to-gold-to-green. There are several formulas you can choose from if you want to buy multichrome eyeshadows. Common options include pressed pigment singles, loose pigments, gel eyeshadow pots, and even liquid eyeshadow tubes.
What multichrome eyeshadows should you buy?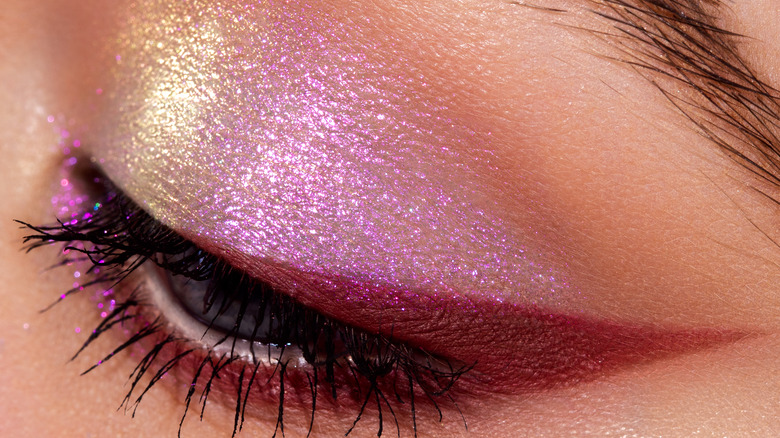 Paulina Tyrala/Shutterstock
An indie-brand that is well-known for their massive multichrome pressed eyeshadow range is Clionadh Cosmetics, per Insider. The brand's unique Stained Glass collection is especially popular. Touch of Glam also has a unique and extensive collection of multichrome eyeshadows, per Bustle. One of their newest collections is the Twisted Pastel Multi Shifter Collection which revolves around pastel multichrome shades.
According to Touch of Glam's Instagram page, Lucid Lavender is one of their best-sellers. This color shifts from lavender, to green, and then orange. Loanie, a Touch of Glam customer, wrote a review of Lucid Lavender on the company's Etsy page, saying, "After wearing Lucid Lavender one day, I received so many compliments!! Someone even made me write down the information so they could look into ordering it for themselves." The company also plans to launch a long-wearing gel eyeshadow pot version of their Lucid Lavender shadow.
Multichrome liquid formulas give an out-of-this-world look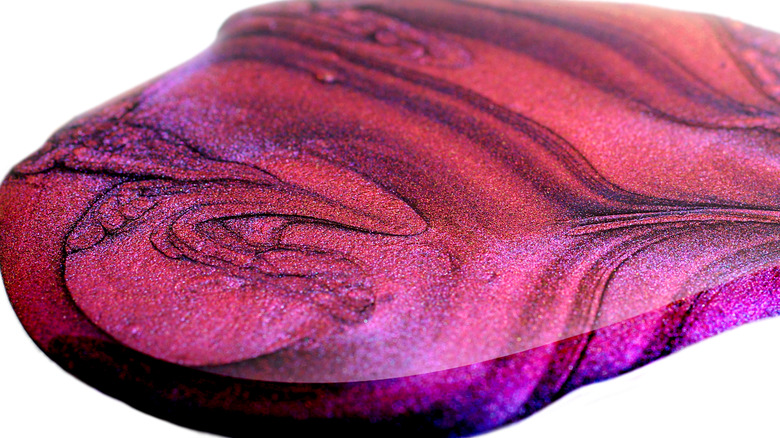 Bidzilya/Shutterstock
Danessa Myricks Twin Flames Multichrome Liquid Eyeshadow is a great liquid eyeshadow option that can even be used on the face or lips, per Dazed. There's the original shades which are colorful, and an opalescent collection that consists of sheer, iridescent shades. According to Ipsy, Natasha Denona Chromium Liquid Eyeshadow offers the boldest multichrome color options in a liquid formula. For those who prefer loose pigments, Dawn Eyes Cosmetics has several different multichrome options from pastels to jewel-tone colors and doesn't contain filler ingredients, per Allure.
If the idea of applying a colorful multichrome eyeshadow all over your lid is a bit too bold for your taste, you can try a more subtle take on the trend by applying a multichrome liquid eyeliner. This will give you a pop of color to help your eyes stand out, without taking over your look. JD Glow's multichrome liquid eyeliners have thin, precise brushes that will provide a sharp, multidimensional cat-eye (via Beauty News). With multichrome pigments, you will no longer have to worry about blending in (your eyeshadow that is), when you can stand out by wearing an effortless eye look.