The Best Hyaluronic Acid Serums For Sensitive Skin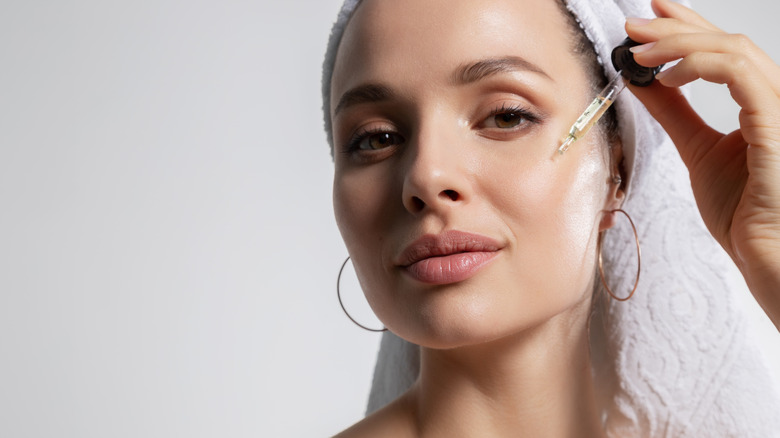 popcorner/Shutterstock
We may receive a commission on purchases made from links.
Many dermatologists would agree — hyaluronic acid is one of the most essential ingredients out there when it comes to keeping your skin hydrated and young. "It helps to bind water to collagen, trapping it in the skin, so that skin can appear plumper, dewier, and more hydrated," Tsippora Shainhouse, board certified dermatologist, told Allure. So clearly, the serum boasts some serious power. 
Not only is hyaluronic acid a powerhouse ingredient, it is safe to use for all skin types, so there's really no excuse to not incorporate it into your daily skincare routine. One of the most effective ways to get hyaluronic acid to penetrate into your skin properly is with a potent serum. And although adverse side effects for hyaluronic acids are rare, those with sensitive skin have the right to be extra cautious when it comes to choosing their products. However, there are hyaluronic serums out there on the market that are ideal for sensitive skin types. Keep scrolling to find out what they are.
CeraVe and First Aid Beauty cater to sensitive skin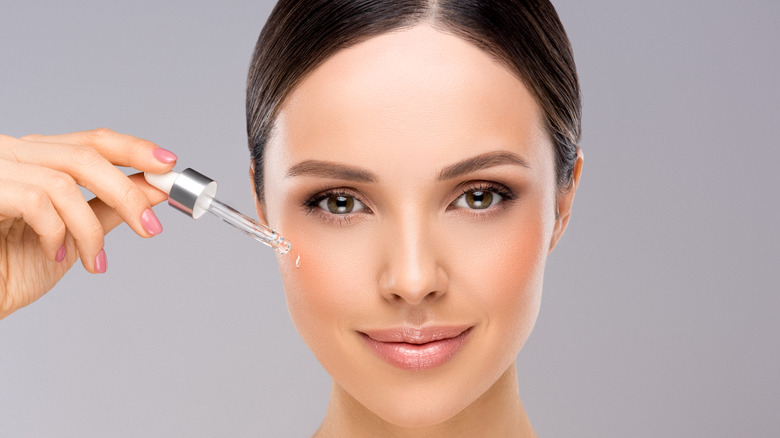 Sofia Zhuravetc/Shutterstock
While CeraVe has been praised in the past for their holy grail cleansers, their Hyaluronic Acid Serum (16.99) is a highly worthwhile product as well. Its creamy, lightweight formula bodes especially well for those with sensitive skin, partially due to its vitamin B5 ingredient which is known to soothe irritated skin, according to InStyle. What makes this serum unique is that it not only adds hydration to your skin, it tackles the root of the skin's hydration problem. "It takes advantage of HA but also restores the skin barrier at the same time," Tom Allison, founder of CeraVe, told Vogue. This serum sinks into the skin immediately for optimal results. But the best thing about this serum? It's budget friendly price.
Also ideal for sensitive skin is the First Aid Beauty Ultra Repair Hydrating Serum ($38), due to its skin soothing ingredients, colloidal oatmeal and aloe leaf juice. It also doesn't leave a sticky, tacky feeling like other hyaluronic acid serums often can. It also works with ingredients collagen and peptides for ultimate anti-aging effects, via Us Weekly. Apply on cleansed skin before your moisturizer at night, and your sensitive skin will wake up as plump, dewy, and fresh as ever.