The Perfect Piercings For Couples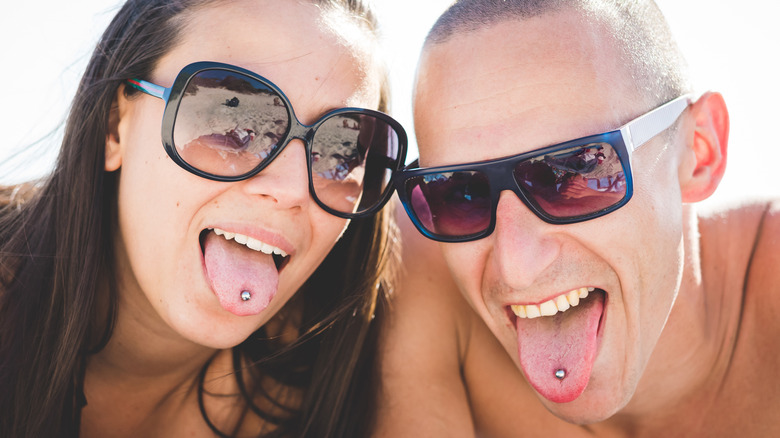 Eugenio Marongiu/Shutterstock
Some couples wear matching outfits. Some drive the same type of car or work at the place. And some get tattoos or piercings together to show off their love to the world.
By getting pierced at the same time or in the same place, a couple can ensure they have an exciting date night. They can even go through the process of picking jewelry together and healing with each other, and can have a one-of-a-kind enhancement that is great for bonding and that just looks really cool.
Before we jump into the best types of piercings for love birds, take some advice from Freshtrends on what NOT to do: The tongue is a hot spot to consider, but the aftermath is not so cute with the subsequent drooling and swelling. "Another lover piercing faux pas is that of our Netherlands," the blog states. The pain would certainly put a damper on things for some time. So, where should couples be pierced? Read on for the answer. 
Couples should go for piercings that complement each other
So which piercings are the best for couples? This first idea also comes from Freshtrends. The blog suggests the nose, which is synonymous with "the scent of love, the aroma of romance, [and] the intoxicating smell of desire."
Another idea is to get matching piercings with complementary jewelry. In an example from Body Piercing by Bink, a couple got septum piercings with circular barbells and prong-set opal balls. One person went with hot pink and sky blue, while the other chose sky blue and lavender. Cute!
The most popular and possibly the most romantic idea is to trade in traditional wedding rings and bands for piercings, as shown in the above photo. Yes, some couples opt for dermal piercings, which are usually made up of a flat plate under the skin and a piece of jewelry on the surface that can be changed, per Go Social. Whether diamonds are used or not, this is an awesome way for two people to shine a light on their love. With some options outlined, it's time to decide whether you and your partner may opt in for this idea to showcase of your love.