What Adam Lambert Really Looks Like Underneath All That Makeup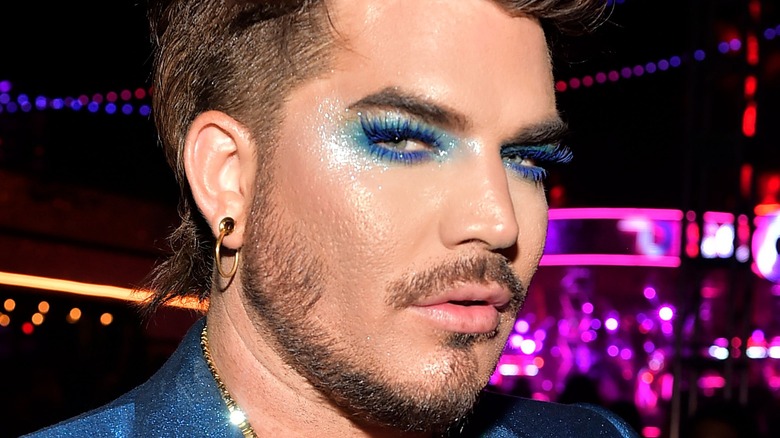 Stefanie Keenan/Getty Images
Adam Lambert has been a pop culture fixture since his run on "American Idol" during Season 8 (via Ultimate Classic Rock). Though he did not win the competition show, he would go on to have a successful career. With such a unique and powerful voice, Lambert was asked to fill some big shoes. He became the frontman of the band Queen and does the legendary rock 'n' roll band proud. One could never replace Freddy Mercury, the band's former singer and songwriter who sadly died from complications due to AIDS in 1991 (via Buffalo News), but Lambert has brought his own flare to the band while paying tribute to its late singer.
From his run on "American Idol" to fronting one of the most popular rock bands in the world, Lambert has never been afraid to be himself. According to Good Housekeeping, Lambert was worried about his image on "Idol." When all of the judges went wild for his performance, it was Simon Cowell who praised his vocals, but found his look to be a bit too theatrical.
Regardless of what was thought of him, Lambert continued to wear makeup and be himself on the stage. He's known for colorful eyeshadow and isn't afraid to try out various makeup looks. While his makeup is fabulous, you may wonder what he looks like without it on.
Adam Lambert has loved makeup since his theater days
It is no secret that Adam Lambert loves makeup. He even has a YouTube series where he shows his fans how he does his signature makeup looks. The first video of the series shows him giddy about his new endeavor, saying, "So excited to share with you the first of a series of makeup tutorials I've been working on! Starting with a natural look I use often when leaving the house." While we've come to know Lambert's fun and bright stage makeup, it was interesting to see him show off a more natural look!
Lambert would love to start his own makeup line, according to Billboard. He told Kelly Clarkson when asked about starting his own makeup line, "I would love to; I think that would be really fun," he said. "I was in theater, so [makeup] was a part of getting ready for the show. I just loved getting to sit in front of the mirror and transform my face and cover up all of my freckles at the time."
Without makeup, Lambert is a handsome guy! Whether he has a bare face on YouTube or in full glam while on stage with Queen, Lambert always looks amazing!