Of All Of Meryl Streep's Looks - This Stands Above The Rest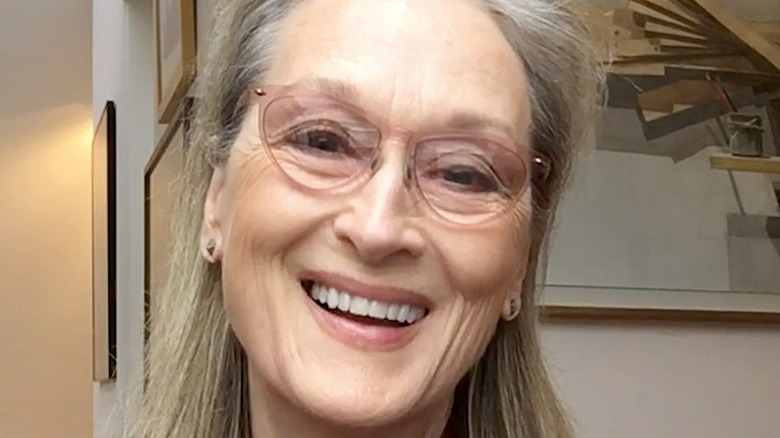 Getty Images/Getty Images
Stealing our hearts both on and off the screen, what is there not to love about Meryl Streep?
Though she claims to "know nothing about fashion" and that she "couldn't care less" about it, Streep has been an icon for timeless, classic, and elegant pieces since the start of her career (via Vogue). From her fashion-centric role in "The Devil Wears Prada" to her iconic trench coat in "Kramer vs Kramer" and countless appearances on red carpets, Streep's simple yet confident style withstands trends.
A fan of monochromatic looks, block-colored pantsuit moments, and a little sparkle every now and then, the "Big Little Lies" star likes to keep us on our toes with the seemingly small details (via The Talko). Streep's fashion has especially shined during awards season, usually saving the best for the Academy Awards. Of course, as many fans are aware, she has been stunning red carpets since the '70s, while also racking up numerous nominations and awards for her impeccable work on screen. 
But out of all the outfits she's graced us with, only one can stand above the rest.
Meryl is a classy and elegant lady in all white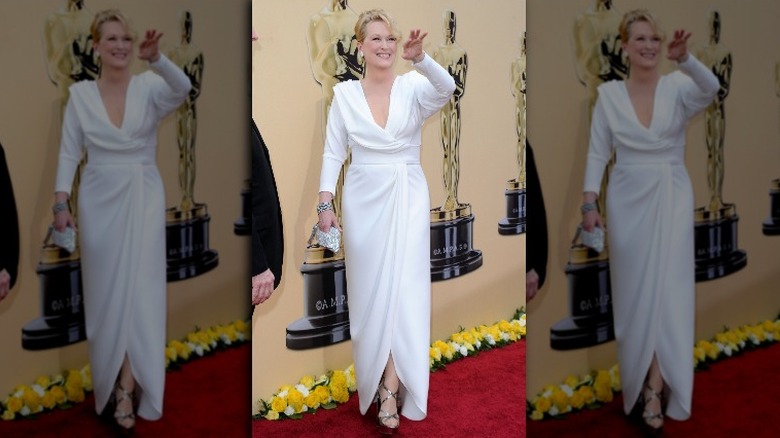 Jason Merritt/term/Getty Images
Though there's no denying that Meryl Streep serves looks both on and off-screen, her best outfit has to be the white Chris March gown she wore to the 2010 Academy Awards.
Attending as a nominee for her performance in "Julie and Julia," the Hollywood biopic of famed cook and TV star Julia Child, Streep turned eyes with the elegance of her white gown featuring a swooping crossed neckline. 
However, the beauty of the dress was in the details. A tulip hem hung perfectly down her hips, allowing her strappy Jimmy Choo platform heels to peek through the floor-length gown (via Red Carpet Fashion Awards). The cinch at the waist also created shape and structure while letting the drapes following the neckline to give the dress movement (via Honey Style). The dress was made by former "Project Runway" contestant Chris March, who also designed Streep's dress for that year's Golden Globes Awards.
For accessories, Streep opted to bring some bling with a zebra-print cuff, diamond earrings, and a crystalized clutch. Keeping with the cool tones of the overall look, Streep went for a pretty natural make-up look and pinned her hair up in a french twist for some added class. From the dress itself to the accessories and styling, this look, as The Guardian put it, belies "red carpet aristocracy." Simple yet elegant, this white dress surely stands above the rest.