Peloton Vs NordicTrack: Which Bike Is Better?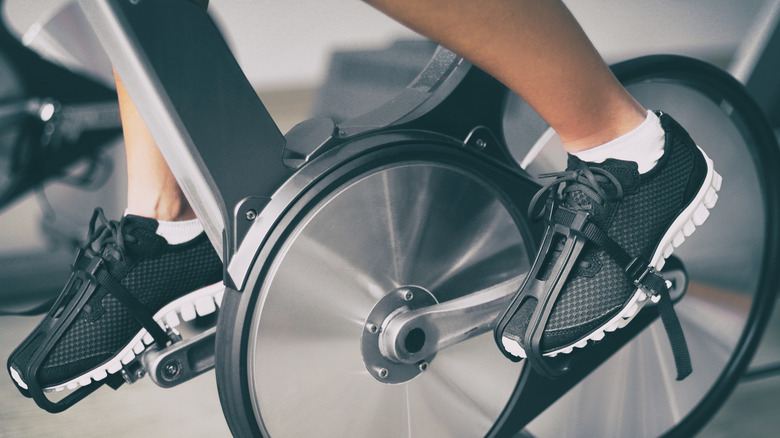 Maridav/Shutterstock
If you've recently decided to beef up your home workout routine, you're in good company. According to a report from Apartment Therapy, people got creative with their routines when gyms closed in 2020, and a study from SWNS Digital revealed that the home workout revolution isn't going anywhere anytime soon. Nearly three-quarters of those surveyed indicated they believe traditional gyms may become a thing of the past. It all comes down to the perks of working out at home that include no longer having to commute and no more feeling judged by other gym-goers. 
If you're among those who have enjoyed working out at home, chances are you've looked at a Peloton or NordicTrack exercise bike before. Both brands offer fun, engaging workouts via an app to keep exercising from home enjoyable, according to Shape. They also both involve a significant monetary investment as well, so which bike is actually better?
Here's the biggest differences between Peloton and NordicTrack bikes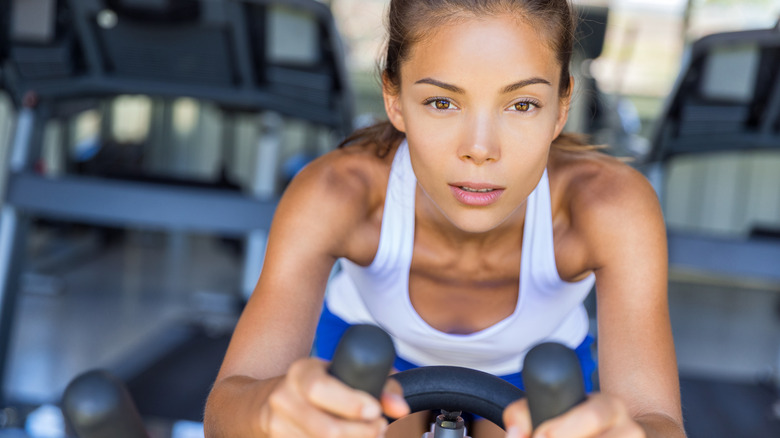 Maridav/Shutterstock
Shape notes that NordicTrack actually started manufacturing exercise equipment in 1975, while Peloton didn't get their start until 2013. Despite being a younger company, Peloton has managed to make quite a mark, so it all comes down which features you prefer. 
The NordicTrack Commercial Studio Cycles offer automatic trainer control, which allows the bike's resistance, declines, and inclines to change in response to the workout. They also have 22-inch and 14-inch rotating touchscreens, depending on the bike, and cost between $1599 and $1999. That includes a family membership for up to five users to iFit.
Meanwhile, the Peloton bikes — ranging from $1,495 to $2,495 — do not include the membership, which is $39 a month for your whole family for the first year (via Healthline). The original Peloton Bike's touchscreen is 21.5 inches and doesn't rotate, while the Bike+ features a 23.8-inch touchscreen that rotates 360 degrees. 
If you're not interested in purchasing special spiked shoes, perhaps the NordicTrack would work better for you because the Peloton uses Delta-compatible aluminum pedals, which require cleats for riding. However, while both brands offer a return policy within 30 days, NordicTrack charges a 10% restocking fee. So, there are pros and cons for both. At the end of the day, each company delivers an excellent product. Which one works for you depends on your budget and needs.