The On-Air Moment That Made Katherine Timpf Famous
Katherine Timpf, more commonly known as Kat Timpf, is fast becoming one of the most prolific and popular contributors on Fox News. The no-nonsense libertarian features on several of the network's most prominent shows, including "Gutfeld!" which she likely landed thanks to being a traveling comedian on the side. Elsewhere, Timpf has appeared on "Fox & Friends," "America Live with Megyn Kelly," and "On the Record with Greta van Susteren," among several others (via IMDb).
The Michigan native was even gifted her own short-lived show, "Sincerely Kat," solidifying that she's one of the most valued members of the Fox News team. Notably, Timpf doesn't always toe the party line, either. Her youth is a major boon, but she's no wallflower. Timpf wrote a scathing take-down of then-presidential candidate Donald Trump in the National Review and frequently garners attention for refusing to back down. 
If you've never heard of Timpf, this is how she originally broke out in a big way. 
Kat Timpf took on the biggest fandom in the galaxy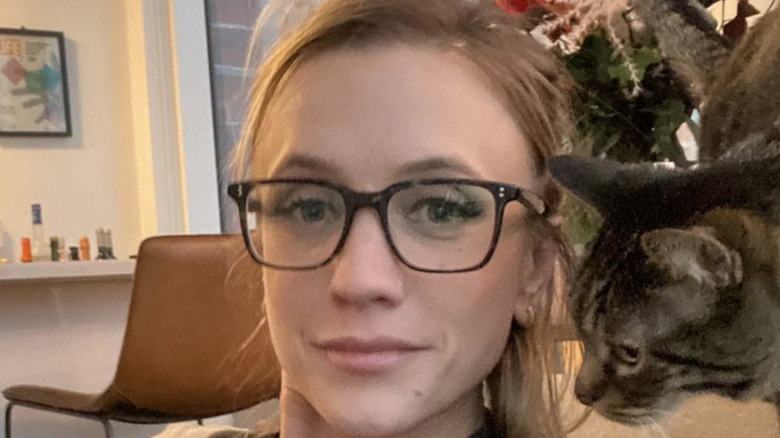 Kat Timpf/Instagram
Although she's predominantly known as a political pundit nowadays, Kat Timpf originally came to prominence for a rather infamous take-down of "Star Wars" fans. During a 2015 appearance on Fox's "Red Eye," ahead of the release of franchise-restarter "The Force Awakens," the staunch libertarian opined (via YouTube), "I have never had any interest in watching space nerds poke each other with their little space nerd sticks and I'm not gonna start now." She added emphatically, "You 'Star Wars' people are crazy." 
Timpf later wrote a piece for the National Review in which she doubled down on her incendiary comments. Refusing to take them back or apologize, the Fox News personality argued, "The all-too-common knee-jerk reaction of apologizing for harmless jokes after overblown hysteria is ruining our culture. This political-correctness obsession threatens free speech, and I absolutely refuse to be a part of it."
Timpf later shared the piece on Twitter, quipping alongside it that she has no time to apologize for her "Star Wars" take because "I am too busy liking cool things and being attractive." For better or worse, a star was born.