All Of The Trends And Designers Jackie Kennedy Made Popular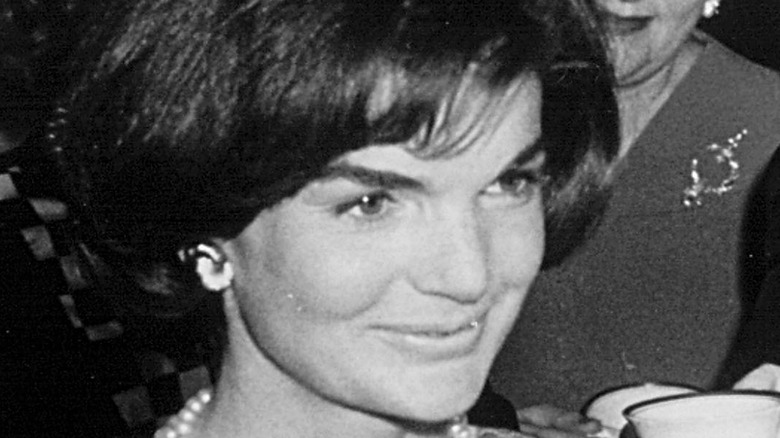 National Archives/Getty Images
There's no doubt that former first lady Jackie Kennedy was one of the most prolific fashion icons of her time. Her classy yet glamorous outfit choices were an inspiration to practically every woman in the 1960s and 1970s. After being photographed in any given outfit, Kennedy's style from her garments to accessories would be immediately replicated by women all across the nation. Her legacy and confident style challenged conservative preconceived notions when it came to how women were supposed to dress, according to Forbes.
In fact, her elegant clothing was so influential, that many of the designs she sported are still heavily worn today, even almost 30 years after her death. Many might not know that many commonly praised garments got their start in the fashion world once Kennedy was seen pulling them off with grace. Here are all the trends and designers that Jackie Kennedy made popular.
Jackie Kennedy's best looks include her inauguration ensemble and White House ballgowns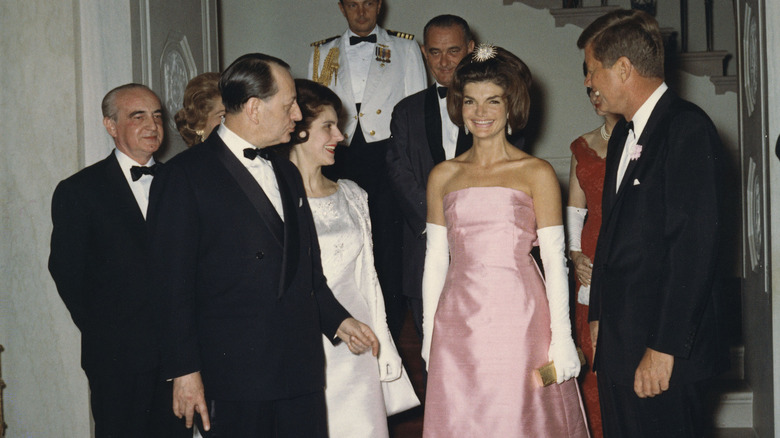 Darren Mccollester/Getty Images
Designer Oleg Cassini is largely responsible for Jackie Kennedy's prolific status in the fashion world today. With his European-inspired coats and suits, Cassini reportedly designed 300 outfits for Kennedy in less than three years, according to L'Officiel. One of his most notable designs was a leopard coat spotted on the first lady in 1962. The piece skyrocketed in demand so aggressively that over 250,000 leopards were killed to help fulfill sales, prompting Cassini to vow to never work with real fur again, according to CR Fashion Book.
But perhaps the Cassini-Kennedy collaboration that most strongly sits with the memory of the American fashion zeitgeist is when she wore one of his coats to her husband's inauguration. The beige wool coat came with a straight-lined silhouette and a distinct row of buttons, garnering much public attention and creating a precedent during the 1960s, per Insider.
Kennedy also popularized collarbone action through her repeated wearing of strapless gowns. From a baby pink Christian Dior dress at the White House in 1962 (via TIME), to an elegant lavender evening gown in 1963 at The National Gallery of Art, she set the trend for one of the most prevalent silhouettes in her era.
Accessory designers and trends Jackie Kennedy made popular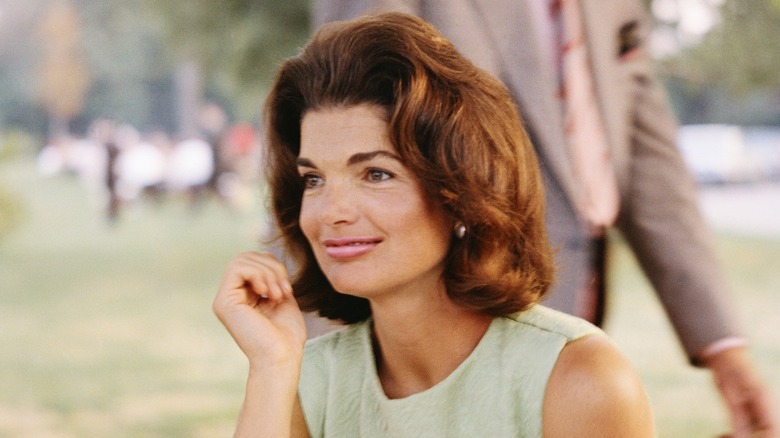 Michael Ochs Archives/Getty Images
During a trip to Capri in 1960, Jackie Kennedy became enamored with a pair of leather sandals she found, and brought them back to a cobbler in Palm Beach to personally replicate the style for her, and from there, the Jacks Sandals were born. According to Town & Country, the shoes garnered so much attention that they spawned the brand Jack Rogers as we know it today.
Mega-successful fashion designer Halston would not be where he is today without Kennedy. In 1961, she wore his pillbox hat during the presidential inauguration, making it an integral part of her signature look (via CR Fashion Book).
The former first lady brought the Gucci Classic Saddlebag to light when she was famously photographed using it to shield herself from the paparazzi in the 1970s. Since then, it has become a staple for the luxury brand, and in 2020 it was revamped for the fall collection, and has been spotted on the likes of Harry Styles (via The Editorialist).
In perhaps another attempt to shield her face, Kennedy was clearly a fan of oversized sunglasses as well, especially in the late 1960s. Her most memorable pair were from French designer Francois Pinton, who created designs specifically for her. Nowadays, the "Jacky 1" can be bought on the Francois Pinton website, and encapsulates Kennedy's essence with their large oval shape and chic patterns.