Royal Expert Explains Why Meghan And Kate Reuniting Is Unlikely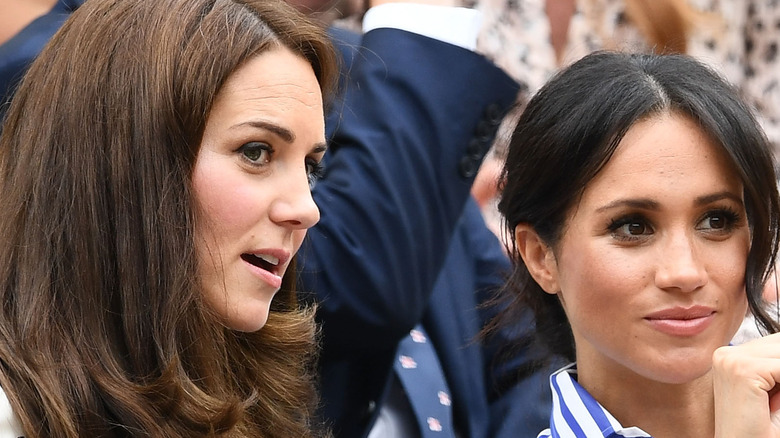 Clive Mason/Getty Images
Prince Harry and Meghan Markle's relationship with Prince William and Kate Middleton has been a hot topic for years. The brothers and their wives are often the subjects of online rumors and speculation. However, one recent report claims that the two couples were actually making strides to repair their relationship via video calls, per Us Weekly. Royal expert Stewart Pearce told the outlet that William, Kate, Meghan, and Harry have been getting closer by having conversations on Zoom. "I know that the four are talking with one another and they're talking by Zoom [and by] FaceTime. They're very close with one another," Pearce told the outlet.
Pearce predicted that the calls between the family members would be "informal," and include "Kate cooking dinner in the kitchen" while William drank tea and chatted with his younger brother across the globe. However, that may not be the case. Royal author Omid Scobie recently revealed that there has been little progress in William and Harry's relationship and that their rift has also bled over into the relationship of their wives, who tend to follow suit with their royal husbands, per Entertainment Tonight.
Meghan and Kate follow the lead of their royal husbands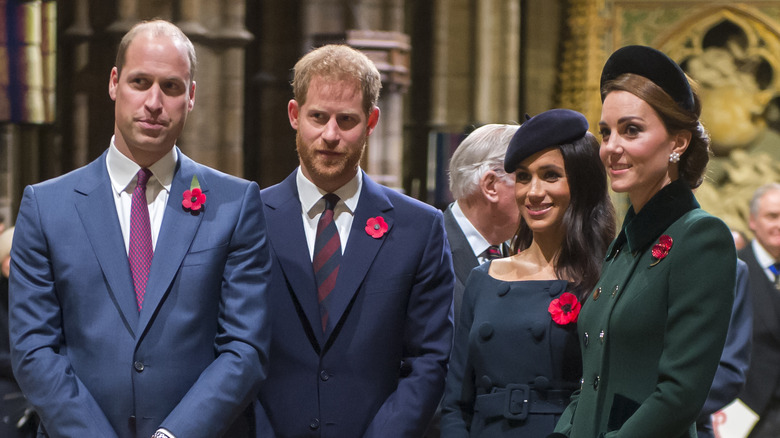 Wpa Pool/Getty Images
Omid Scobie says that there isn't much hope for Meghan Markle to reconcile with her sister-in-law, Kate Middleton unless their husbands mend their rift first. Scobie, who co-authored Harry and Meghan's biography "Finding Freedom," says that it's not likely that Kate and Meghan will work together to unite Prince Harry and Prince William (via ET). "I think it's wishful thinking when we see people say that Meghan and Kate are going to work on a Netflix project together or they're talking on the phone," Scobie told Entertainment Tonight. "I even read a story about how they're Zooming whilst making cakes or something, quite recently," he continued.
"Unfortunately, they follow the lead set by the brothers. The brothers aren't talking, there really isn't much communication between either side altogether," he added. "Although there was never really a feud between the duchesses, there was some distance. They were never able to get as close as possible."
Scobie went on to reveal that Harry and Meghan always wanted to be as influential as William and Kate. However, the fact that they weren't on the same level in the royal family took a toll on their plans.
William and Harry's standing in the family impacted their relationship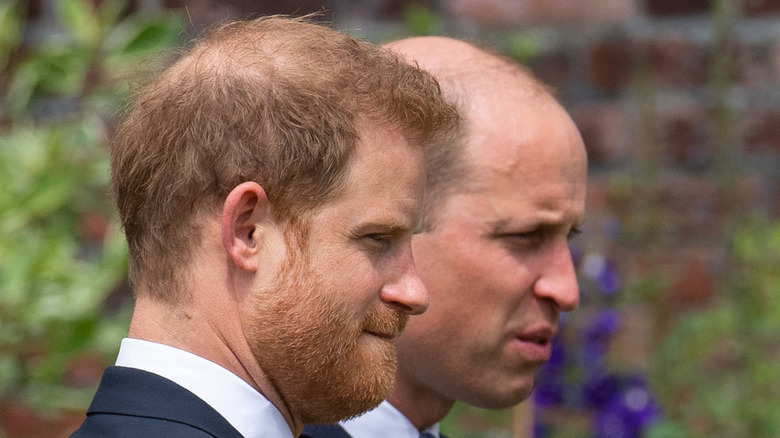 Wpa Pool/Getty Images
Omid Scobie admits that Prince William's status as the future king cast a shadow over his relationship with Prince Harry, as well as the relationship between their wives Kate Middleton and Meghan Markle, per Entertainment Tonight. "The Fab Four was always destined to fail because neither of them were equals," he explained. "These weren't four family members all on the same level, carrying out work together. It was kind of a Diana Ross and the Supremes situation."
Scobie also revealed that Harry was constantly reminded that he was further down the line than his older brother, which impacted the work he and Meghan wanted to do. "They wanted to do just as much as the Cambridges. They wanted to be just as front and center as William and Kate were and, of course, public appetite was there for it, but the institution is very quick to remind you that you are in that position," he says. "Harry is number six in line to the throne and must always remember that as he carries out that work. It means that he can never overshadow his brother."
It seems that there has been little progress made in ending the feud between William and Harry. However, fans will continue to hope that the family will reconcile in the future.