Is Jennifer Aniston Launching A Beauty Brand?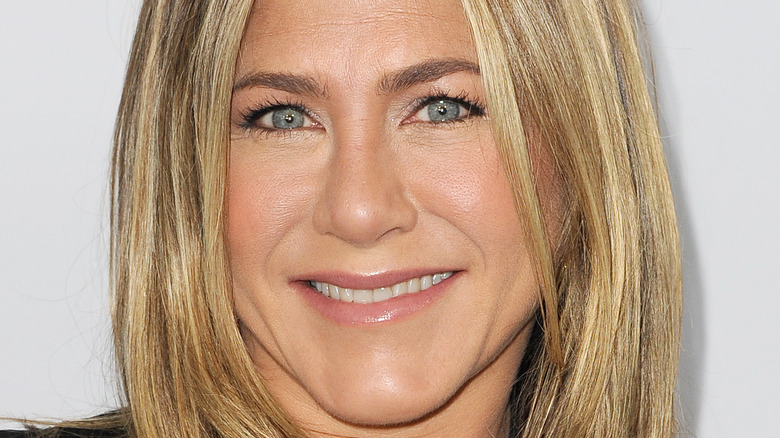 Tinseltown/Shutterstock
If there is any celebrity out there to take beauty advice from, it's definitely Jennifer Aniston. According to InStyle, it was 27 years ago that Aniston took on the role as Rachel Greene on the hit sitcom "Friends." Now in her 50s, Aniston doesn't look like she's aged since playing the fashion-loving Greene on TV.
Aniston has gone on to have a successful career in both television and film, as evidenced by her IMDb page. Whether it was her performance in "Horrible Bosses" or "We're The Millers," Aniston always steals the show. While she loves her acting career, she has had a passion for beauty for years. If you've ever turned on a TV, for instance, you've likely seen Aniston as the face of various beauty commercials for brands like Aveeno and Neutrogena. Even more, she actually likes those products and uses them in her daily life, according to Hello! Magazine.
While she's been the face of several campaigns by various beauty brands, Aniston has decided to jump into the industry herself. Keep scrolling to learn everything we know about her upcoming brand. 
Jennifer Aniston's brand has a meaningful name
According to Us Weekly, Jennifer Aniston launched fans into a frenzy when she posted a cryptic message about something debuting in early September on her Instagram page. She wrote, "Something's coming," paired with a photo of a behind-the-scenes look at some sort of shoot. She also tagged an Instagram account titled LolaVie. It got attention quickly, and one fan said, "I don't know exactly what this is, but I'm sure it's going to be awesome! I am excited."
Now, it is clear that Aniston is starting up her own beauty line called LolaVie, as noted by Page Six. You may recognize the name of the brand because the "Murder Mystery" actor launched a perfume by the same title in 2010. However, she abruptly changed the perfume's name after there was a conflict with another brand that shared a similar name.
The name of the company means a lot to Aniston. Back when she released the perfume, she shared that LolaVie means "laughing at life." When asked about the name choice by Women's Wear Daily magazine (via Reuters), she shared, "It's a long story and honestly it's too personal to tell, but it has a special significance." Now, she's using the name for her own beauty line. This is the first time the star has created her own brand, according to Yahoo! Life. The launch date is set for September 8, 2021.