Peloton Instructor Kendall Toole Reveals Her Pre-Workout Routine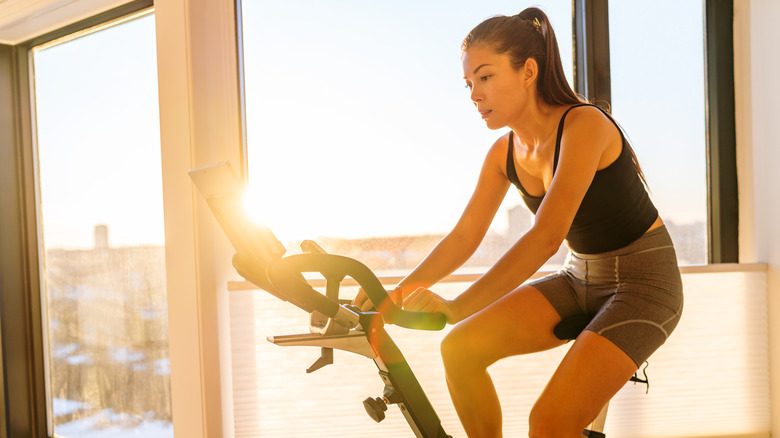 Maridav/Shutterstock
The Peloton bike has become a staple for those that love to pedal their way to their fitness goals. Indeed, many home gyms are built around this pricey indoor bicycle ($1895 for the basic model), which increased in popularity during the pandemic (via CNBC). The luxury bike comes with a 21.5-inch touchscreen tablet that streams on-demand classes while connecting you to the rest of the Peloton community, including the President of the United States (via WireCutter).
You can also participate with Mr. Biden regardless of whether you have a bike or not. The Peloton digital membership offers on-demand and live classes, which have become one of the main selling points of the brand, as you can access them without Peloton hardware (via Peloton). Many fitness instructors have gathered large followings on their social media accounts after becoming Peloton instructors — and Kendall Toole is one of them. Toole brings high-energy, pop playlists to her classes and has amassed 540,000 followers on Instagram. 
Kendall Toole does not drink coffee
Kendall Toole's classes range from head-banging along with Metallica to pedaling with smoother tunes from John Legend and Alicia Keys (via Instagram). All of them are accompanied by Toole's infectious energy that she brings from her background in professional cheerleading, gymnastics, dance, and boxing (via Peloton).
With many of her classes starting at 8 AM, Toole has crafted the perfect morning pre-workout routine that keeps her pumped. She tells Shape, "My alarm is [set to] 'Ain't No Mountain High Enough' because if you're starting your day being upset to that song, you need to go back to bed and try over — it's impossible to be upset with that song on." She then takes her dog for a walk before stretching it out for her workout class.
As a non-coffee drinker, Toole takes X2 Pre Intra Workout Powder along with a bottle of water to boost her stamina. She started using the supplement after becoming a partner with the brand (via Shape). "For quite a few months, I had two water bottles during my classes — especially my really hard classes — because I was always trying it out, and I was shocked. It feels like I got eight hours of sleep, even though I often don't," she said. However, if pre-workout isn't for you, you can always fuel your workout with healthy foods.