Megan Fox's Tattoos: A Complete Guide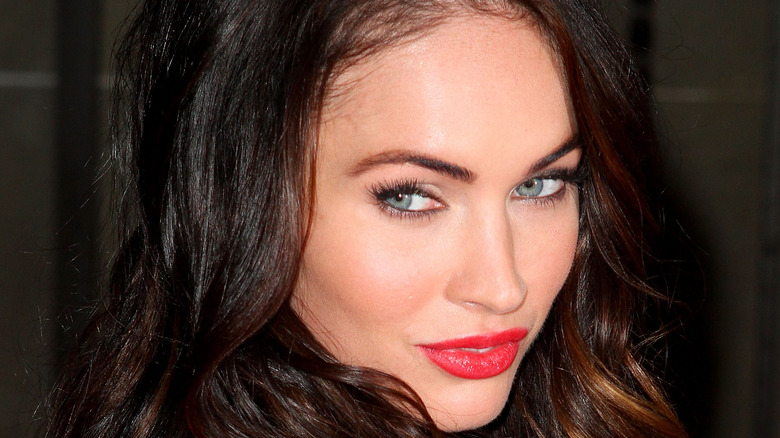 Joe Scarnici/Getty Images
Not only is 34-year-old "Jennifer's Body" actress Megan Fox drop-dead gorgeous, she has a rebellious and unique style to her as well. It could be her long raven hair or her slightly grunge clothing choices, but what really makes people's heads turn for Fox since her "Transformers" days is her assortment of edgy yet classy tattoos that really ramp up attention.
Fox's first tattoo was a black and white portrait of Marilyn Monroe on her forearm when Fox was 18. Even though she admired Monroe, she explained that at the time she got the tattoo as a "warning" for her career, to remind herself to not let the film industry treat her the way they treated Monroe . However, in 2011, she revealed that she was in the process of getting the tattoo removed, because she didn't want to have such a tragic figure on the forefront of her body (via Insider).
That being said, Fox doesn't seem to regret all of her tattoos, as she's still covered today. In fact, she has multiple inkings that are over 10 years old, in the form of various lettering and symbols. As of August 2021, she reportedly has nine tattoos total, according to Popsugar, likely making her heavily inked pop punk boy toy Machine Gun Kelly proud. But what exact ink has she gotten over the years, and where? Here is a complete guide to the rest of Megan Fox's tattoos.
Megan Fox's older quote tattoos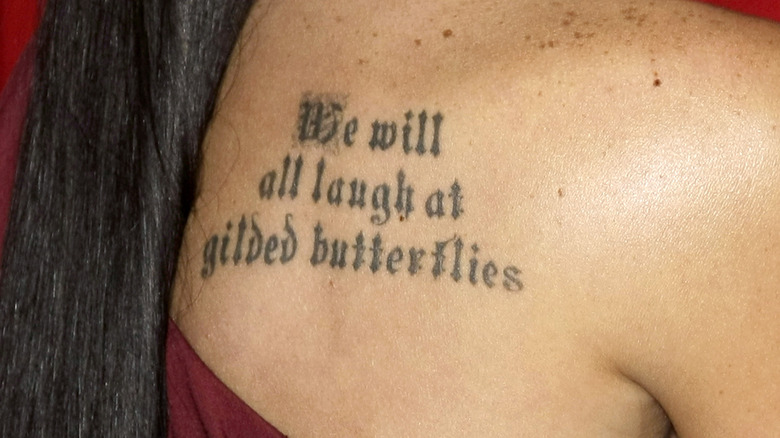 Florian Seefried/Getty Images
For lettering, she has one which is a quote on her back from the William Shakespeare play "King Lear" that reads: "We will all laugh at gilded butterflies," which she got before June 2010, according to Popsugar.
Also on the right side of her torso is a quote from German philosopher Friedrich Nietzsche: "And those who were seen dancing were thought to be insane by those who could not hear the music," which expresses Fox's personal philosophy about marching to the beat of your own drum, according to MTV. She got the tattoo in 2010, and also according to MTV, has said herself that it reminds her Mickey Rourke, who was her co-star in the film "Passion Play."
Another worded tattoo is a poem Fox wrote herself: "There once was a little girl who never knew love until a boy broke her heart," on her left rib cage. As a tribute to her (now ex) husband Brian Austin Green, Fox got his first name tattooed along her bikini line. It is unknown if she still has this tattoo since the divorce.
Megan Fox's symbol tattoos and most recent ink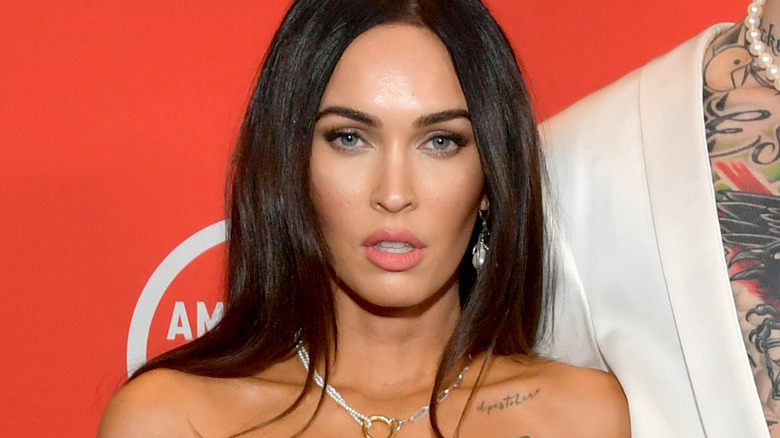 Emma Mcintyre /ama2020/Getty Images
Fox also has two Chinese symbols on her body. One on her neck stands for strength, a reminder to stay focused and centered, according to Body Art Guru. The other is the Yin and Yang symbol, which represents balance, found on her wrist.
Fox's only known colored tattoo is of a yellow and orange crescent moon which overlaps with a blue star on her ankle. The symbol represents "divine powers, wisdom, knowledge, blessings, positivity, and protection." It's reported that she also has an adorable tattoo of a cat playing the piano, with the words "play him off" written under it. The meaning and location of the tattoo have yet to be discovered.
On her most recent tattoo endeavor, Fox revealed ink along her collarbone, which reads as "El Pistolero," Spanish for "The Gunman," which was first spotted at the American Music Awards in November 2020 (pictured above). Many fans have speculated that this is a tribute to her current boyfriend, musician Machine Gun Kelly. After all, on MGK's interlude track "Banyan Tree" from his newest album, "Tickets to My Downfall," Fox can be heard saying: "You just got my initials tattooed on you, and I got your nickname tattooed on me" (via Elle).