Of All Of Michelle Obama's Looks - This Stands Above The Rest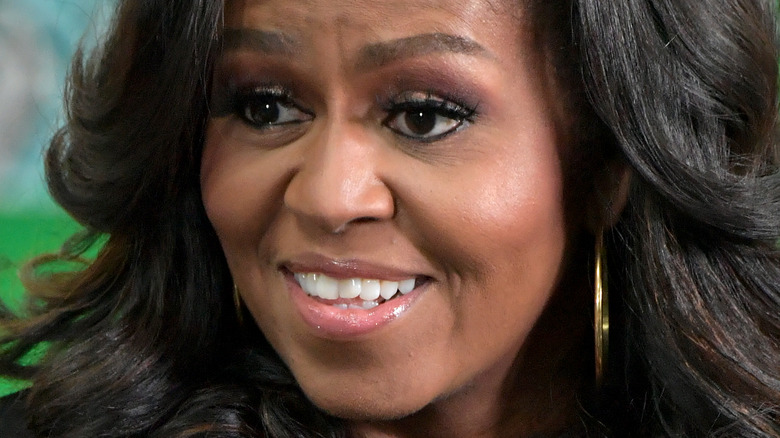 Paul Marotta/Getty Images
Michelle Obama revolutionized the way people saw dressing and power. From her first day as the wife of then-presidential candidate Barack Obama, throughout her days as First Lady, and now as a best-selling author, she's been mixing luxury and affordable fashion for years, as noted by The New York Times.
While she has her personal favorite emerging and established US-based designers, having worn Jason Wu, Naeem Khan, and Marc Jacobs on a variety of occasions, Obama is not afraid to opt for a European luxe look. Though she received some backlash for wearing an Alexander McQueen gown at a state dinner with China, the former First Lady was quick to remind the public that she wasn't limited to only American fashion. "I like to patronize American designers, and the vast majority of the clothes that I wear are [designed by Americans]," Obama told reporters asking about the controversy in 2011, per Politico. "But there are a lot of other designers that have cute stuff, too," she continued.
With stunning looks for all occasions, from state dinners and diplomatic visits to the casual jeans and anorak jacket she wore for 2014's White House Kitchen Garden planting event, Obama's list of "best looks" is perhaps too large to document. But one look in particular not only shocked the world, but also marked her departure from the more crafted looks of her time in the White House.
Let's take a moment for Obama's shoes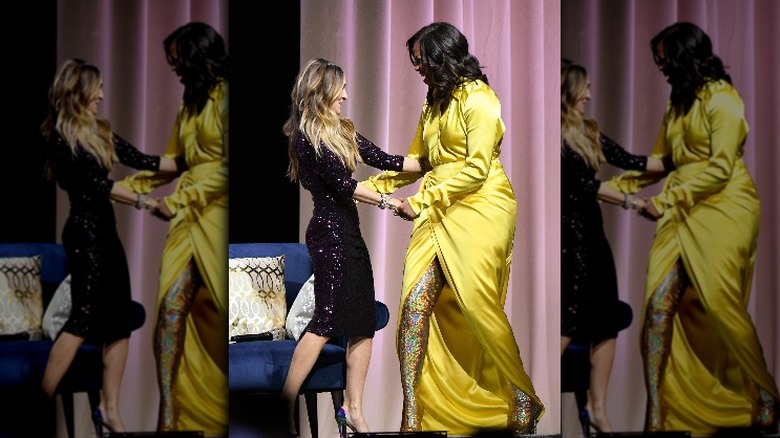 Dia Dipasupil/Getty Images
Michelle Obama let her edgier fashion side come out after leaving the White House, especially while touring the country and promoting her book, "Becoming." From all-black looks with sparkly accessories, to an all-violet pant suit outfit, she was not afraid to experiment with more shocking styles and silhouettes.
No look shines as bright as the matching yellow blouse and skirt paired with thigh-high boots she wore during her New York stop of the "Becoming" tour. Wearing Balenciaga head-to-toe, Obama sat alongside Sarah Jessica Parker to discuss the release of her memoir and all things related to women empowerment. While the topic of conversation was one for the books, it may have been Obama's look that stole the night. The canary-yellow blouse and matching sarong skirt gave the look a cohesive movement. With the wrap-around effect of the sarong skirt, Obama used the slit to showcase her $4,000 metallic thigh-high boots, per Oprah Daily. The outfit quickly made headlines and even sold out the boots, according to Vox.
Released from the pressure of the White House, Obama is now taking more creative risks with her looks. "Now I'm free to do whatever," she told Parker during the tour, per Vox. She added that there was no real message behind the boots; she simply liked them. "They were just really cute," she said. "I was like, 'Those are some nice boots!'" The confidence, the dress, and the shoes helped this yellow moment stand above the rest of Obama's looks.