Products For A Greener Beauty Routine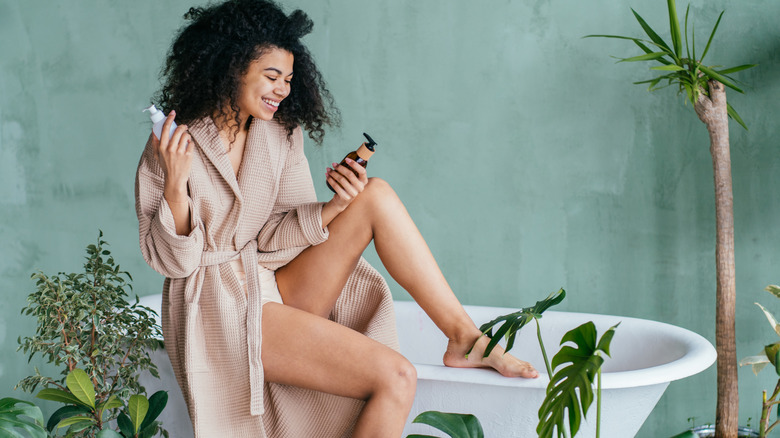 Iryna Inshyna/Shutterstock
The move to a more eco-friendly beauty routine has been gaining momentum. According to Brightly, switching to a greener beauty routine isn't just great for the planet, it's good for your health, too! They spoke with Lorraine Dallmeier, an environmentalist and CEO of Formula Botanica, to get her take on what green beauty is all about. "It's more about bringing the sustainability and the environmental aspects into it," she said. "Being a chartered environmentalist, that's incredibly important to me. That's where I think we take natural one step further and we determine what is actually the right thing for the planet and for society."
If you are looking to switch to a greener beauty routine, the concept can be a bit intimidating. Allure shared that the process of switching doesn't need to be tricky or expensive. You can find some quality environmentally friendly products at any price point. From Trader Joe's and Target to Sephora, green beauty products are everywhere!
Start by ditching the makeup wipes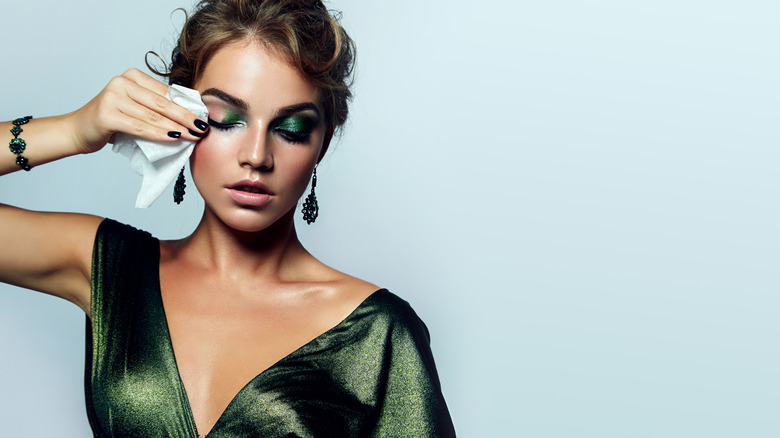 Ekaterina Jurkova/Shutterstock
If you are looking to jumpstart your greener beauty routine, start by eliminating wasteful makeup-removing wipes. According to Real Simple, who spoke with Diana Felton, MD, makeup removing wipes are not sustainable. "The biggest environmental problem with makeup remover wipes is the sheer volume," Felton shared. "One group estimates that 20 million pounds of single-use wipes (including baby wipes and disinfecting wipes) are disposed of every day in the U.S. Many wipes are disposed of in landfills, and despite claims to the contrary, most are not biodegradable and do not rapidly break down, creating too much trash to fit in our landfills."
If that number is shocking to you, have no fear! There are many makeup-removing products on the market that are more sustainable. These products are reusable, so they won't end up in landfills. Self recommended trying out brands like Makeup Eraser or Face Halo, who make reusable makeup removing cloths. The best part is you just have to add water, wipe off your makeup, and you are good to go! The makeup is off your face, and there's one less makeup removing wipe headed to the landfill!
Add more eco-friendly products to your beauty routine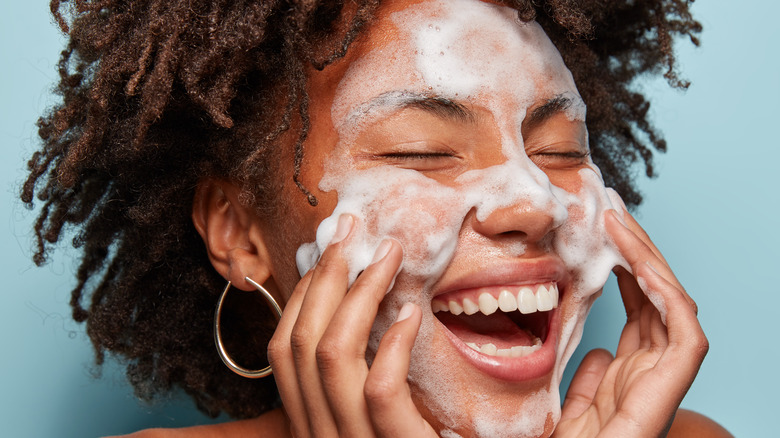 WAYHOME studio/Shutterstock
Now that your makeup is off, it's time to wash that face. Eco-friendly skincare is surprisingly easy to find. You can grab brands like Meow Meow Tweet, which is recommended by Sustainable Jungle, at stores like Target. Their face wash is a cream cleanser that is vegan, cruelty-free, and comes in eco-friendly packaging. Their line has several face wash options, including some for oily and dry skin, as well as formulations to help fight acne.
If you are looking for a good, eco-friendly oil for your skin, The Skin raves about the argan oil from Lush Cosmetics. Not only is the oil effective, but it comes "naked," Lush's term for their package-free product line.
Finally, if you want to change up your hair care routine to be more environmentally sound, The Skin recommended Odacité Shampoo Bar. This shampoo bar can last you up to 80 washes, which is roughly the amount of three bottles of shampoo!