How Millie Bobby Brown Really Feels About Kissing Finn Wolfhard In Stranger Things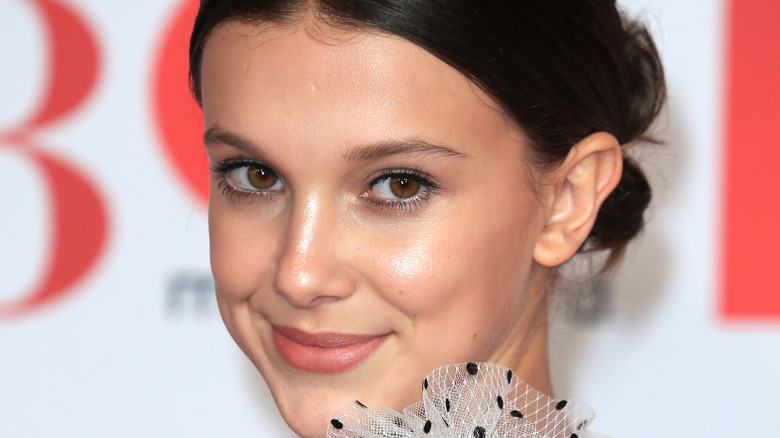 Cubankite/Shutterstock
When the Netflix original series "Stranger Things" hit the streaming service in the summer of 2016, it completely took the world by storm. The award-winning series has gone on to release three seasons and is currently gearing up for the Season 4 premiere (via Movie Web). Netflix revealed on Twitter that 196 million households have watched at least one episode of the series since it premiered five years ago. While the supernatural aspects of the series remain one of its biggest draws, the characters and their relationships are the heart of the show.
Two particular fan favorites are Eleven, played by Millie Bobby Brown, and Mike, portrayed by Finn Wolfhard. Mike develops a strong connection with Eleven throughout Season 1 and the pair even seal their feelings for one another with a kiss in the finale. Though this moment was a highlight of the series for many fans, it was a bit awkward for the young actors (via Showbiz CheatSheet).
Millie Bobby Brown's first kiss was 'awkward'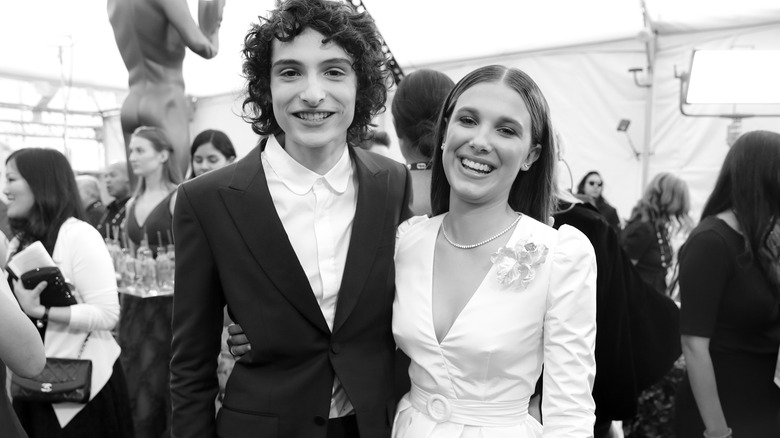 Rich Fury/Getty Images
"Stranger Things" star Millie Bobby Brown recently revealed that her character Eleven's first kiss with Mike was her first kiss ever (via Showbiz CheatSheet). The young actress shared this milestone moment with co-star Finn Wolfhard, who also had "technically" never kissed a girl. In an interview with Extra, the "It" star recalled a kiss with a fellow kindergartener back in the day, but Brown contested that, "Elementary kisses do not count!" She remained adamant that they were each other's first. Regardless of the technicalities, the pair agreed that it was an interesting experience. Wolfhard said, "It looked like I was eating her and the Duffers saw that, and they were like, 'Perfect! He doesn't know how to kiss. That's great!'"
Brown told The Mirror that the experience was uncomfortable because her family was on set. She said, "My dad watched the whole thing, my whole family was there, and it was the most awkward thing in the world," (via Marie Claire). The 17-year-old star added that the kiss came with traditional troubles as well. She concluded, "We're 15 years old. It's not like, all right, let's just do it. We're obviously like, 'Okay... what do you wanna do now? Shall we hug?' No idea what to do. There's not really preparation." While the experience wasn't as magical as it appeared on screen, Brown is sure to cherish her first kiss for the rest of her life.