The Truth About Millie Bobby Brown And Noah Schnapp's Friendship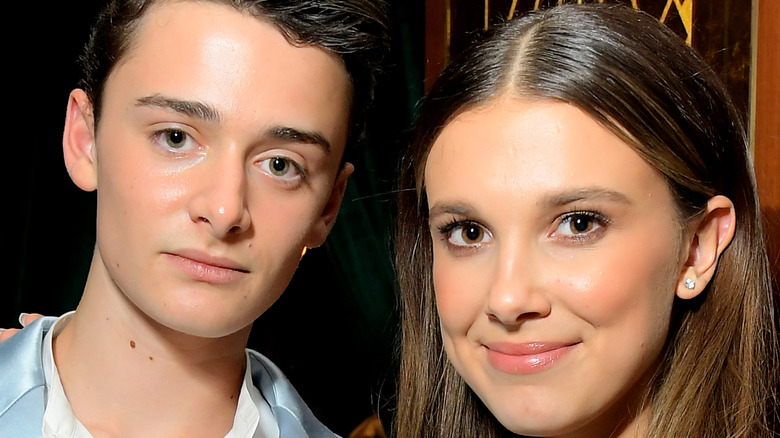 Charley Gallay/Getty Images
Finding worldwide fame as a kid can be daunting, but luckily for the stars of Netflix super-hit "Stranger Things," the cast is predominantly made up of youngsters so they can at least support each other through this weird experience. Season 1 of the show revolved around the disappearance of Will Byers (Noah Schnapp) who's lost in the so-called "Upside Down" while the arrival of the otherworldly Eleven, played by Millie Bobby Brown, in Hawkins leaves the whole town reeling (via IMDb). 
Eleven spent much of "Stranger Things" debut season chilling out with Finn Wolfhard's Mike, frequently baffling his all-male crew of buddies with her bleeding nose and penchant for Eggo waffles. Brown and Schnapp didn't share much screen time, but everything changed when Will returned. Elsewhere, the fun-loving duo has left an impression on many red carpets IRL, suggesting a deep friendship even without character interaction. Are these two genuinely friends, or just good actors? 
Millie Bobby Brown and Noah Schnapp are proud BFFs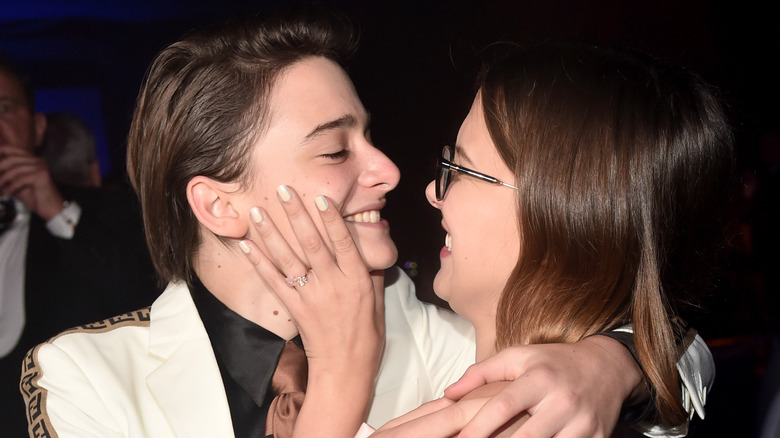 Alberto E. Rodriguez/Getty Images
According to Seventeen, actors Noah Schnapp and Millie Bobby Brown aren't just friends, they're best friends. The duo grew close through working together on "Stranger Things," of course, and frequently share their love for each other proudly on social media. In fact, Brown once described her co-star as "the greatest friend a girl could ask for." The ride-or-dies even participated in a friendship test, emerging with flying colors of course (via YouTube). According to PopSugar, they have sweet nicknames for each other too, with Schnapp calling Brown "Mills" or "Millster," while she refers to him as "Schnipper." 
In an interview with the Build series, Brown confirmed Schnapp is "definitely up there" among her friends because he's completely "mental" and she can never predict what he's going to do. Judging by Brown's enthusiasm, they always have a good time together, which explains how the two of them got so close so quickly. Proving that was absolutely the case, the "Stranger Things" duo made their triumphant return to TikTok in early March 2021, much to fans' delight, sharing a video of them dancing around goofily to Polo Frost's "Best Ever." No matter what happens in Hawkins, these two are set for life.