What We Know About Kaley Cuoco's Split From Husband Karl Cook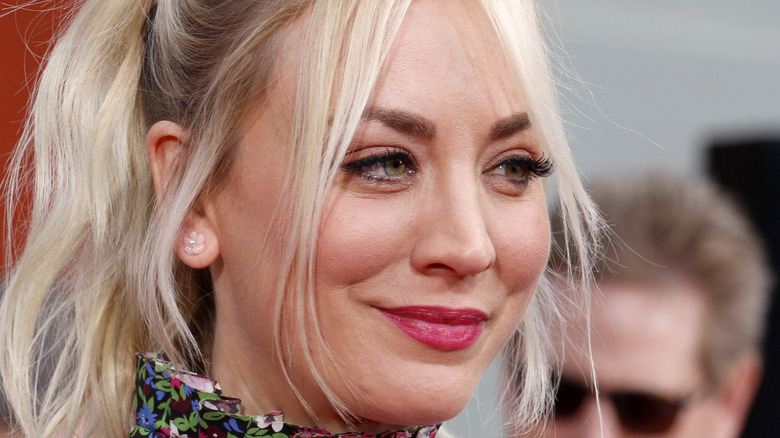 Tinseltown/Shutterstock
Kaley Cuoco and Karl Cook have become one of the most beloved couples on social media. The pair constantly delighted fans with their hilarious online antics. "I like to torture him and he doesn't get mad at me. He just lets me do it! I'm just constantly trying to rib him," Cuoco previously told Us Weekly. "He's got such a great sense of humor. I like it when I'm bugging him, bugging him and then I finally get that laugh which just kills me. He's just ... I don't know. He's a real person and I think the big deal was knowing how much he loves dogs and horses — that's always on my checklist. 'Must love dogs' is number one and he checked that off quite quickly and I fell very hard," she added.
The former "Big Bang Theory" star met the equestrian in 2016, just a few months after Cuoco split from her first husband, tennis player Ryan Sweeting. The two appeared to bond over their love of animals, particularly horses. Cook popped the question on Cuoco's 32nd birthday and the pair walked down the aisle in June 2018. The couple celebrated their third anniversary earlier this year. To most, their romance seemed like a match made in Hollywood heaven, but sometimes what glitters in Tinseltown, isn't always gold. This week, Cuoco and Cook sadly announced their decision to end their marriage.
Kaley Cuoco and Karl Cook are parting on good terms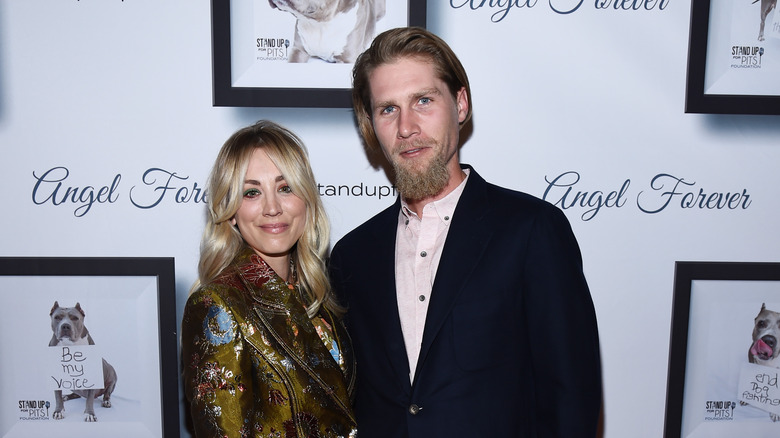 Amanda Edwards/Getty Images
According to People Magazine, Kaley Cuoco and Karl Cook stunned fans when they announced that they were calling it quits this week. "The Flight Attendant" star and her husband of three years released a joint statement about their split, revealing that there were no ill feelings between them.
"Despite a deep love and respect for one another, we have realized that our current paths have taken us in opposite directions," they said. "We have both shared so much of our journey publicly so while we would prefer to keep this aspect of our personal life private, we wanted to be forthcoming in our truth together. There is no anger or animosity, quite the contrary," the statement continued. The couple also admitted that they preferred to keep the matter as private as possible and that they would not be making any additional comments about their relationship. "We have made this decision together through an immense amount of respect and consideration for one another and request that you do the same in understanding that we will not be sharing any additional details or commenting further."
Previously, Cuoco was married to tennis player Ryan Sweeting. She also dated actors Henry Cavill, Paul Blackthorne, and her "Big Bang Theory" co-star, Johnny Galecki (via Us Weekly). It seems that Cuoco still hasn't found her great love, but fans will likely be supporting her as she navigates her most recent split.
The pair had an unconventional relationship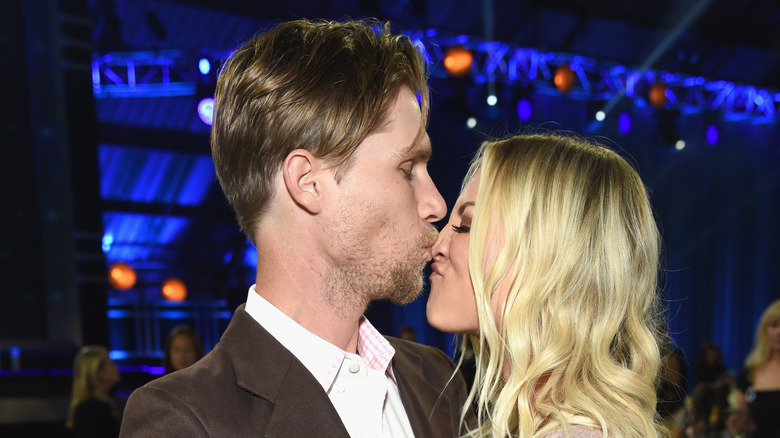 Michael Kovac/Getty Images
Despite the fact that Kaley Cuoco and Karl Cook were married in June 2018, they didn't actually move in together until the beginning of the coronavirus pandemic in March 2020. Prior to moving in together, Cuoco openly admitted that, while their living situation was unconventional during the first few years of their marriage, it worked well for both of them. "Yes, we have separate lives and then our lives come together and he's so supportive of me," Cuoco told Brad Goreski on the Brad Behavior podcast, according to E! News. "He lets me be me and I let him be him...I've obviously never been in a better relationship and I want this to last the rest of my life so in a way, we're actually taking it slow."
One month after moving in together, Cuoco told Jimmy Kimmel during an episode of "Jimmy Kimmel Live!" that living with her husband had been "great for our relationship" and that they realized just how much they liked each other after finally sharing a living space, per E! News.
In February 2020, one month before the couple moved in together, a source close to Cuoco and Cook told E! News of their long-term future plans. "Kaley and Karl talk about having children," the source said. "They would love to move to a simpler lifestyle and live on a ranch with their horses. Kaley wants her children to be raised riding horses and having a similar country lifestyle that both her and Karl love."
While the pair will never realize these dreams as a couple, perhaps pursuing their own individual dreams will be even more fulfilling.