Kaley Cuoco Has Good News For Big Bang Theory Fans
Shutterstock
"The Big Bang Theory" was one of the most popular comedies to ever air on television. The series centered around a group of lovable, yet nerdy scientists who lived across the hall from a gorgeous blond actress. The show included 279 episodes within its 12 seasons, per Entertainment Weekly, and the series was nominated for 55 Emmy Awards during its run, scoring 10 wins in various categories. Despite its success, the series ended in 2019, though it maintained high ratings and large support from its fanbase. Deadline reported that the show was in talks to be renewed for a 13th season when actor Jim Parsons, who played the role of Sheldon Cooper, informed execs that he planned to leave the series following the Season 12 finale, thus the decision was made to pull the plug on the show.
"We are forever grateful to our fans for their support of 'The Big Bang Theory' during the past twelve seasons. We, along with the cast, writers and crew, are extremely appreciative of the show's success and aim to deliver a final season, and series finale, that will bring 'The Big Bang Theory' to an epic creative close," the network and writer/producer Chuck Lorre's company said in a statement. While the cast expressed their sadness over leaving the long-running show, actress Kaley Cuoco, who played Penny on the series, is now giving fans hope for a reunion.
Kaley Cuoco hints at a Big Bang reunion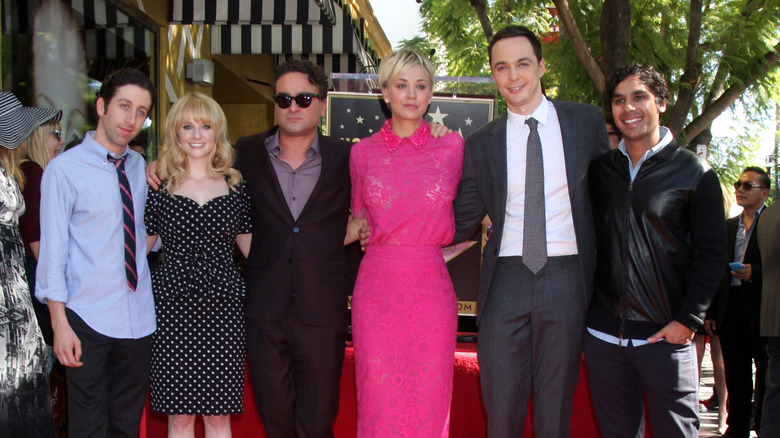 Shutterstock
Kaley Cuoco may be keeping herself busy with starring roles and executive producer credits in shows like "Harley Quinn" and "The Flight Attendant," but she hasn't forgotten about her old friends from "The Big Bang Theory." The actress recently revealed to E! News that she's very excited to see the cast of "Friends" reunite and that she would totally be in for some type of reunion with her former co-stars Jim Parsons, Johnny Galecki, Simon Helberg, Kunal Nayyar, Melissa Rauch, and Mayim Bialik.
"I would definitely be open to some sort of reunion show. I can't wait for the 'Friends' one, and so I'm definitely open to doing one ourselves as well," Cuoco said. "It does still feel like yesterday that we wrapped. I think everyone is kind of trying out their new paths and seeing what their next project is, and I'm excited to see how everyone flourishes," she added.
Meanwhile, Cuoco also admitted that she still keeps in touch with her fellow cast members, especially her close friend Galecki, who played her on-screen love interest Leonard. "Johnny and I are very close. We talk multiple times a week. In fact, he literally — as this phone call started — he had just sent me a picture of his baby," Cuoco remarked, noting, "He loves sending me baby pictures. I know it's really cute, we're really close." Currently, fans can watch episodes of "The Big Bang Theory" streaming on HBO Max.