Why Debbie Gibson's Birthday Photo Has Everyone Talking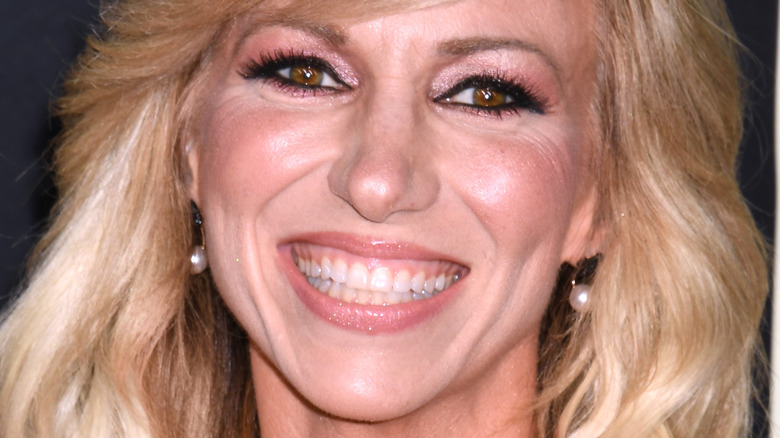 Featureflash Photo Agency/Shutterstock
"Electric Youth" indeed! 1980s pop star Debbie Gibson looks as great as ever in a new Instagram photo posted to mark her, wait for it, 51st birthday. But aside from showing she is still in amazing shape, Gibson is sharing an uplifting message for her fans (via Page Six).
First, it's important to know that Gibson has struggled with the effects of Lyme disease since 2013 (via People). "I was in debilitating pain," she said in August of 2021. Flash forward to September, and the icon is focusing on what she learned from her illness as she celebrates another milestone.
"On this, the night of my Birthday , and a life moment that is like a rebirth, this felt like the perfect expression of my journey to this magical moment," the singer captioned her disco-inspired pic.
Gibson then gave fans a peek into her darkest moments, but still offered up a message of hope, writing, "When I was at my lowest points in the last decade , literally laying face down on the cold bathroom floor in physical and emotional pain, inside I was still looking up and trusting that someway , somehow I was going to find myself as you see me in this picture..."
Debbie Gibson inspires her fans
The "Lost in Your Eyes" singer shared more about what her Instagram photo meant to her in the lengthy caption. "Looking up to the skies with stars showering down on me and bathed in a light that would help me project to all of you strength and joy and music and empowerment and the knowledge that the visions you hold for yourself and the voices in your own head are far more powerful than anything external threatening to take you down," Gibson wrote.
She finished her raw post by writing, "Once you announce to the universe that you are open to receive, it may take a moment , a year, or a decade, but you will eventually reclaim your freedom that's there inside you... right inside you. So, put it out there. Start today. You are worthy of living your best life. Happy rebirth day ... hands to the sky and let the stars shower their light upon you."
Stars from Ricki Lake to Holly Robinson Peete showed their support in the comments, as did many of Gibson's fans and followers, with one writing in part, "Thanks for sharing your journey with us and inspiring us on our own journeys as you always do!!"