The Best Self Tanners For Fair Skin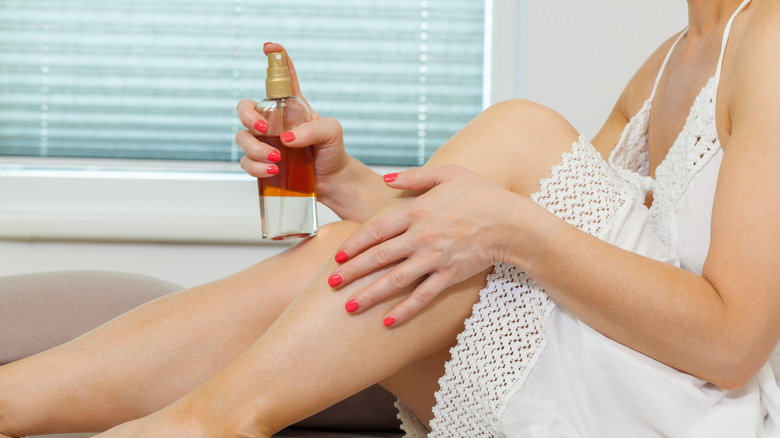 Stock video footage/Shutterstock
Who doesn't love a tanned, sun kissed glow? Those of us who are on the paler side who were not blessed with a healthy bronzed tone know the struggle of burning rather than tanning every time we step outside in the summer. Because of this, getting a natural tan by simply soaking up the sun by itself is not always achievable, but tanning beds can lead to increased risk of cancer (via Skin Cancer Foundation). 
So what other options are there? Luckily, there are a plethora of much safer self tanning lotions, mists, foams, mousses, oils, and more that have been growing in popularity, and are coming to your assistance. Self tanners aren't dangerous because they can darken your skin without having to expose yourself to the sun's harmful UV rays, according to the Mayo Clinic. Although fair complexions are beautiful too, some of us need extra help with self tanners to prevent us from looking like Mark Zuckerberg at the beach. But which one should you buy? Here are some of the best self tanners for fair skin.
Some of the best self tanners for pale skin are super affordable
The Jergens Instant Sun Self Tanning Mousse ($13.99) is an affordable drugstore option that comes in shades of either Light or Deep Bronze (although we recommend Light for obvious reasons). It is highly convenient because it dries after only 60 seconds (via Shape), and its lightweight, non-sticky formula will give a healthy tan that won't leave you looking orange, which is always a risk with non-sun induced tanning, especially if you're fair.
Who would've known that you can nourish your easily burned skin while tanning it at the same time? Tarte certainly does. Coming with an applicator mitt, their Brazilliance Plus Self Tanner ($39) has natural exfoliators for a subtle and healthy looking darkening effect that'll have people asking you how your trip to Brazil was. Better yet? It is also fragrance free, hypoallergenic, vegan, and most importantly, dermatologist tested.
For a natural glow that won't look too dark on fair skin (which is always a risk), the Isle of Paradise Color Correcting Self Tanning Mousse ($29) is unique, because it uses water based, color correcting technology instead of a bronzer like most competing products. It'll leave you with a smooth tint without it transferring onto your clothes, like many self tanning products can.