Why Tori Spelling's Most Recent Instagram Post Has Fans Doing A Double Take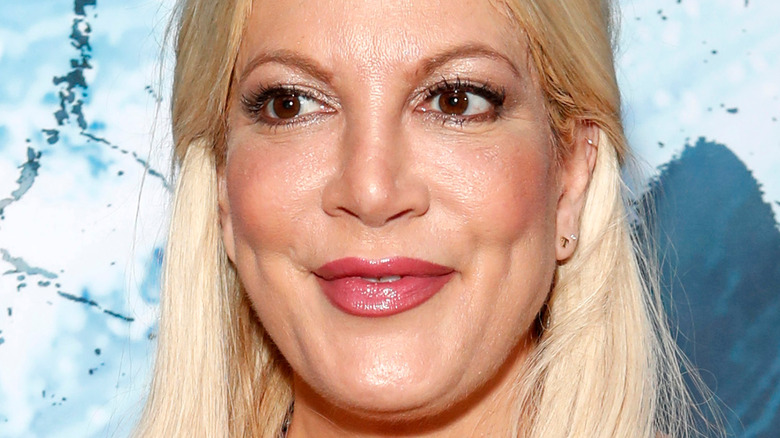 Kathy Hutchins/Shutterstock
These days, Tori Spelling is busy with MTV's new show, "Messyness," which is a spinoff of the long-running comedy show by the same network, "Ridiculousness." The show is hosted by none other than "Jersey Shore" star Nicole "Snooki" Polizzi, who is a pro at spilling tea and chatting drama. The show "showcases people living their best lives and being brave enough to celebrate their own messiness," according to the show's official description, per People. 
Snooki is joined by a panel of impressive celebrities, including Olympic figure skater Adam Rippon and comedian Teddy Ray. Tori Spelling is another panelist on the show, and appears to be thrilled about it, as she's a huge fan of "Ridiculousness," as noted by Hollywood Life.
It appears that Spelling is attempting to make the best impression possible during her time on the show, as she's had a major makeover. In fact, the makeover is so huge that fans are even saying that she looks unrecognizable. Keep scrolling to see why she's totally turning heads in her most recent Instagram post.
Fans say Spelling looks like a Kardashian
Tori Spelling stepped out looking like a whole new person in her September 3 Instagram post. The post shows Spelling and Snooki cozying up together with a caption that reads, "My Messy Bestie... actually we are the duo you never knew you needed. @snooki you might be my twin flame (but shorter) love the way we empower each other to be our authentic selves. Xo." 
Many fans are commenting that Spelling looks just like Khloé Kardashian, while others are slamming her for calling herself "authentic." In the photo, Spelling has her long blonde locks styled with some loose, beachy waves. One of the comments under the photo says, "Wow Tori doesn't look like her any more." Another person shared the same sentiment, asking, "Kardashians surgeon?" A report by The Sun shared a different photo of Spelling in which she looks even more like Khloe. In it, she's wearing a fitted denim jumpsuit with her long hair styled with the same beachy waves. She sports her Gucci cross shoulder bag strapped across her body. This, too, had people buzzing. 
Spelling has never been quiet about the work she's had done, telling People back in 2019, "I literally had my nose done and my boobs done, and that's it. I'm constantly reading that I've done more." That being said, the public still appears shocked by just how different she now looks.