What Kind Of Shelving Is Best To Upgrade Your Pantry Space?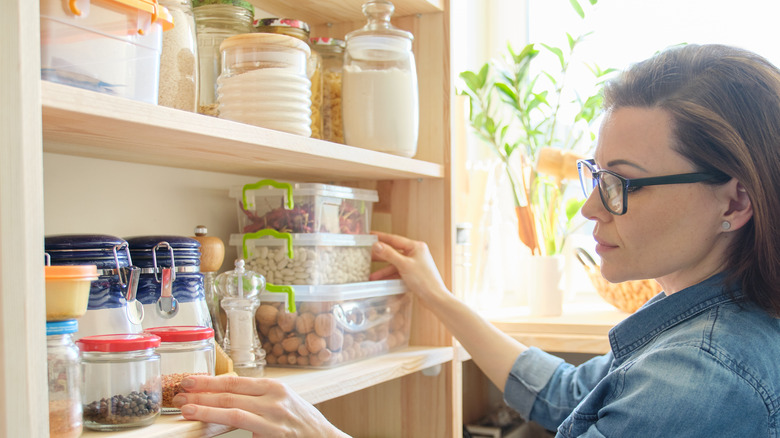 VH-studio/Shutterstock
When it comes to home storage and organization, there's one thing that's always true: It's hard. You've got to find the right containers, racks, etc. for your space, and it can still be hard to fit everything depending on the room or closet you're working on. Kitchens and pantries are especially hard. Between food, appliances, and everything else one needs in their kitchen, it seems impossible to fit it all. Plus, there's one sin a lot of people make in their pantries.
Pantries are powerful. Their staples can even be used on your skin and in your hair to make it shine. But what's important to keep in mind is their organization, as they won't be of any use to you if you can't find anything inside of them. While it's hard, organizing them and investing time and a little money into them is incredibly worthwhile.
According to Good Housekeeping, once you've got shelves in your pantry, you should use baskets on different levels to sort your goods. You can sort them by importance, with less used goods going on higher shelves, and this will not only keep things organized but also save space. Plus, you'll know where things are, leading to more fun kitchen days than before!
If you're looking to renovate your pantry, look no further than these 3 shelving options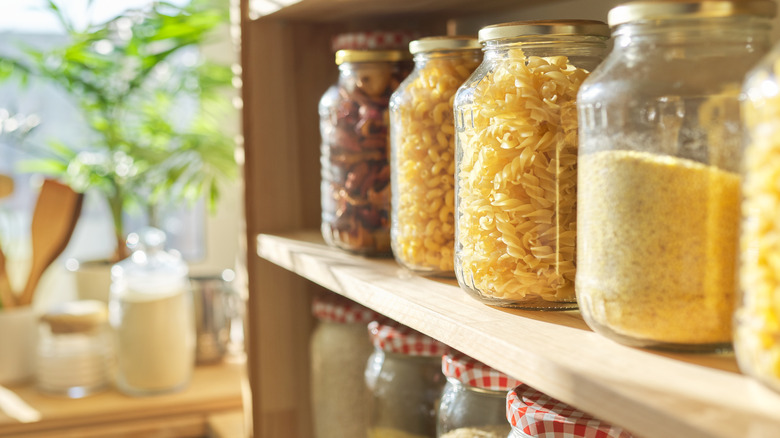 VH-studio/Shutterstock
If you're going to upgrade your pantry to stay organized, you might as well do what the pros do, right? According to HGTV, strong, wooden shelves are often found in professional kitchens because they are sturdy, customizable to your space so you don't waste an inch, and not bad on the eyes. They recommend shelves from Williams Sonoma, but many brands make shelves like these. These shelves are also nice because the wood can be painted to match your kitchen.
On the flip side of things, you could use cubby-style shelves instead of long, flat shelves. As seen on Decor Pad, this style of shelves allows you to stay organized by knowing what's in each individual square or rectangle of cubby space. You can fill these spaces with baskets or other storage containers, or you can fill them with your goods sans carrier. In either case, this option is perfect for anyone who wants their home to have a little more visual texture.
If neither of the above options works for you and you want something more modern, why not try pull-out drawers? Installing one of these drawers isn't too difficult, and they're incredibly sleek and chic (via HGTV). When you pull it out, the drawer has multiple shelves holding your food and other goods, meaning everything is within one arm's reach. This option is a space saver, and it's also cool to look at.