Did Naomi Biden Just Subtly Announce Her Engagement?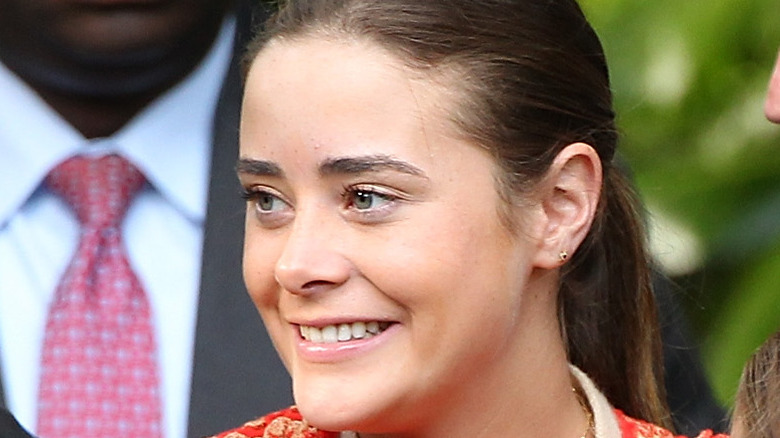 Fiona Goodall/Getty Images
If there's anything we know about President Joe Biden, it's that he's close to his children and grandchildren. He regularly touches base with all of them, whether it's by phone or by SMS. It's "typically an 'I love you,' or 'How are you?'" one unnamed source told CNN.
So we can't help but wonder what Biden had to say when he last communicated with his eldest granddaughter Naomi and her boyfriend of two years, Peter Neal. In an Instagram post, Naomi, who is 27 (via Elle), posted a picture of herself and Neal at Jackson Hole. She was sporting a beautiful diamond ring on her left finger. The post sparkled with its own beautiful simplicity, simply captioned "forever" and with no further explanation. But it was enough to send social media users squealing with delight, as a few went on to send their best wishes. "Am I trippin or...? Congratulations, Naomi!" said one fan. Another said, "love you guys," while a few sent no words, just a string of hearts or teary-eyed emojis.
A snapshot of Naomi Biden
Naomi Biden received her law degree from Columbia University in 2020 (via Bustle) and is an attorney in Washington, D.C. (via Associated Press). Named after President Biden's daughter Naomi, who died in a car accident with her mother Neilia, Naomi is Hunter Biden's daughter with ex-wife Kathleen and the oldest Biden granddaughter. 
She has been seen accompanying her grandfather during a number of international trips (via Marie Claire). Both Naomi and Peter Neal, who is the son of orthopedic surgeons based in Wyoming, made waves in 2020 by coding a website, Coronavirus Aid & Relief Guide, to help those that were financially hurt by the initial round of closures triggered by the pandemic. 
Because Naomi is active on social media, we wouldn't be surprised if she used social media to share the happy news with everyone – after she told President "Pop" and her family the good news, that is.