Here's How Many Grandchildren Joe Biden Has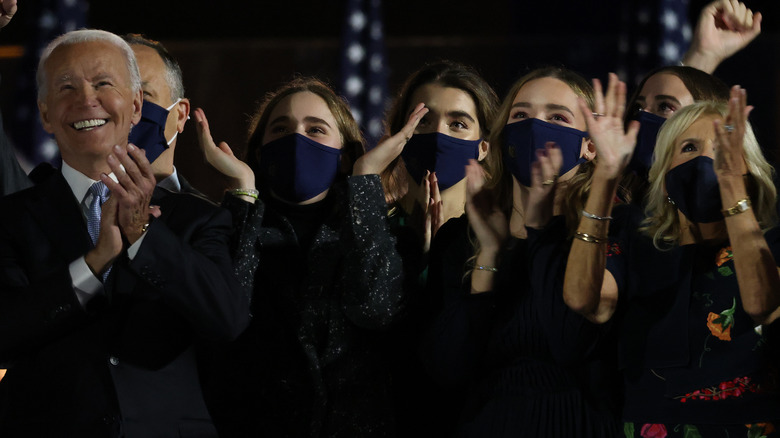 Win Mcnamee/Getty Images
United States President Joseph R. Biden is known for his down-to-earth personality, his relatability, and his love for family. During the Democratic National Convention and on Inauguration Day, Americans got to see Joe Biden with his family, which includes his wife and a passel of grandchildren.
Joe Biden has been married twice, with his first marriage sadly ending in tragedy in 1972 when his wife and baby daughter were killed in a car crash on their way home from Christmas shopping, according to Marie Claire. Neilia Hunter Biden was only 30 years old and Naomi "Amy" Biden was just one. Her older brothers, Hunter and Beau, were spared and Joe Biden was left a single dad.
Biden, then a freshman senator from Delaware, met Jill Biden three years later and the pair started dating. On June 17, 1977, Joe and Jill wed, and she became mom to his two boys, per The Knot.com. When the pair welcomed a daughter in 1981, Hunter and Beau named their sister Ashley. Between both Biden boys, there are seven Biden grandchildren.
Meet Joe and Jill Biden's grandchildren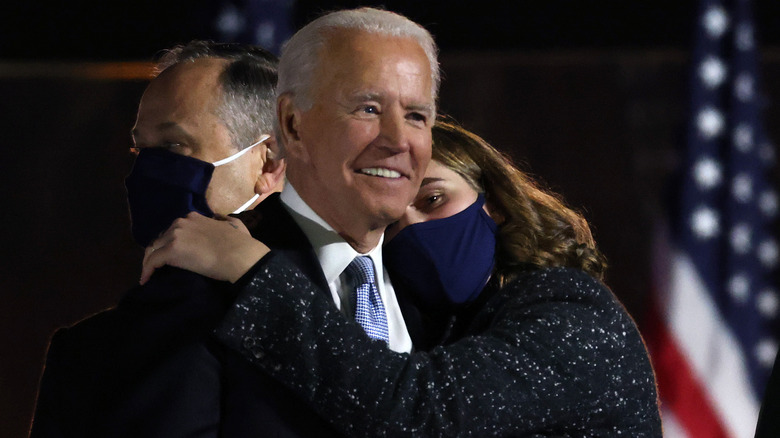 Win Mcnamee/Getty Images
Naomi Biden has the honor of being named after her late aunt and of being Joe Biden's oldest grandchild at age 26. She is the oldest child of son Hunter, and his first wife, Kathleen, according to Today. Her sister, Finnegan is 20, and is named for Joe Biden's mother, Catherine Eugenia Finnegan (via Marie Claire). Both Naomi and Kathleen were frequently seen campaigning for their grandfather during the 2020 election and both have attended the University of Pennsylvania.
Naomi and Finnegan also have a younger sister, Maisy, who is very close friends with former President Barack Obama's two daughters, Sasha and Malia. The family even held joint high school graduation parties, per Town & Country.
Natalie Biden is 16 years old and is the oldest child of the late Beau Biden, who passed away from brain cancer in 2015. Natalie has a younger brother, 14-year-old Robert Hunter Biden, and both appeared in a Democratic National Convention video reciting the "Pledge of Allegiance," as reported by Today.
Joe and Jill Biden even have two babies they can call grandchildren. In 2018, after his divorce, Hunter Biden reportedly fathered a baby boy with a woman named Lunden Alexis Roberts. In 2020, Hunter's new wife, Melissa Cohen, gave birth to another baby boy who many will remember being with the family on Inauguration Day (via Page Six).