The Truth About Piercing Stylists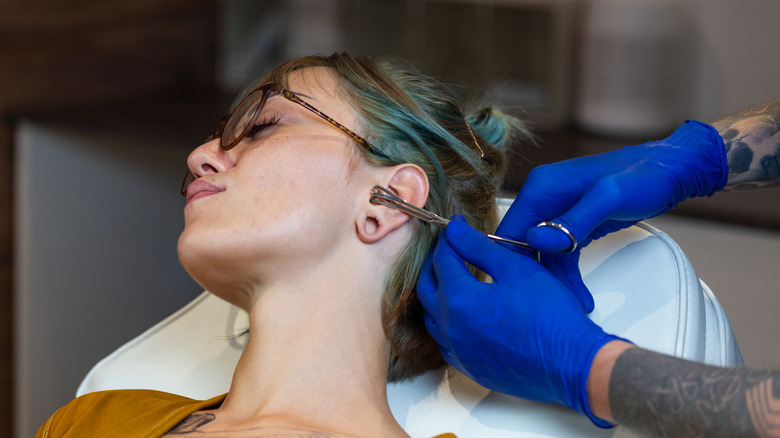 Photoroyalty/Shutterstock
When people are itching to get a new ear piercing, they usually look online to see examples of what they like and where they want it. When they do so, they frequently look at piercings individually, seeing how it would look in their ear. Not many people consider the ear as an entire entity, considering what piercings go with each other and how it will look with multiple piercings (via Byrdie). Sometimes, too many piercings on an ear can look a bit crowded, and you have to consider what jewelry you put in which piercing to make sure you don't stress and stretch your ear. 
Many don't know this, but there are piercers who not only are skilled and licensed to do piercings, but they are also piercing stylists who will do consults with clients and help them to understand what to get and how to style their ears and beyond. 
What does it really mean to be a piercing stylist? Find out below.
This is what a piercing stylist does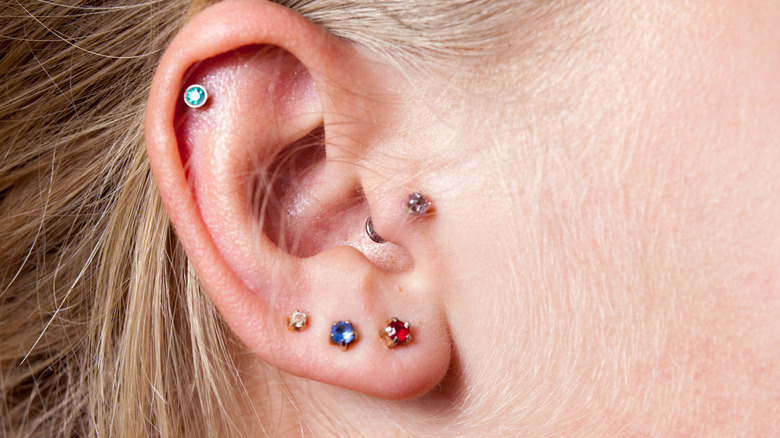 Alexander_IV/Shutterstock
If you're anything like us, you probably have multiple ear piercings. Today, it seems that more and more celebrity and influencers are bringing back multiple ear piercings as a way to simply accessorize an outfit or a look. But, unlike in our teenage years, they are carefully curated and chosen to make the look come together. And, to do that, some call to actual piercing stylists to help with this. 
J. Colby Smith is one piercer who has worked with celebrities to style piercings out of 108, a luxury piercing and jewelry studio based in the New York and Los Angeles areas. Smith works with people as individuals and tries to replicate their style into their piercings. "Usually what I'll do is look at people and kind of size them up as far as what their style is and what their jewelry's like. I build off of that," Smith told Fashion Magazine.
Smith isn't the only piercer who does things specifically for the client. The "curated ear" has become popular in the piercing community, as it's a way to curate your piercings specifically to you as an individual (via Chronic Ink Tattoo). Piercers from all over work to do this for their clients, including @piercersuzanne from Melbourne, who posts curated and styled ears all over her Instagram page. 
If you're looking to switch things up, why not get yours catered specifically to you?