The Behind-The-Scenes He's All That Moment That Will Make You Laugh Out Loud - Exclusive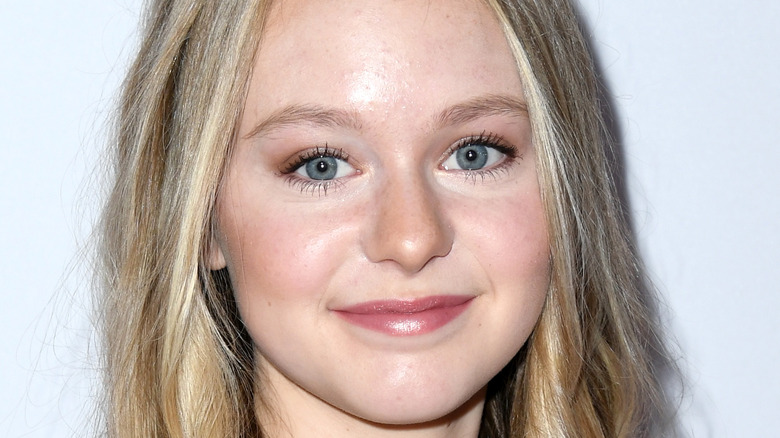 Jon Kopaloff/Getty Images
If you're anything like us, you live for the nostalgia that is classic 1990s films. "She's All That" is one of those classics, there's no doubt about it, but the beloved movie has been revamped for a 2021 audience thanks to Netflix and MiraMax. Starring the likes of TikTok star Addison Rae and Tanner Buchanan, "He's All That" focuses on not only the power of image and social media, but also the importance of authenticity. At the heart of the film is actress Isabella Crovetti, who brought Brin Kweller to life on-screen. Derived from the character Simon Boggs from the original "She's All That," the role of Brin taught Crovetti a number of important lessons and allowed her to flex her skills in front of the camera — extremely impressive for a 16-year-old.
Of course, when you've got a number of fun-loving teens and young adults on set, things are bound to get silly. With on-set pranks being the staple of a number of projects (for instance, the young cast of Netflix's "Stranger Things" are notorious for pulling pranks on one another, as noted by Insider), it's no wonder that the set of "He's All That" saw some hilarious stunts. In an exclusive sit down with The List, Crovetti shared just how funny things got during filming, and the story truly did not disappoint. This is the behind-the-scenes "He's All That" moment that will make you laugh out loud.
A silly day on set during the filming of He's All That
We'd be lying if we said that the ins and outs of a movie set don't sound like fun. Think about it — the A-list cast members, the dedicated crew, the hustle and bustle of filmmaking at its finest. It all sounds like a magical, whirlwind of a time. Of course, there's got to be some room for blowing off steam at the end of a long day, and some cast members of "He's All That" definitely got the memo. In a sit-down with one of the film's stars, Isabella Crovetti, The List was treated to one such on-set story. Crovetti revealed that one day, actor Tanner Buchanan — who plays her older brother in the film — "randomly decided to put on a golden bikini with a golden skirt" and parade around the set. 
According to Crovetti, the costume in question was worn to a party with a "Great Gatsby" theme, and we can just about hear the laughs that his outfit received. "[The look] even found its way online too, I don't know how it got online, but I think if you scroll through someone's Instagram, it'll be on one of those. It'll be there," Crovetti shared of the hilarious incident, and sure enough, she was right. Who said that on-set life has to be all work and no play?
What did a normal on-set day look like for Isabella Crovetti?
When fellow cast mates weren't goofing around and making each other laugh out loud, the set of "He's All That" was very professional. In her exclusive interview with The List, Isabella Crovetti shared that days on set were very regimented and serious, especially when it came to COVID-19 protocols. "Every day we had to check in for COVID and then every other three days we'd have to do a COVID test and then wear your mask," she shared. 
Crovetti went on to explain that there was a designated person on-set that handed out masks, and with the exception of the hair and makeup trailer, masks were the cardinal rule of the "He's All That" set. After about two and half hours in the hair and makeup trailer, Crovetti estimated, filming started immediately. Being 16, Crovetti also had to incorporate school into her days, so everything was incredibly busy. Crovetti shared that filming took about four weeks, which is insanely quick (Adobe estimates that it can take up to three months to film movies), and "He's All That" filming wrapped up in December of 2020. "Having it done at a decent amount of time ago, and now having everyone know about it because we had to keep it a hush, hush ... now it's like 'Post a lot!'" Crovetti said. "It's very social media oriented," she continued, hinting at one of the core aspects of the film.
"He's All That" is now streaming on Netflix.