What Lil' Kim Really Looks Like Underneath All That Makeup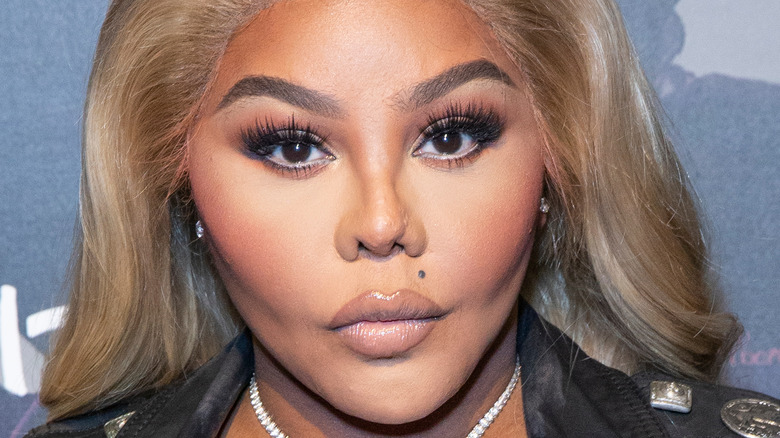 lev radin/Shutterstock
Lil' Kim is one of the most prolific and impactful female rappers in history, memorably quipping on Christina Aguilera's hit song "Can't Hold Us Down" that, "Cats take my ideas and put they name on it" (via Genius). Suffice to say, without Kim, there would likely be no Cardi B, Lizzo, or Nicki Minaj. She's survived in the industry so long because of her demonstrable talent but also thanks to the fact Kim is remarkably astute when it comes to changing up her look. The rapper is a chameleon, behind the mic and elsewhere. 
As Coveteur details, Kim dominated the '90s with her eye-catching and frequently boundary-pushing red carpet looks, which were all about showing plenty of skin and not being afraid of bright colors. The outlet notes that her "bold glam helped push against conventional ideas on how women are 'supposed' to behave." Even her wigs were highlighter-colored to match. Although Kim is predominantly known for turning everything up to 11, when she scales it back, the iconic rapper looks even more beautiful. 
Lil' Kim is stunning even without the over-the-top glam
During a 1997 interview conducted backstage at the No Way Out tour, a shockingly fresh-faced Lil' Kim showed off her natural beauty. In the clip, shared to YouTube, the rapper appears to be wearing minimal makeup, if she's even got any on at all, with her features shining through alongside tousled blond hair. 
It's worth noting that, unless it's a literal paparazzi shot caught on the fly, most celebrities aren't actually makeup-free in photos, even when they claim to be. But Kim is certainly pre-glam here, and she looks gorgeous with impressively clear skin, full lips, and bright eyes. 
In a 2019 interview with Us Weekly, a then-45-year-old Kim refused to be ashamed of anything she'd done to, for instance, roll back the years via cosmetic surgery. "I do what I feel and I'm unapologetic about it too," the rapper explained. "A lot of times we mess up because sometimes we don't have the time. Sometimes there's things that just go completely wrong you'll never know about, but I just go with what I feel." 
Whatever the haters say, it's clear that, looking back, Kim wouldn't change a thing.