What You Need To Know Before Getting Sisterlocks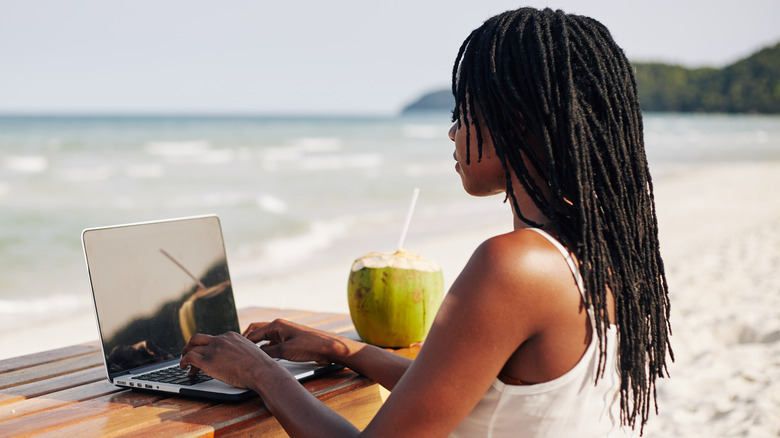 Dragon Images/Shutterstock
Though there's no shortage of protective hairstyles for natural hair, it can be a bit taxing to continuously switch out from braids to twists. And let's forget the work and upkeep required when taking care of your natural tresses. It can be a headache, to be honest. That's why, if you're tired of ongoing maintenance and care like many natural haired-women, you might want to consider sisterlocks.
What are sisterlocks? They're not quite the same as dreadlocks. Rather, they're tiny-sized locks that are created using an interlocking tool (via L'Oreal Paris). Additionally, unlike dreads, sisterlocks are formed from the ends of the hair up to the root, lessening the tension on your scalp, the outlet added.
And get this: only a certified sisterlock consultant can install the locks. Why? Well, the process is pretty extensive. Per Byrdie, installing sisterlocks takes up to 36 hours as it takes time to weave the hair using the intricate technique. The outlet added that you'll have up to or even more than 400 locks by the time your appointment is done.
Thus, the installation process is the reason sisterlocks are so expensive (consultants charge anywhere from $400 to $800, per Byrdie).
How to take care of your sisterlocks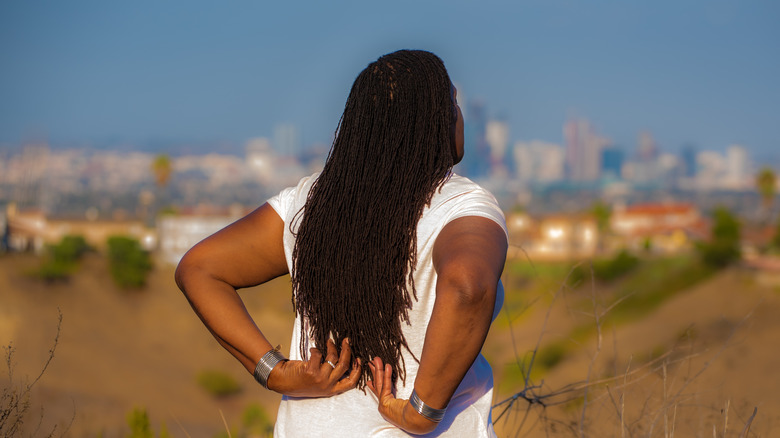 Ansel B/Shutterstock
Though there are multiple differences between sisterlocks and dreadlocks, both styles have something in common — upkeep. You can't wash your new sisterlocks like your natural hair, Byrdie notes. Because newly installed locks haven't been set yet (locks can take up to a year or more to settle), you need to secure your sisterlocks in braids before washing them. The last thing you'd want is for your sisterlocks to unravel because you didn't wash them correctly.
Additionally, if you're concerned about what products to use to take care of your locks, look no further than the Sisterlocks website. There, you can find designated shampoos, oils, and conditioners that'll work for your hairstyle.
The best thing about sisterlocks is that maintenance is minimal, per Naturally Curly. No more combs, brushes, flat irons, or curling irons are needed. And, did we mention how versatile the locks are? You can wear them in a high ponytail, a curly updo, a low braid, etc. The only downside is that they're a lifetime commitment. Yes, you can take them out later on down the line, but the process will be extremely tedious and expensive, per L'Oreal Paris.
Therefore, before you run and find the nearest certified sisterlock consultant, think very carefully if this hairstyle and all it involves is for you.