The Truth About Drew Barrymore And Tom Green's Relationship After Their Divorce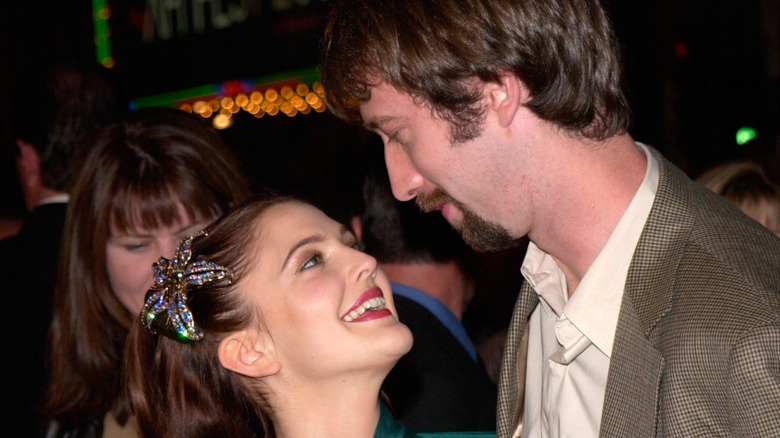 Featureflash Photo Agency/Shutterstock
For those who were keeping up with pop culture, movies, and music in the late 90's and early 2000's, you probably still remember Tom Green taking MTV by storm with his insanely odd, yet somehow-captivating music video to the "The Bum Bum Song" (via Rolling Stone). Initially, Green released the video, officially titled "Lonely Swedish (The Bum Bum Song)" on The Tom Green Show in August 1999, and at the time he urged his fans to start voting for it on MTV's Total Request Live countdown show, which, at the time, was being ruled by boy bands, Britney Spears, and Christina Aguilera. To the shock of MTV execs, "The Bum Bum Song" overtook both pop princesses to earn the top spot, and stay there. Such was the power of Green's zany, somewhat sick sense of humor. 
Around the same time, Drew Barrymore was making blockbuster after blockbuster including now-classics "The Wedding Singer," "Ever After," and "Never Been Kissed," and she even earned her first credit as an executive producer for the latter (via Biography). It's difficult to imagine that a woman who was starring as America's Sweetheart in movie after movie and building her own movie-making empire was about to fall for the guy rubbing his butt on a moose statue on MTV, but alas: love is strange.
How Drew and Tom got together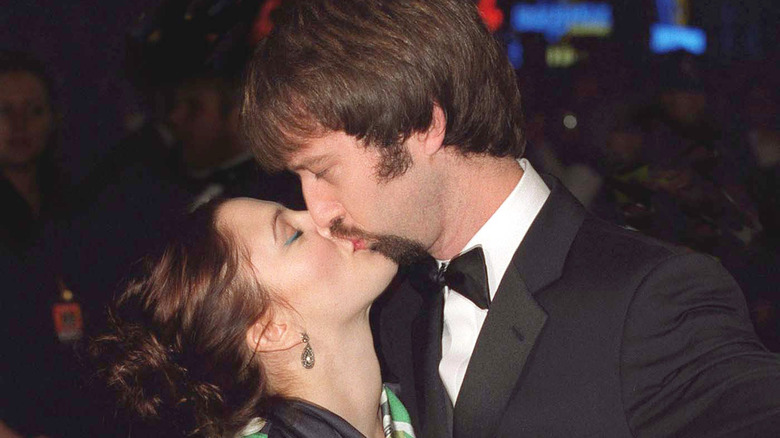 Uk Press/Getty Images
It was some time during this banner year for both Green and Barrymore than the two first met (via Cheat Sheet). In 1999, Barrymore signed on to star in "Charlie's Angels" alongside Lucy Lu and Cameron Diaz, and she also worked on the film as a producer. Sometime during pre-production, Barrymore met Green and urged him to take a role in the movie. "She and the studio were trying to get me in that movie for a while," Green remembered while appearing on The Alan Cox Show in 2018. "I actually passed on it initially." He eventually let Barrymore persuade him, taking on the role of "The Chad," who helps the heroines of the film by transporting them on his strange little tugboat. And yes, he gets a kiss from Drew's character.
The couple began dating while filming the movie, which was released in 2000. They also became engaged and got married during that same year. Unfortunately, Green filed for divorce less than a year after the wedding, citing "irreconcilable differences" in 2001 (via In Style). At the time, there didn't seem to be bad blood, despite the divorce. At the time, Green said of his ex-wife, "Drew is a wonderful woman, I love her very much ... I wish our marriage could have worked out, I wish her much happiness."  Similarly, Barrymore released a statement saying, "I love Tom very much. He has always been a great friend and that won't change."
How the two remained friends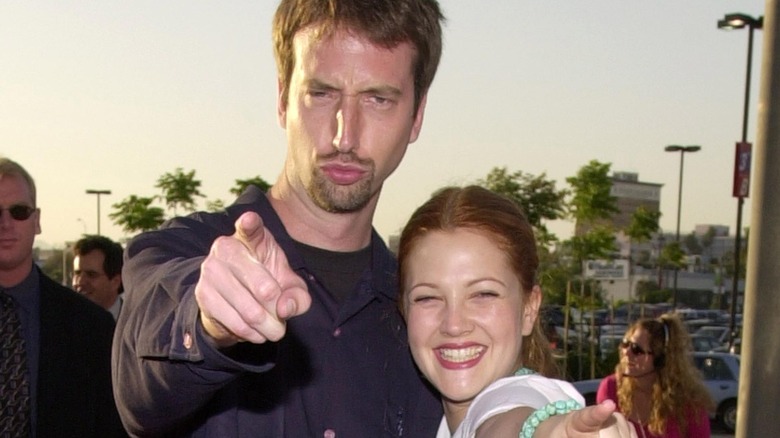 Chris Weeks/Getty Images
And apparently, she was right; Drew and Tom appear to have managed what many would consider impossible: maintaining a friendship with a former spouse. In September 2020, Drew Barrymore invited Tom Green to appear on her then-new talk show "The Drew Barrymore Show" (via US Weekly). During their conversation, Barrymore became teary-eyed and said to Green, "You've had a whole life and I've had a whole life ... It's just really nice to come together and check in and talk, it just thrills me to no end. I think the world of you, and I celebrate you. I always have and I always will."
Now, roughly a year later, the duo reunited again this past Sunday, September 5, via Instagram Live. During the call, the two discussed Green's move to Canada, which the two had once visited together. Green called his recent move "an exciting new adventure," and after expressing her support for Green, Barrymore asked if he would pass along to his parents from her. "Dick and Mary Jane, will you give them my love?" Barrymore asked. Tom replied that "of course" he would.