The Truth About Mara Wilson's Relationship With Danny DeVito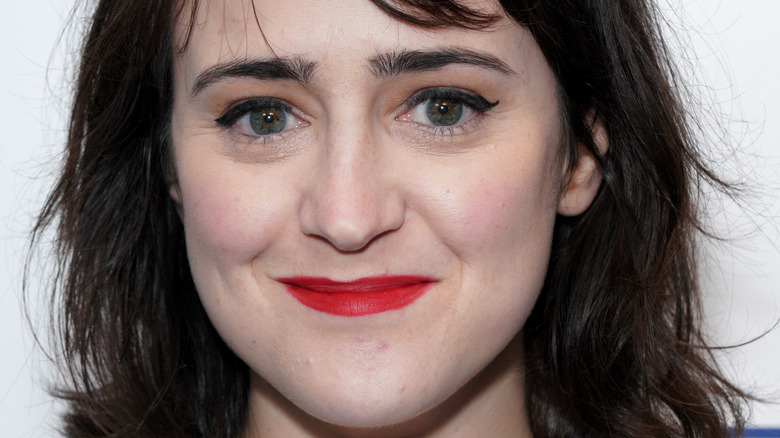 Jc Olivera/Getty Images
In 1996, Mara Wilson captivated audiences with her portrayal of Matilda. Originally created by British writer Roald Dahl in his 1988 book "Matilda," the 5-year-old girl is a certified genius who also happens to have telekinetic powers. Danny DeVito adapted this premise for an American audience in the mid-90s classic, casting Wilson in the lead role as a now 6-year-old Matilda who comes to harness her intelligence and powers under the care of the wonderful Miss Honey, played by Embeth Davidtz (via IMDb).
For Wilson, the film came at a hard time in her life. Her mom, Suzie Wilson, had been diagnosed with breast cancer (via People). Despite this, Suzie was an integral part of her daughter's filming process on "Matilda" and guided the young Wilson for five months of shooting.
The "Matilda" set became a safe haven for the mom and daughter team, with the cast and crew making sure both of them were comfortable and that any thoughts about cancer were at the back of their minds. One man in particular had a huge impact on a young Wilson –- and that was Danny DeVito.
Danny DeVito and his wife Rhea Perlman would often look after Mara Wilson while her mom was in the hospital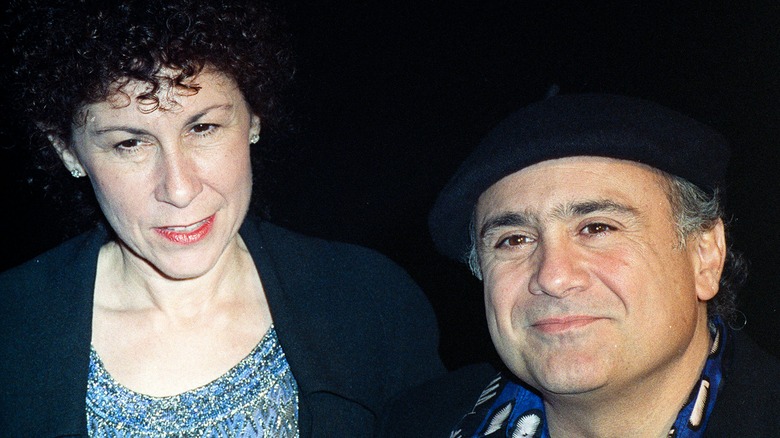 Kypros/Getty Images
In an interview with Entertainment Tonight, Mara Wilson remarked that she "immediately felt a connection" with the actor and director and that they "just understood each other." Reacting to an interview of her younger self, Wilson said that Danny DeVito would give her a hug every single day before filming, too. "I really did feel like he was my favorite uncle," she said. 
At one point, DeVito and his wife Rhea Perlman (who also starred in the film) took care of Wilson while her mom was at the hospital (via People). "Danny and Rhea would take me to the theatre to see a play, or to the movies or to just hang out at their house," she explained. "It really kept me distracted, and it really did seep me happy."
Describing DeVito and Rhea as her "favorite aunt and uncle" in an interview with Parade, Wilson also credits their love and support for helping her come to terms with the extent of her mom's illness. "I remember feeling anxious when the movie wrapped, and it was really hard to go back to normal and dealing with my mom's sickness," the actress explained. "I definitely feel like having that family there, and having people willing to take care of us and help us out, made it easier."
Danny DeVito dedicated the final cut of Matilda to Mara Wilson's mom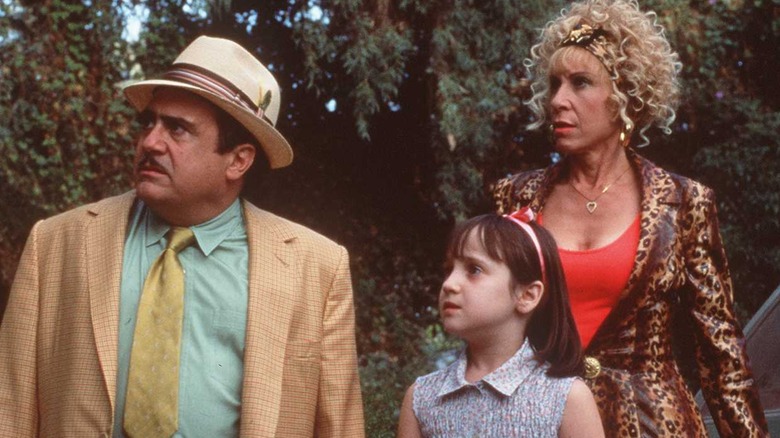 Getty Images/Getty Images
Sadly, Mara Wilson's mom passed away in April 1996, a few months before the film's release. However, Danny DeVito made sure that Suzie was able to see her daughter as the magical Matilda by showing her a cut of the movie while she was in the hospital (via Little Things).
As the actress explained in her memoir "Where Am I Now?" she was initially devastated that her mom wasn't able to see the film. But that was before DeVito revealed that he had in fact shown Suzie the movie, which he told her about a few years after her death.
He also made sure to dedicate the film to Wilson's mom, which the actress is still extremely thankful for. "I felt so glad when I saw that in the credits, and I still feel happy when I see that now," she told Entertainment Tonight. "I'm so glad they did that."